As a kid growing up in the small town of Saltville, Virginia, Jeffrey Allison thought all art museums were in big cities like New York — until his aunt took him to a show on the Virginia Museum of Fine Arts' Artmobile.      
Created in 1953, the original Artmobile was an art museum on wheels that brought exhibitions and educational programs to colleges, schools and community organizations all over Virginia.
"She drove about 15 or 20 minutes, and there's this huge truck and it said Virginia Museum of Fine Arts on it," Allison remembered in a phone call last week. "And going in, it was amazing. … It changed my world. It struck my heart and I said, 'Oh, this is real.' There was educational programming around it while I was there and I got to take home a little book."
As VMFA's manager of statewide programs and exhibitions, Allison now has a hand in recreating that experience for others.
VMFA, based in Richmond, re-launched the Artmobile in October, 65 years to the month it originally began. Since then, it's been traveling the state as part of a new tour that will make a stop at Second Stage Amherst this week.
"We're the state art museum and our goal is really to share the permanent collection with every Virginian," Allison said. "And in 1953, there were no interstates or anything else, and it was a brilliant idea."
The program was discontinued in 1994 due to conservation and security concerns, Allison said. At the time, the truck drove around with all of the artwork already hanging inside of it. Now the art travels in specially constructed crates and is hung once the truck arrives in its designated location.
"With technology and the advances that have been made, we're able to take this enormous 53-and-a-half foot trailer that expands to create over 600 feet of gallery space and bring it to every corner of the state," Allison said. "When we go down to a place like Wise, Virginia, they're six or seven hours away from Richmond. There is no chance that a group of elementary school kids are going to get on a bus on a daylong field trip. We really are bringing the artwork to them."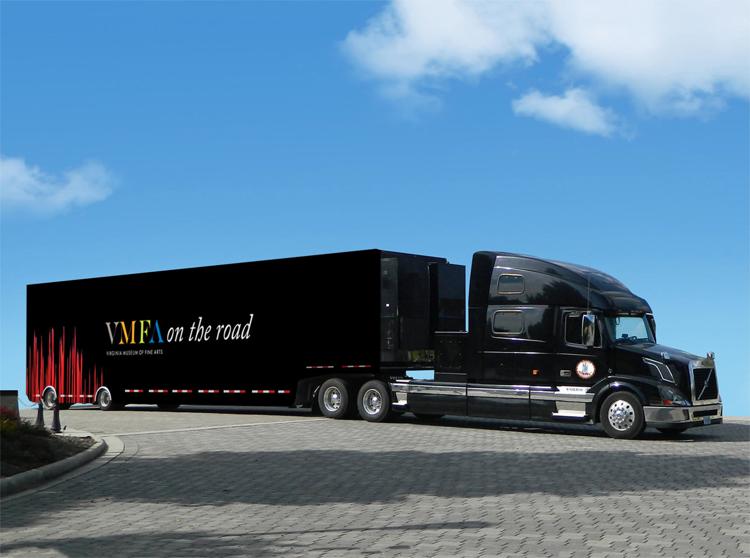 "It's climate-controlled," he added. "It has the same ability to control both the heat and humidity that we do here at our museum. And it has a lot of wonderful security on board."
When it rolls into Amherst this week, the truck will be staffed by two educators who hang the art and then act as guides, or docents, for those who visit.
"This is such a fantastic opportunity for everyone, not simply art lovers," said Penny Hawes, Second Stage's operations manager. "People who might not normally visit a museum will be able to see that art has been woven into the fabric of our lives for centuries. Art isn't something for 'other people.' It's for and by and about all of us. VMFA has been a leader in taking the museum to the people, and that aligns with our values. We want to provide greater accessibility to arts and culture for our community. … For some, this is truly a once-in-a-lifetime event."
The new Artmobile's inaugural exhibition, curated by Allison, is a celebration of Virginia artists who have participated in VMFA's fellowship program.
"How Far Can Creativity Take You? VMFA Fellowship Artists" features the work of painters such as Cy Twombly and Benjamin Wigfall, photographer Sally Mann, and even writer/director Vince Gilligan, who created "Breaking Bad" and, according to Allison, had a similar experience with the Artmobile as a child when it came through his hometown of Farmville.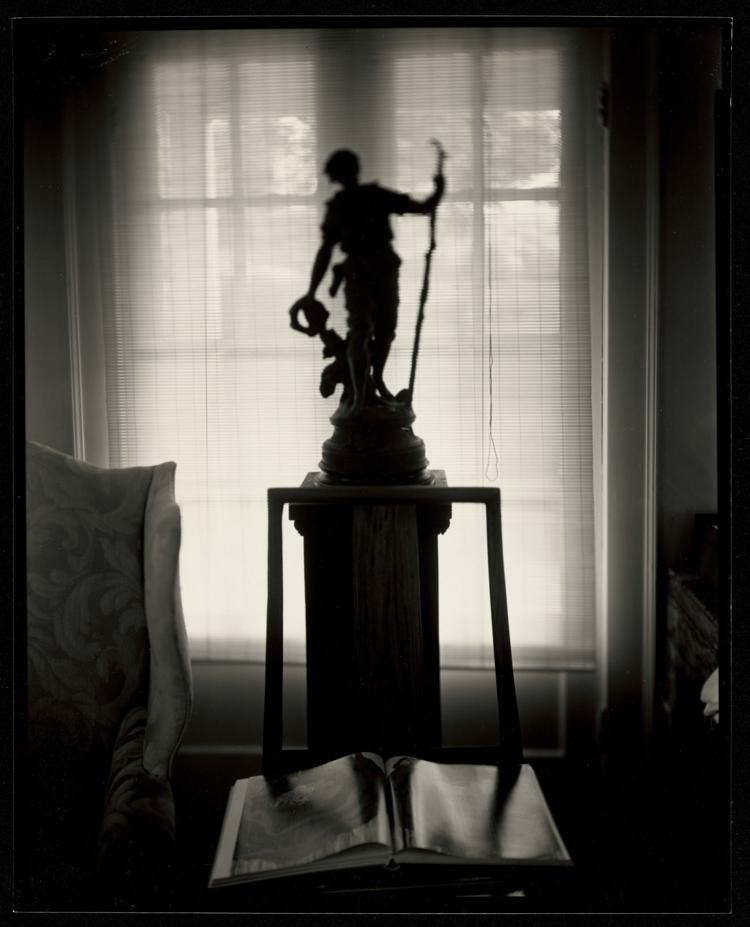 All of the work on display comes from artists who have work in VMFA's permanent collection.
"We were committed to making sure there were real, authentic, original works of art from the museum that we were bringing to your community," Allison said. "It is the same quality, the same level."
Benjamin Wigfall's painting "Chimneys," for example, was hanging in VMFA's American gallery until last year, and "you would have had to come here to see it," Allison said. "So that's the key."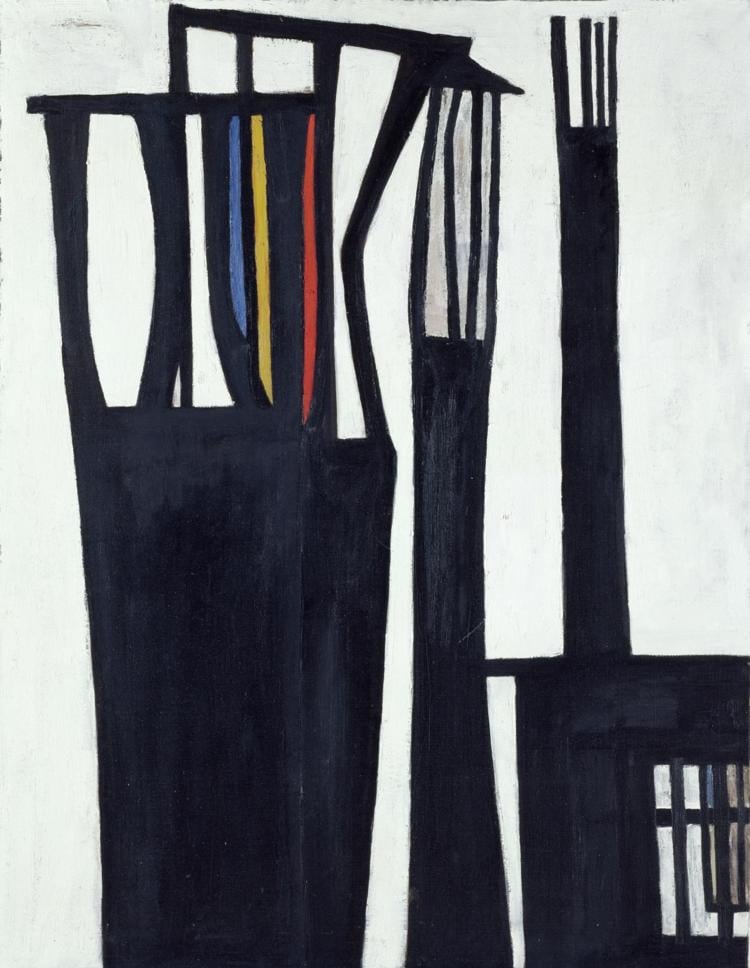 The exhibition includes video interviews with the featured artists and a modular studio that can be used for hands-on activities and projects.
"There are a number of things [we've] created so the teachers in a community can get those things ahead of time and there are also things they can continue to do after the truck is gone," said Allison, noting they have SOL-based interactive programming available to students.
"When it's appropriate, we can not only have the digital art-making activity but they can also do drawing activities. We do a lot of writing activities based on the works of art."
The Artmobile also includes a section about VMFA and its history with features such as historic images, video footage and an interactive digital map that shows where each VMFA fellow lives.
Suny Monk, president of Second Stage Amherst's board of directors, said the exhibit will be especially important to student artists.
"The purpose of these [fellowship] grants is to fund creative studio time for promising young artists," Monk wrote in an email last week. "In other words, money to pay the bills while young, gifted artists hone their art. … Stellar careers were built by the talent these artists brought to their studio practice. There just aren't more important names among Virginia artists [than] Sally Mann and Cy Twombly. … Look up Cy Twombly — he is one of three American artists ever to be invited to install a painting on a ceiling in the Louvre Museum in Paris, and he's from Lexington."
The Artmobile is hosting classes for Amherst County Public School students Thrusday and Friday and will be open to the public for free Thursday and Friday afternoons and Saturday morning (see box for hours).
Following the truck's public hours on Friday evening, Second Stage will host a reception for its Youth Art Month exhibition. Second Stage's resident artists also will have their studios open throughout the week "so it's a great behind-the-scenes look at art created right here in Amherst," Hawes said.
Allison said they hope the Artmobile and its many programs will inspire future artists.
"The fellowship can change your life. And the Artmobile can change your life," Allison said. "… The goal, especially this initial exhibition, is to touch people like Vince Gilligan and me. Grow that next generation of people who maybe become successful in the arts, or at least have a lifelong appreciation for it. It can really feed your soul."