I fear the end is near for Ragnar Lothbrok.
The main character and driving force behind History Channel's "Vikings" has been feeling his age for awhile now, and I have a sinking feeling he'll meet his demise this season.
In the past, Ragnar (Travis Fimmel) always had a secret plan up his sleeve, something that would ensure his victory.
But after a battlefield injury a season ago, he became addicted to drugs to numb the pain. Tired, broken down and beaten up, he was a shell of his former self. He still is.
The show, which airs at 10 p.m. Wednesdays, returned earlier this month for the second half of its fourth season, with a time jump that found Ragnar returning to his home in Kattegat after a four-year absence.
Nobody — not his wife, Aslaug, nor his now-grown children — knows where he's been for the past four years, a disappearance that came after a failed raid on Paris and a brutal fight with his brother/nemesis Rolo (Clive Standen), now married to French princess Gisla.
Ragnar's reappearance came just as eldest, and least annoying, son Bjorn (Alexander Ludwig) was preparing to sail to the Mediterranean Sea, to do the kind of raiding his father did early in the series.
We also met the recasted and older versions of his other four sons; the most notable, of course, is Ivar (Alex Hogh Andersen), who was born a cripple. Despite his limitations, he's the scariest of Ragnar's sons. He crawls everywhere, but does it in a scary, fierce way, and there is definitely evil lurking behind those shining blue eyes.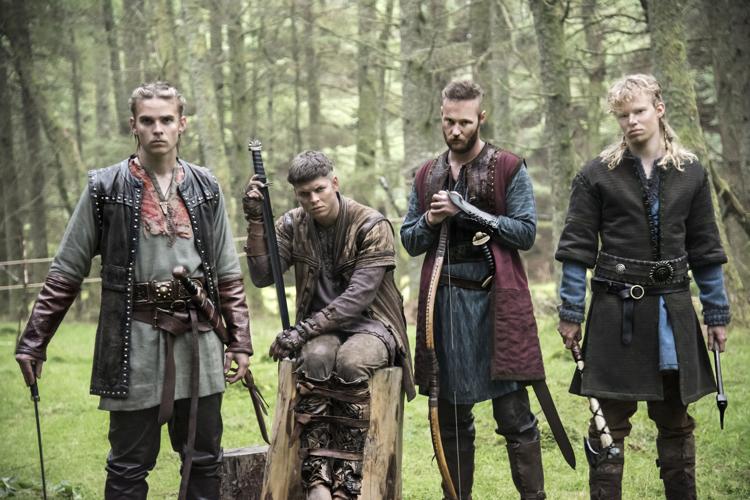 His brothers have yet to really distinguish themselves.
Ubbe (Jordan Patrick Smith) seems to be the most level headed and intelligent. He's the one I'm most interested to see more of as the season progresses. Sigurd (David Lindström) is pouty, very annoying and most likely to be killed by Ivar, whom he's constantly goading. And Hvitserk (Marco Islo) is kind of a cipher; all we really know so far is that he and Ubbe are very close, and he has chosen to go exploring with Bjorn, while Ubbe and Sigurd stay behind in Kattegat.
Ragnar, for his part, also has embarked on his latest (and last?) adventure.
He and Ivar are in Wessex to exact revenge on King Ecbert (Linus Roach) who, despite a truce with Ragnar, ordered the slaughter of some of his people in an earlier season. But, until recently, it didn't really seem like Ragnar's heart was in it.
On their way to Wessex, Ragnar and Ivar ran into a wicked storm that destroyed their boats and killed the majority of the men who had come with them. It was a pretty ragtag group; most of their more formidable people had chosen to raid with Bjorn instead of his father.
Last week's episode featured more than a few bonding moments between Ragnar and Ivar, as the father opened up a bit to his son, telling him he was special and that not being normal was a good thing.
"Once you realize that," he advised, "greatness will happen."
Ragnar also revealed his true intentions, confiding in Ivar that he came to Wessex with no plans of ever returning home.
To achieve whatever endgame he has in mind, Ragnar told Ivar they needed to continue on the journey alone and me, forgetting that these are brutal, take-no-prisoners Vikings, figured they'd sneak away from the members of their group that survived the shipwreck. But no. Cut to father and son massacring their own people as they slept — the very same offense Ragnar is seeking to avenge in Wessex.
The episode ended with them arriving at the city gates.
Ragnar told Ivar that no matter what they do to him inside, he had to pretend to be helpless so they wouldn't see him as a threat. So if this is a suicide mission for Ragnar, what does he think will happen to Ivar when he's gone? I guess nobody ever said Vikings make good parents.
And what will happen to us — the viewers — if Ragnar really does die this season? I've made peace with the idea of saying goodbye to the character and Travis Fimmel's wonderful performance, but I'm not sure I'll stick with the show once he's gone.
Bjorn has emerged as a viable lead character, but actor Alexander Ludwig doesn't possess the charismatic presence of Fimmel as Ragnar.
Fimmel communicates so much with a look here or a sly retort there. I love watching him and wondering what's going on in Ragnar's mind. He's also done a wonderful job embodying Ragnar's mental and physical exhaustion as his age finally catches up to him.
Maybe it's time to bid adieu, but I'm just not ready to embrace the next generation.