Almost every celebration in a person's life involves a cake, but few hold the importance of the wedding cake.
"It's very ceremonial, when they cut the cake and feed each other," says Angela Giles, owner of Hurt-based wedding cake business Angela Hudson Cakes, which serves the greater Lynchburg area.
The magnitude of baking what is arguably the centerpiece of such an important day is not lost on bakers like Giles and Jennifer England of La Bella Torta in Forest.
"I never ever forget that this is one of the biggest days of their life," says England, who has been involved in the Hill City's wedding industry for 11 years. "If I don't come through with my portion of that, I don't want to be the thing that they remember as being bad."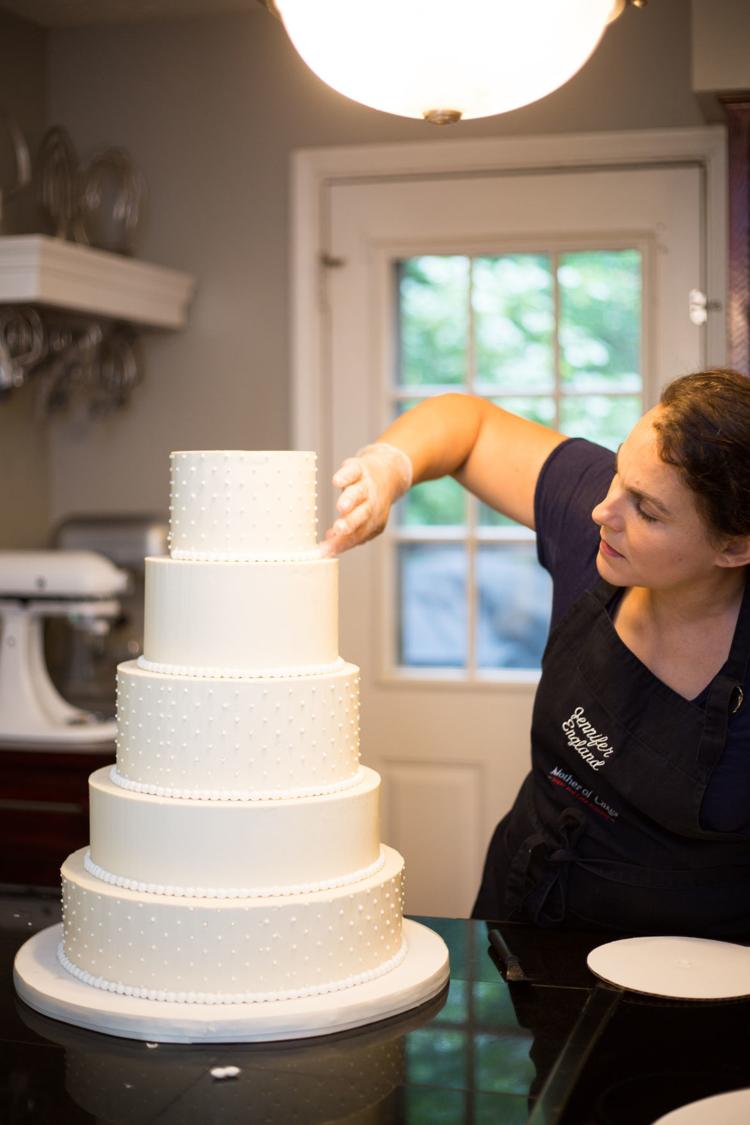 When it comes to the look of Lynchburg wedding cakes, it's all about traditional elegance.
Cake exteriors are typically white — ivory if there's real butter in the buttercream, adds Giles — with piped details like lace, rosettes, monograms and draped pearls.
And, as Giles puts it, textured buttercream with fresh flowers is also a tried-and-true combination that never goes out of style.
"[Brides] like it to be timeless," says Giles. "I think that's why they don't go with the crazy things you see on TV sometimes. Because they want to look back on their wedding pictures and be glad they picked something classic."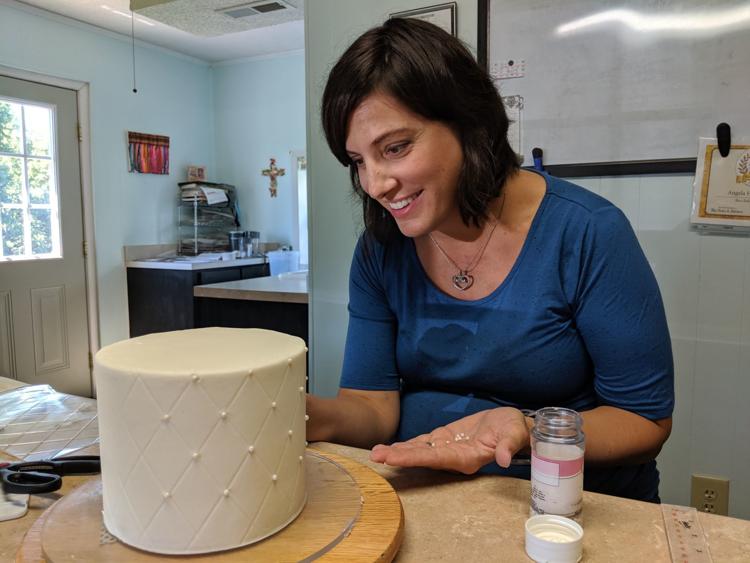 Trends — including the black-and-white damask cake; the peek-a-boo cake, where a classic decoration is seemingly pulled back like drapes to reveal a niche theme like superheroes or Legos underneath; and the chandelier cake, which is suspended upside down — do make their way to Lynchburg, but they typically arrive a few years after becoming mainstream and rarely last long.
Currently, the demand is for naked cakes, which have minimal frosting that leaves the layers and filling exposed, though ombré cakes, where the hue of the frosting gradually moves from white to a darker tone of a single color, still are popular too, Giles adds.
Still, some brides do ask for less common designs.
Just last month, Giles delivered a navy wedding cake, and England has created several stained-glass wedding cakes, using a technique where food-safe paints are applied to a layer of fondant and then outlined in black piping gel to mimic the look of a stained-glass window.
"There's not many people who do it just nationwide," says England, who has led a workshop on the time-consuming technique at a baking school in Pennsylvania.
"It's grueling on your hand and on your wrist," she says. "What I usually do is I'll have my work table, and I'll have a bag of ice, so I'll pipe and pipe and pipe. Then I'll rest my wrist on the ice, and then I'll go back to piping. "
Clients also may ask the baker to incorporate a smaller or hidden element into more traditional designs, such as the time a bride asked England to make a pair of fondant penguins peeking out from behind a curtain. But the true craziness is reserved for the groom's cakes.
"So much of the wedding is what the bride has dreamed of, her designs, her visions. The groom's cake is representative of his interests," says Giles, whose cake designed to look like steak and mashed potatoes was featured on Buzzfeed in 2016.
Local grooms have ordered cakes to highlight their favorite sports teams or to resemble everything from pancakes to beer mugs, complete with a can that defies gravity as its contents are poured into a glass below.
A couple years ago, England made a 2-by-3 foot AT-AT walker — the four-legged combat vehicle from the "Star Wars" universe, which was first introduced in "The Empire Strikes Back" — complete with snow made from shredded coconut.
While the actual wedding cakes have a time-honored appearance, the flavors aren't always standard. Most clients have more than one flavor in their cake, and in England's experience, they often want contrast.
"So, they'll want a traditional yellow with a fruit and then something chocolate based," she says.
Giles offers everything from pumpkin spice to orange dreamsicle, but her most popular flavor is a white almond cake with raspberry buttercream filling.
"When people think of a wedding cake, they think of a white cake," says Giles. "So white almond cake, it's got the white cake, but it's got a little fruity filling so it's special."
Flavors, like designs, also are customizable depending on the baker you hire.
"Tell me your favorite dessert, tell me your favorite ice cream, tell me your favorite candy bar, I'll make it into a cake," says England.
Following this mantra, she has filled chocolate cake with roasted peanuts, fresh caramel and ganache to recreate a Snickers bar and used pie filling and toasted crumble to make a peach cobbler cake.
Detail does not end after designing or even baking the cake. The same care must be applied to building it.
"Structure really is the basis for a beautiful cake," says England, who knows from personal experience what happens when a cake lacks a solid foundation.
The cake at her own wedding in New Jersey — one she did not make herself — collapsed during the reception.
"It was supposed to be five tiers," she says. "I think there were two left that we salvaged, and they were smushed in the back."
To avoid such catastrophes, Giles and England both use cake dowels to support the cake internally. England takes the extra step of using a level to make sure each layer is even.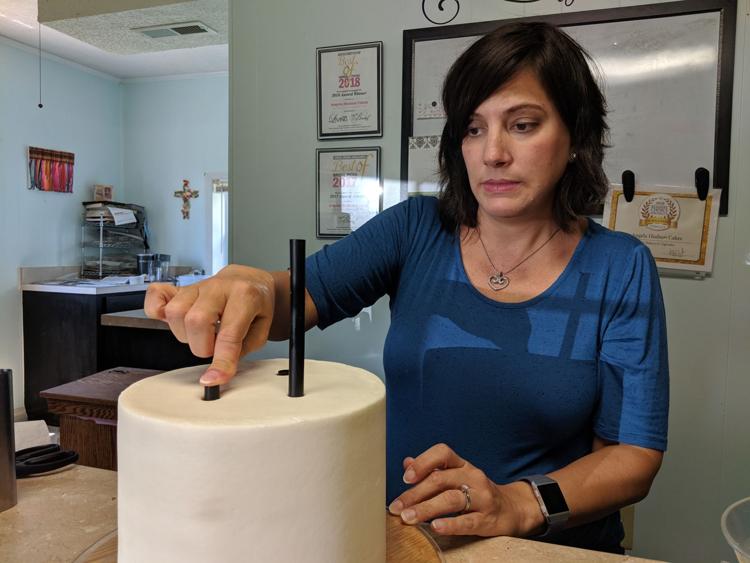 "You will chase level all the way up five tiers if your bottom tier isn't level," she says. "And if you say, 'It's just a little bit off, it's fine,' it will get bigger and bigger until you've got the Leaning Tower of Pisa."
This level of detail takes time. Giles' cakes take anywhere from six to 10 hours to make from start to finish, while England spends around 48 hours completing hers.
Weather can also take its toll on a cake — something that proves challenging since so many Virginia weddings are outside.
"Humidity and buttercream do not play well together," says Giles. "The cake will sweat."
The risk is so severe that delivery and cake cutting sometimes have to be adjusted based on the heat.
While the hours are long and the work is stressful, the bakers never lose sight of the role they play in helping create a couple's perfect day.
"Cake is happy," says England. "I think the only happier part of the day is the bar."