It's hard to miss the teapots when you grab a table at Babylon Mediterranean Grill.
Tall, thin and gleaming in tones of gold and silver, the vessels add a bit of glamour to the otherwise simple decor of the restaurant, which is located in a small strip mall off Fort Avenue.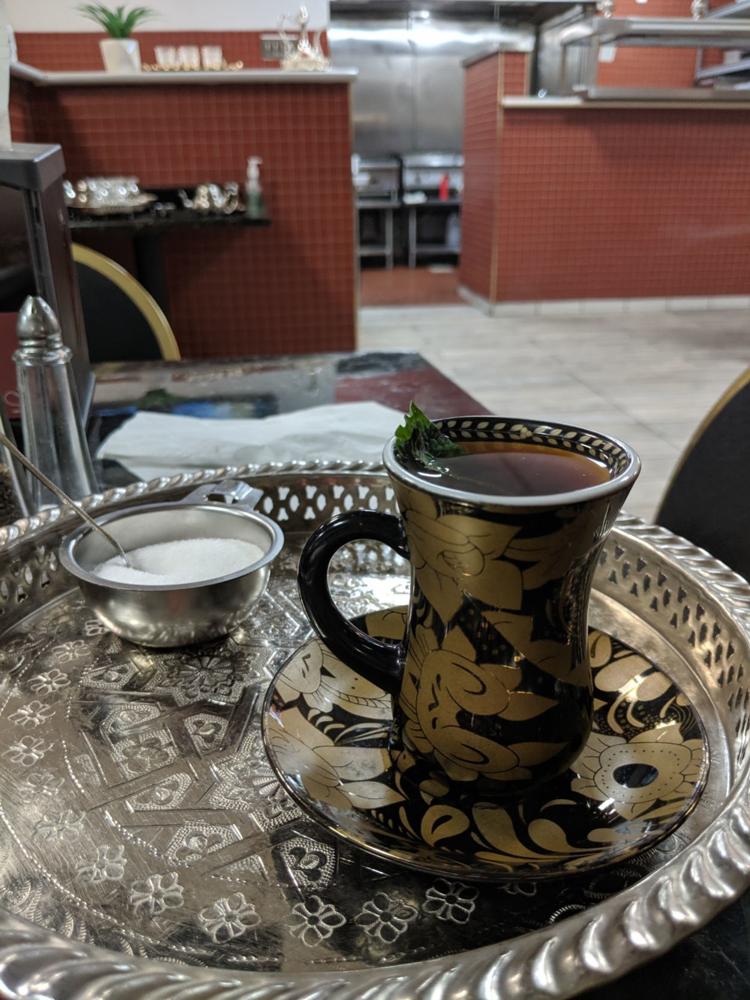 A symbol of hospitality in many Middle Eastern cultures, tea can be purchased by the cup or the pot at Babylon (though it's served to guests in squatter, less decorative kettles) but it's the restaurant's gyros that will keep you coming back.
A street food favorite from Greece, gyro (pronounced yee-roh) meat is traditionally cooked at very high temperatures on a vertical, rotating spit and then sliced into thin, savory strips.
While the staff at Babylon — which is changing its name to Family Oasis Mediterranean Grill sometime in the next couple of weeks — isn't taking a knife directly to that slab of meat in front of customers, the gyros they serve up are still pretty traditional.
There are two types at the family-run restaurant: the classic lamb gyro ($6.99) as well as a mix of beef and chicken ($7.99).
I go for the lamb, which has been lightly seasoned with such spices as cardamom and cinnamon.
Both types of gyro come with lettuce, tomatoes and grilled onions stuffed inside pita bread.
Bringing the whole dish together is the refreshing tzatziki (tsah-see-key) sauce, which mixes fresh cucumber and dill into its yogurty tang, and is finished with a touch of herbs and a kiss of lemony sumac.
The balance of cool, creamy tzatziki cuts through the rich meatiness of the sandwich while the onions and tomato add pops of flavor that blend well with the mix of warm spices.
It's warm. It's hearty. It's finger food at its finest.
The gyro would be satisfying enough on its own, but Babylon allows diners to combo their meal for just a few bucks more. This option lets you chose from a variety of Middle Eastern dishes ranging from salads like fattoush (mixed greens with a citrus dressing and toasted croutons) and tabbouleh (a bulgur wheat salad with lots of parsley, mint and other veggies) to lentil soup, called adas on Babylon's menu.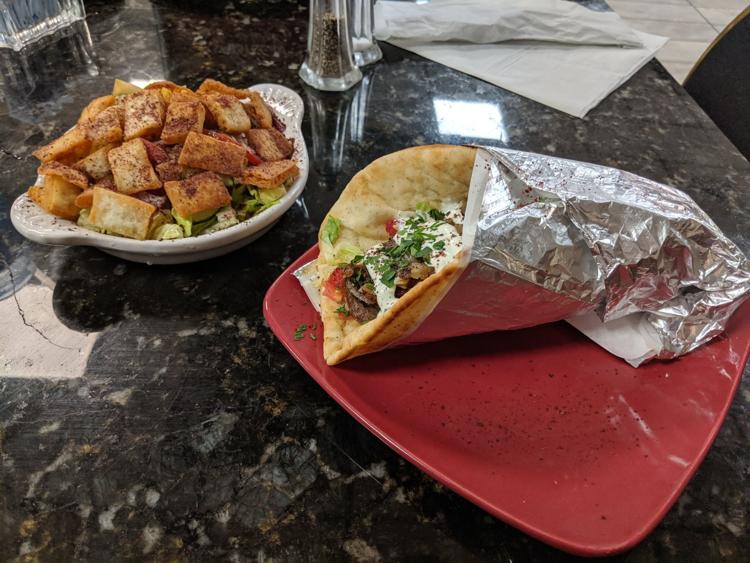 But if you want your gyro like they eat them Greece, order it with a side of fries ($1.99) and stuff those crispy, crunchy delights inside your sandwich.