A lone warrior stands in the center of the darkened space, a swarm of dragons surrounding her.
A long sword in hand, she dodges a green head as it swipes from her left, but is quickly caught up in the jaws of a purple one.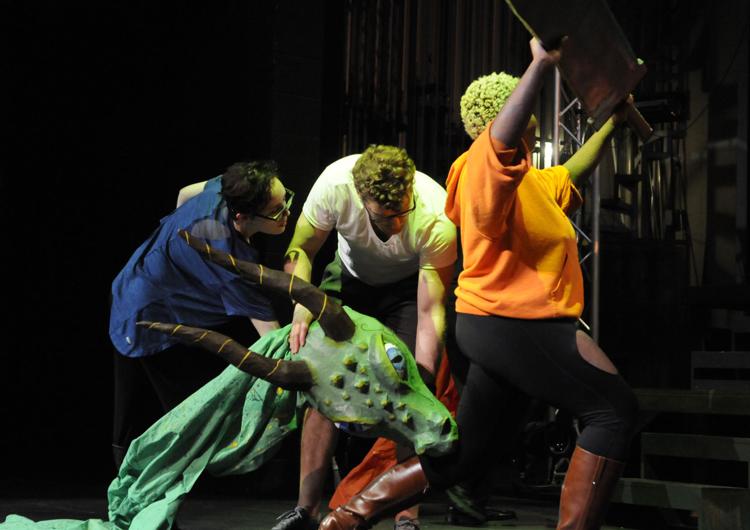 Just as she pulls herself free, a third, bright blue head clamps onto her shoulder.
She attempts to switch the sword from her right hand to her left and jab the hilt it into the ferocious face, but fumbles it instead.
"How do you do that?" the warrior — Randolph College junior Liz Beamon — moans as she fumbles the foam sword, which is as long as she is tall.
"Think gripping like this," says Patrick Earl as he bounds onto the stage and repositions her grip. "Right at the bottom is your friend."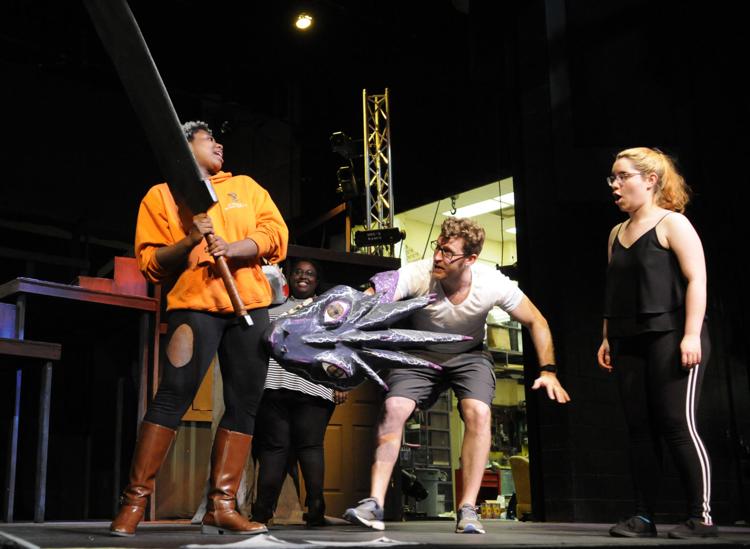 It's the first of many stumbles as the actors in Randolph's production of "She Kills Monsters" learn choreography for the play's final battle ahead of its opening this Thursday.
The play and its ample opportunities for stage combat were part of the reason director Stephanie Holladay Earl picked it for Randolph's current theater season.
"We put our students through a large amount of stage combat training [already]," says Holladay Earl, assistant professor of theater. "... And they have so many opportunities to use them in this show."
An old theater art that has evolved over the centuries, stage combat refers to specialized techniques used to portray physical violence or injury onstage.
Every slap, kick, hair pull, sword fight and fall that happens onstage is carefully mapped out by a fight director.
"Anytime someone lays a hand on someone and throws them to the ground, whether it be out of violence or physical pleasure, you need someone there to make sure both parties are comfortable and doing it safely,"says Earl, an adjunct theater professor at Randolph and Holladay Earl's husband.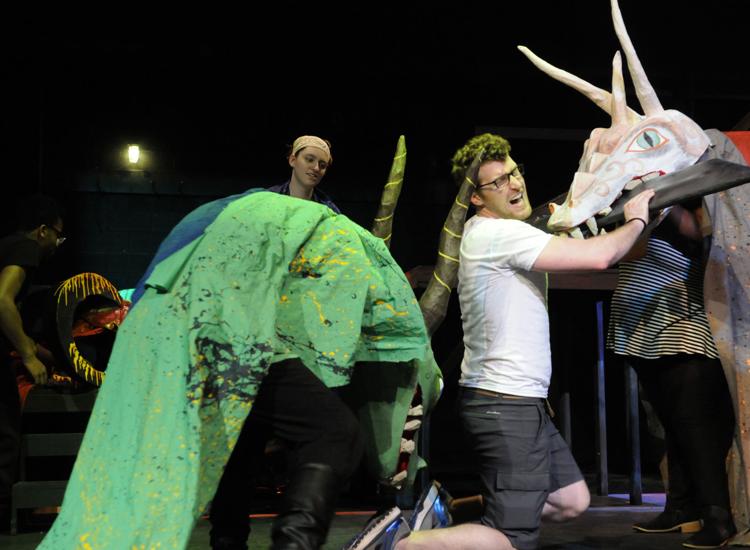 Because of the integral part it plays in theater, stage combat is taught at Randolph as part of the theater program's Movement for the Stage course.
In the class, which is often taught by Earl — who has served as a fight director at the American Shakespeare Center in Staunton — students learn unarmed and armed combat techniques with a variety of weapons ranging from a broadsword to hand-to-hand.
Patrick Earl never planned to torture his wife for an entire year. Then again, he also never planned on being her sibling or her son either — but that tends to happen when working for a company like Staunton's American Shakespeare Center.
"It's so important for actors to find some way to engage in [the] athletic, physical," says Holladay Earl, "because roles, even if they don't require stage combat, they require some sort of physical transformation. So, anytime you can get to know your body better, it's good."
Having this base training also allows the department to put on productions like "She Kills Monsters," which includes 14 different battle sequences, says Holladay Earl.
A modern-day heroic epic, "She Kills Monsters" follows Agnes Evans as she finds her late sister's Dungeons & Dragons notebook and sets out to play the quest the teenager wrote before her death.
As Agnes enters the fantasy world of D&D, she learns more about her younger sister than she ever knew.
While there are plenty of winks and nods to geek culture and especially D&D, audience members don't have to be immersed in the geekdom to follow the plot.
"The play is about grief, overall," says Beamon, who portrays the play's protagonist Agnes. "And sometimes it takes a lot of investigating and personal growth to be at peace with hard things that happen."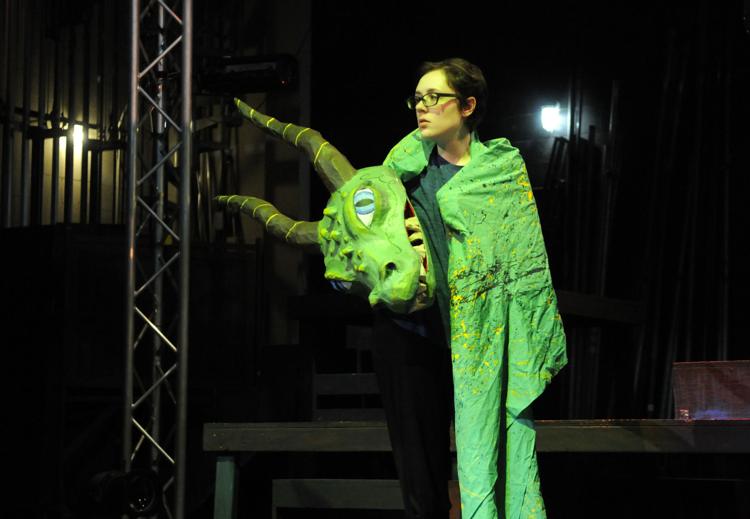 Unlike some productions that use puppets or projection to bring its D&D monsters to life, Randolph's production is using students to portray these creatures.
This means the majority of the cast is fighting in one form or another, and they're doing it quite often.
"It averages one fight every two to three pages of script," says Earl. "So, a lot of the scenes and the blocking is all in preparation of the next fight."
The fights aren't there just for the entertainment factor — though that element is definitely there.
"I see the fights as the personification of Agnes' grief," says Beamon, who notes the difficulty in portraying loss onstage in a limited timeframe.
Like many classic heroes, Agnes spends the beginning of the story getting her butt kicked, but by the end, she's the one kicking butt and chopping off monster heads.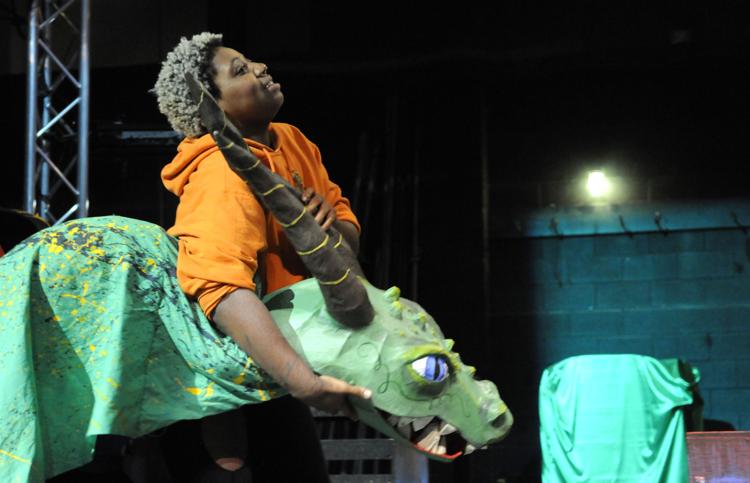 "To me, the fights are a clever way of showing what she's going through emotionally, but in a kind of big, larger-than-life, comical way," Beamon says.
Onstage, an actor practices ramming his head into Earl's gut, the latest move in the scene's choreography.
"When you actually headbutt, think of it as a transfer of force," the fight director says as he demonstrates.
"You stop where you are when you hit her," he says, turning to Beamon, "that way you're carrying yourself [across the stage]."
Since the fights serve as the driving force of the play, it was crucial for Earl to make sure each one looked different.
"My thought with each specific fight I'm crafting is what specific story I'm telling and have I told it already?" he says.
The world of Dungeons & Dragons itself also calls for what Holladay Earl describes as an "over-the-top, video game" style of fighting, which means her husband doesn't have to focus on making the moves look realistic like he would for a different play.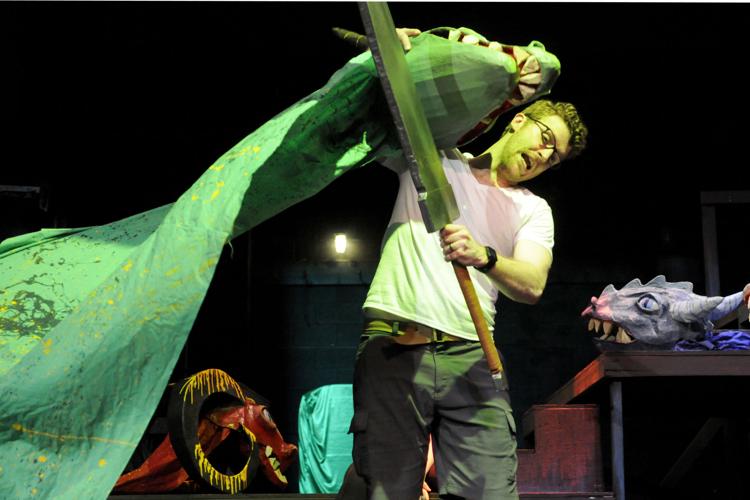 This doesn't mean the fights look out of place.
"It says it in the script, a fight happens, but because the choreography is so well-planned out and strategized appropriately, it makes it look natural," says sophomore Kaitlin Weigle, who plays the dark elf Kaliope.
There are technical elements to consider, such as if a person needs to be at a certain place by the end of the fight to set up the next scene and the skill levels of the actors.
Next, Earl considers the characters participating in the fight and pinpoints their type of fighting style — a trained combatant will fight differently than someone who is untrained and simply trying to stay alive by any means, he says.
For Kaliope, who battles with not one but two swords, Earl created choreography that has a grace and deadly skill to it, says Weigle, who has taken his Movement for the Stage class.
"I basically have to have really good footwork and also really good movement with my arms," she says.
Body types also determine what pre-planned moves make it into the actual choreography.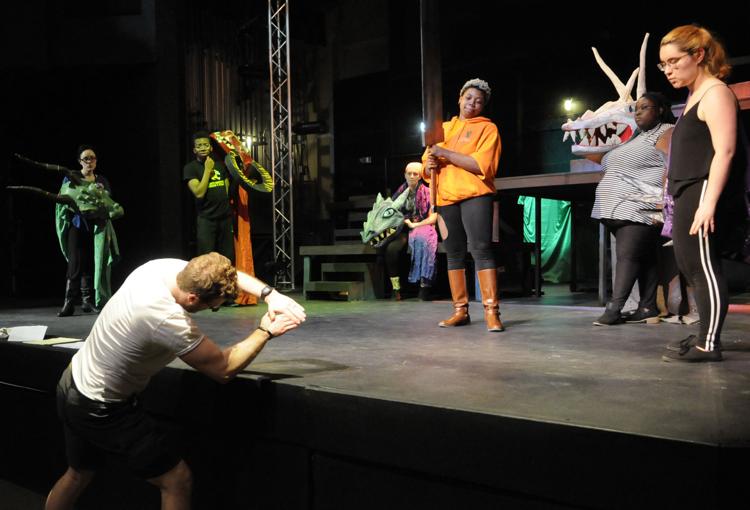 "For instance, if I'm going to punch someone and flip them over my shoulder, that's going to look different than if someone six inches taller than me has to flip someone over their shoulder," Earl says. "It's going to be harder for them to do it."
A shoulder flip has made it into one of the fights, as has a lot of stabbing and punches to the face. There's also impaling, hair pulling, and lots and lots of weapons.
When it comes to the actual fighting, like most things in theater, "it's a lot of sleight of hand," says Beamon, "... really trying to act as if you've taken the hit or done the damage."
"She Kills Mosters" not only plays to the D&D culture popular on college campuses, members of the cast say, it also adds to the experience in a different way.
"When you play D&D, the role-playing is so much so that you kind of wish you could fight," says Beamon. "You wish you could do a little larping [live action role-playing] on the side."
"You can say you're fighting someone in the game," adds Weigle, "but in the show you're actually doing it."