ABINGDON — It took a year to draw the dragons.
"That was my original drawing, with big long hands, big long eyes, big mouth and all sorts of spiky things," mythic illustrator and Lynchburg native Charles Vess says, pointing to various parts of the dragon on his laptop screen as he sits in his studio one October afternoon.
The creature in the hand-drawn sketch has a snake-like body that curves in a classic s-shape, slanted eyes, a long, hinged jaw and talons for claws.
It looks exactly like what you'd picture when you think of a dragon. But it wasn't the mythical beings renowned author Ursula K. Le Guin imagined when she wrote her epic fantasy Earthsea stories.
Vess, 67, flips to another drawing, then another and another. It's almost like observing the evolutionary process in a time-lapse video.
The body loses some of its reptilian curvature, the talons shrink into claws and the crown of spikes atop its head curve at a less aggressive angle.
"The mouth has gotten a little shorter and the eyes are a little more human," Vess says.
It is this form of the dragon that appears on the cover of "The Books of Earthsea: The Complete Illustrated Edition," which was released by Simon & Schuster imprint Saga Press last month.
An omnibus that took four years to complete, the 1,000-page tome brings together all of Le Guin's celebrated Earthsea works in one hardback for the first time.
In between the pages of the short stories and novels rest more than 50 illustrations by Vess that bring the world of Earthsea to life in one of the most vivid depictions in the works' half-century history.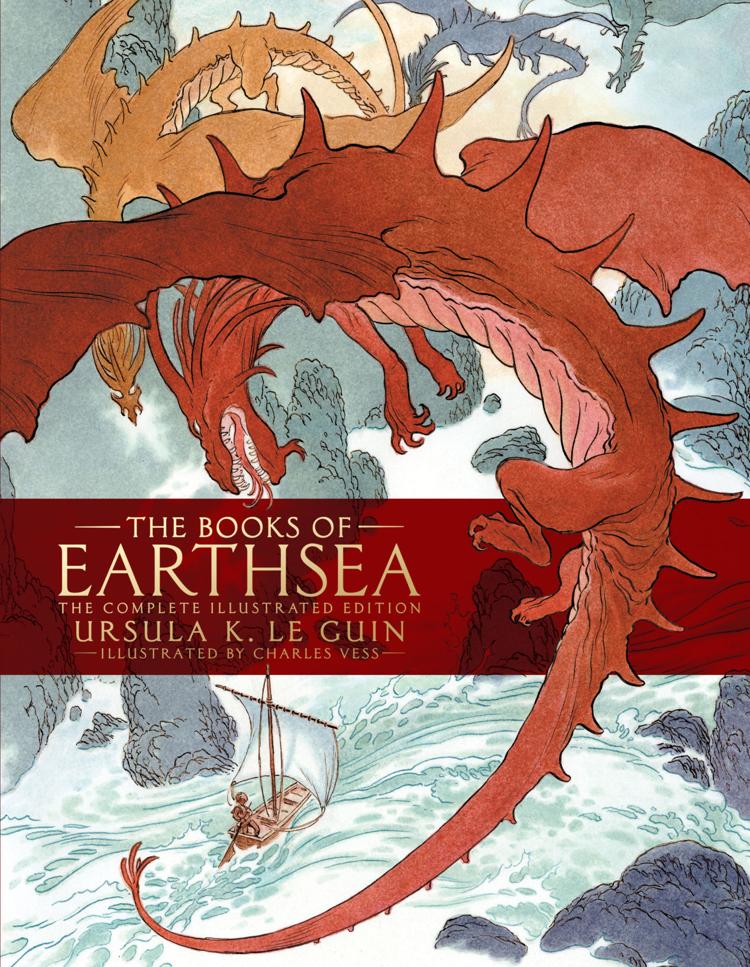 "He wanted to know what was in her mind's eye," says Theo Downes-Le Guin, the author's son and literary executor of her estate. "So, the result is very much Charles Vess — there's no mistaking the artwork, but it is also very much my mother. And that's kind of perfect."
A 1969 graduate of E.C. Glass High School, Vess broke into the industry through comic books, drawing for Marvel and DC Comics after he graduated from Virginia Commonwealth University in 1974.
Despite the success they brought him, comics began to lose their luster for Vess by the late 1980s.
"Superheroes solve their problem by who has the biggest fist," Vess says. "I don't think in that kind of terms for life, and I don't want to draw those kinds of stories."
The illustrator says he wanted more, and more came in the form of "Stardust," a 1999 collaboration with author Neil Gaiman that earned him his first World Fantasy Award in the artist category.
Vess, who has received numerous honors including three Eisner Awards — widely described as the "Oscars" of the comics industry — would go on to win again in 2010 and 2014.
"Stardust" solidified Vess as one of the premiere illustrators of fantasy works.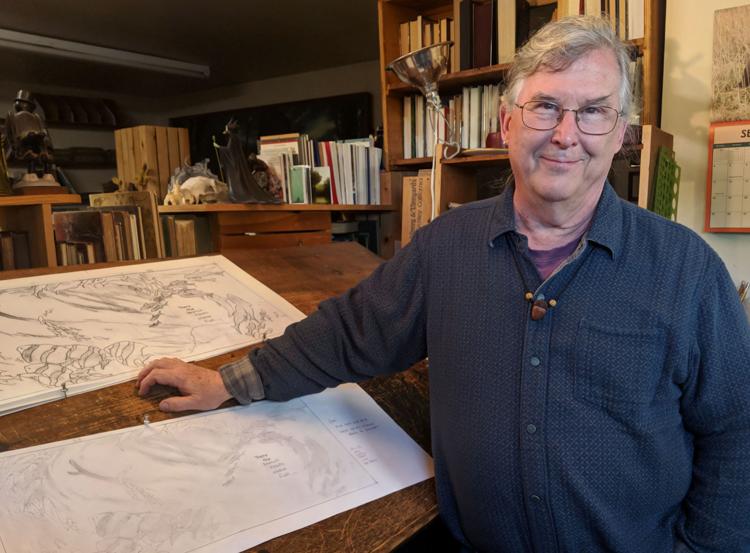 From there, he drew for an all-star list of writers in the genre, including Terri Windling, Charles de Lint, Susanna Clarke and George R.R. Martin.
Though he's now often referred to as a fantasy artist, Vess says he prefers the term "mythic artist."
The word fantasy conjures images of knights in blood-soaked armor battling dragons, Vess says, something seldom found in the illustrator's own sweeping landscapes and fantastical portraits.
"One of the best things about mythic art or writing is its metaphors for life," Vess says.
That's why the illustrator fell in love with Le Guin's Earthsea when he read the first novel "A Wizard of Earthsea" as part of a children's literature course at VCU in 1970.
Written in increments over more than 50 years, the Earthsea stories, whose accolades include a Newberry Honor and a National Book Award, chronicle life on a fictitious archipelago where magic and dragons exist.
Unlike so many in the genre, Le Guin's coming-of-age tale describes a different kind of heroic journey.
"She was very conscious of the grey between black and white and the idea that it's not good and evil," says Downes-Le Guin. "Good and evil are always there, and it's the choices we make and the actions we take that determine our relationship to them."
Vess never dreamed of working with the famed author until his former agent, Joe Monti, pitched him the idea of an Earthsea anthology.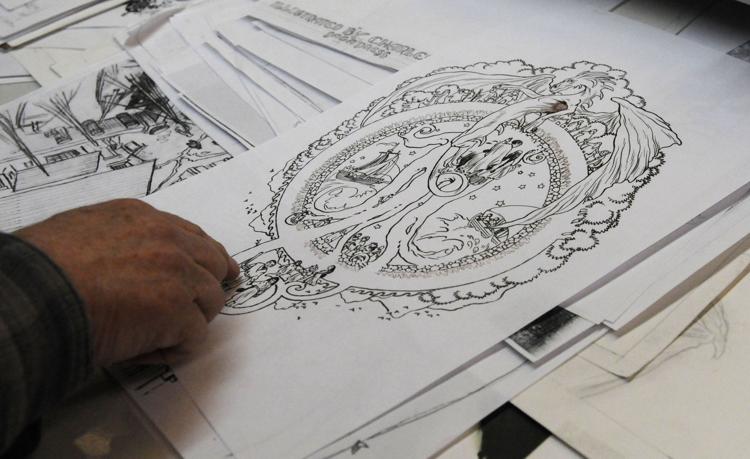 The plan, he told Vess, was to release it in 2018 in celebration of the 50th anniversary of the first novel, "A Wizard of Earthsea."
"There are only two real editions that have this in kind of a ubiquitous way," says Monti, the editorial director of Saga Press. " … It's Tolkien, "Lord of the Rings," and it's Narnia, C.S. Lewis. I wanted Earthsea to be part of that."
Convincing Le Guin to go along with Saga's project hinged upon Monti choosing the right illustrator to tackle her world.
The author, who had seen her racially and culturally diverse islands turned into a stereotypic medieval kingdom in cover illustrations and adaptations, wanted to be completely involved with the process.
This request cemented Monti's decision to nominate Vess, who he said knew how to collaborate with writers from his comic book days.
"One of the great things comics do is there's a dialogue between the art and the script," Monti says. "They support each other."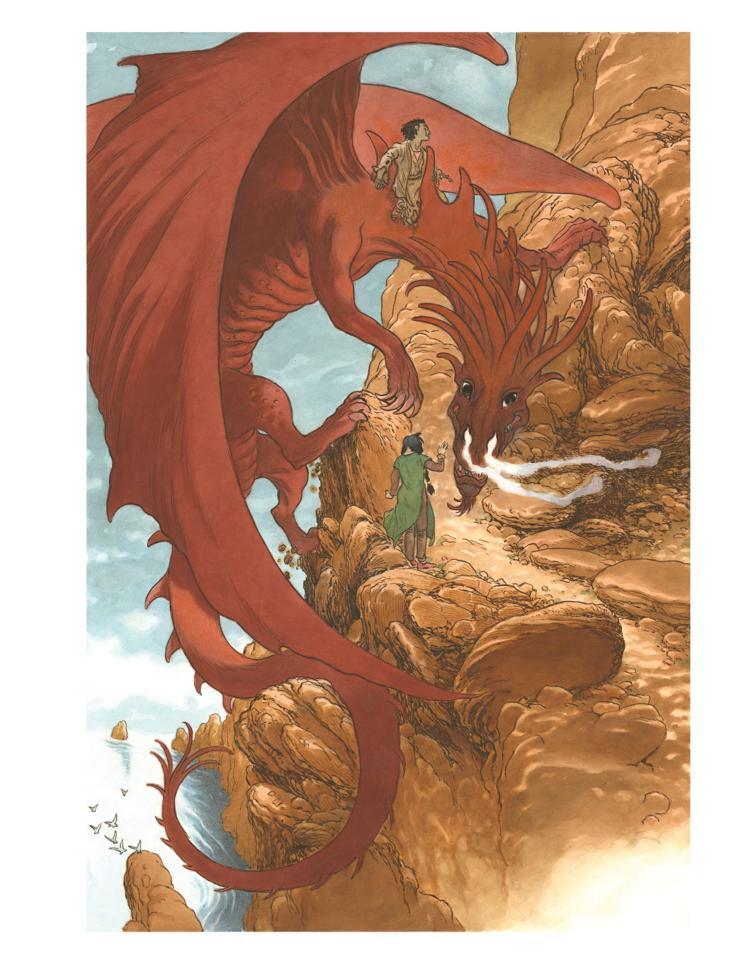 Still, Le Guin had concerns.
Writing on her blog in 2016, two years into the Earthsea project, she recalled her reservations explaining that "an artist of the standing of Charles Vess … can legitimately expect autonomy — to find and follow his own vision of the text without seeking any input from the writer."
Instead, her post continues, she found in Vess a true collaborator, starting with their yearlong conversation about dragons.
Emails flew back and forth, Vess' filled with sketches and Le Guin's bursting with insights into her work.
Trust was born, understanding found and, most importantly, a friendship was formed.
"The fire is burning," she wrote in 2016. "And I am perfectly certain that this book, whatever it may weigh, is going to be beautiful — a treasure."
Vess sifts through the piles of Earthsea sketches, eventually stopping on a sketch of two figures in a ribbon of rushing waves.
"This was the first drawing of the cover. Ursula was like, 'Well, Ged [an Earthsea protagonist] looks too much like Gandalf. Get rid of those flowing robes,'" he says with a laugh.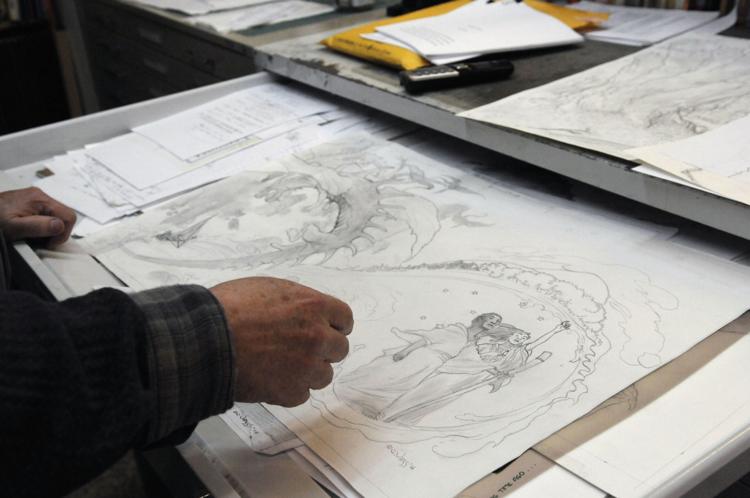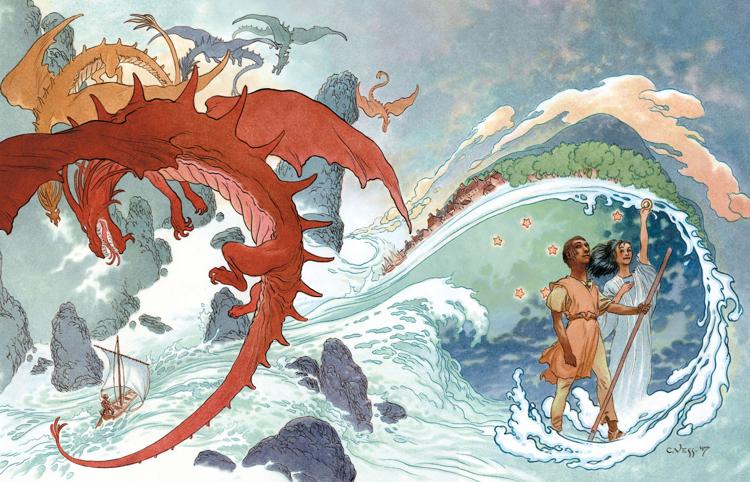 Le Guin feared too many illustrations might stymie young readers' imaginations, says Downes–Le Guin.
As it turned out, Vess shared the same concerns and had already formulated a plan to navigate it.
He focused on larger landscapes, thereby keeping the characters smaller and less detailed inside the larger picture. The few illustrations with character close-ups were to be drawn in shadow.
It took four years to complete all 55 images, including the cover, all of which will be on display at the William King Museum of Art in Abingdon from Jan. 27 through Feb 24.
"He's doing sketches, she's doing sketches, too, and they're trading them back and forth to each other," says Monti. "It's this exchange of ideas, and as this is going on, her vision of Earthsea is deepening and clarifying."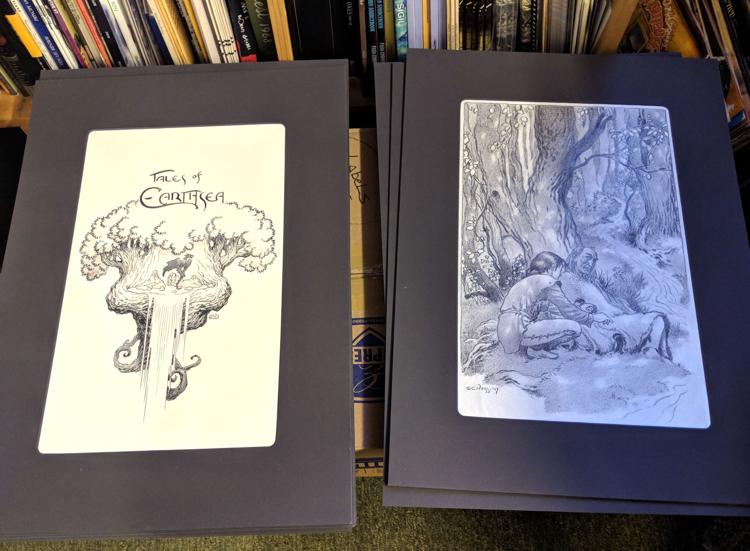 Rarely did Le Guin and Vess go more than a couple days without communicating, the illustrator says. By the time it was done, their emails numbered in the thousands.
Vess had finished all of the drawings and started work on the color pieces when Le Guin died in January at the age of 88, eight months before the scheduled release of the Earthsea compendium.
The author's last email to Vess was two days before her death.
"It left me in tears," he says.
A couple months after he received the news, Vess heard from Saga Press.
Le Guin has written one last Earthsea story — a final glimpse into her protagonists at the end of their lives — and after much debate, her family had chosen to publish it.
They needed one more illustration, and he had just two weeks to do it.
Vess says he drew and rejected six sketches before finally creating the one that would make its way into the book.
The entire time, he says, he "felt her looking over my shoulder."
The illustrator also added one last tribute to his late-life friend: a thistle in the bottom right corner of the drawing.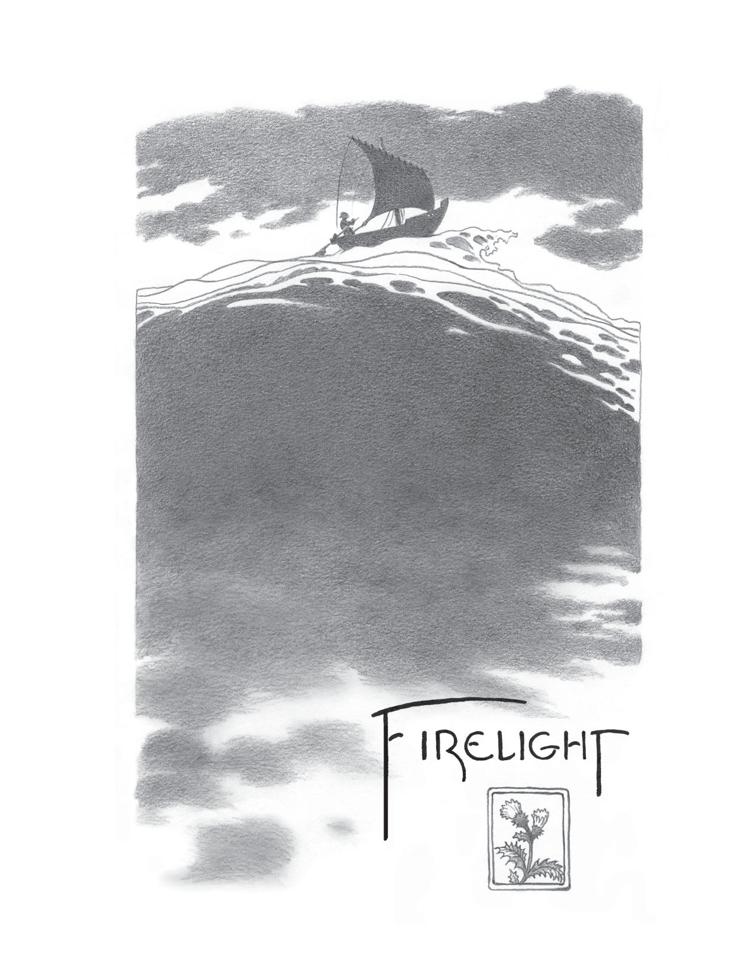 While not appearing in this particular story, the thistle was an image Le Guin used frequently in Earthsea because of her love for the tiny plant, he says.
"Small, hardy, growing where other softer plants wouldn't choose to, with its beautiful coloring disguising sharp, prickly thorns were all an apt metaphor for Le Guin herself," Vess adds.
Downes-Le Guin says his mother would have loved the final image, which carries a somber yet hopeful tone as well as an air of mystery so befitting the world she crafted.
It is because of drawings like these that he believes Vess' illustrations help continue the spirit of Earthsea.
"Charles' work is very generous to allow readers to exercise their imaginations while also giving them a fully formed beautifully articulated worldview," he says, "just as my mother did as a writer."