For almost eight years, Joel Guelzo has been consumed by Norman.
He ate with him. Showered with him. He even dreamed of him.
The protagonist and title of Guelzo's first feature film, Norman is a man out of time desperately searching for a way back to his home.
He also stuck around in Guelzo's head for far longer than the director hoped.
"I was like, 'Am I going to be one of those guys who spent a long time, and it's just a bad movie?'" Guelzo recalls.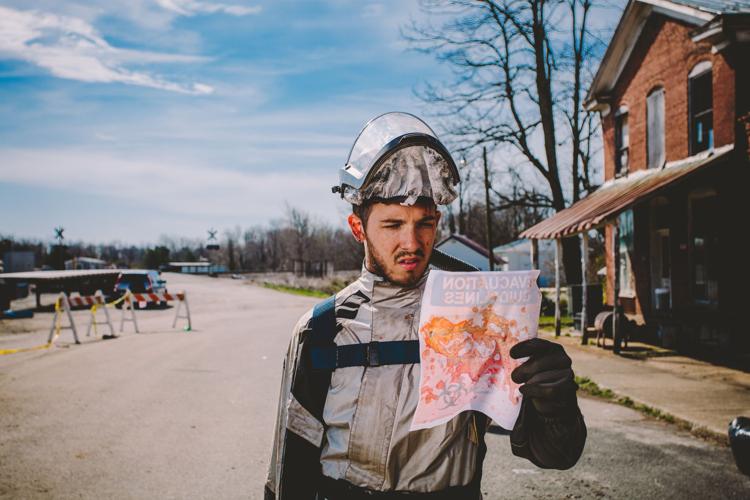 "... I was terrified of that, but at the same time, there was something inside me that said 'I can do this. I'm going to actually pull this off, and I'm going to make one of the best time-travel movies ever made.'"
"Norman" began as an idea for a short film in July of 2011.
The story, says Guelzo, followed a time traveler who builds a time machine and uses it not to save the world but for purely selfish purposes.
"This guy uses a time machine to literally escape his life, thinking it's going to be better," he says. "Obviously, it tracks him down and it never leaves."
Guelzo, who is a web designer for Liberty University and had no formal movie-making training, began filming in March of 2012 with a 40-page script.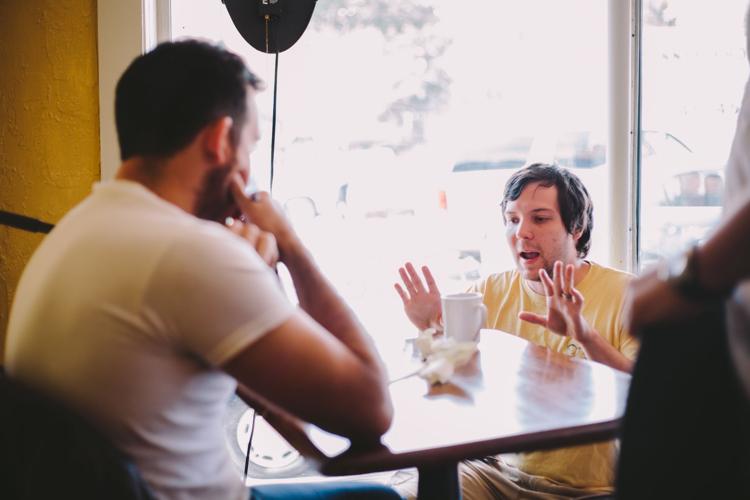 A friend let him use his house as a set, and his uncle's church became a futuristic laboratory with the help of plastic sheeting, PVC pipes and strategic lighting.
The small cast and crew shot a day or two at a time on weekends using Guelzo's one camera.
"I would keep my costumes in the back of my Jeep and wait for the word that we were good to film that weekend," says Stephen Birge, who plays Norman in the film.
The more they worked on the project, the bigger it became. Guelzo wrote more scenes and changed around dialogue.
"We had the time machine set up in [my friend's] basement for years," the director says.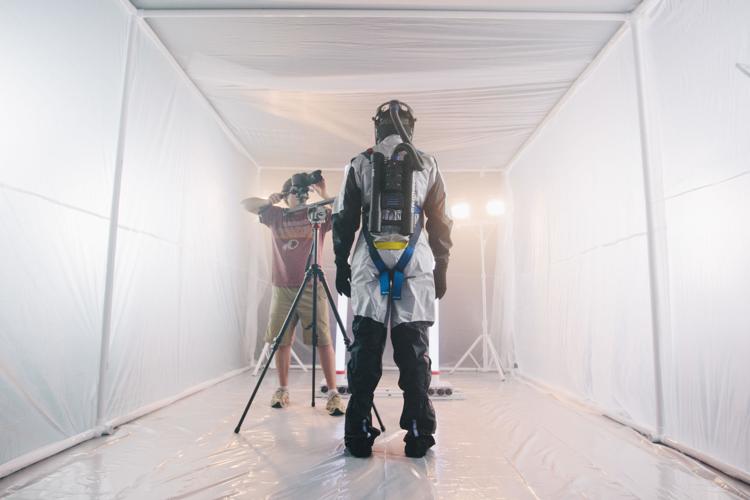 In January of 2014, Guelzo launched a Kickstarter campaign, complete with a movie trailer, in the hopes of raising $7,000 to fund the film's special effects work.
"Things had slowed down, and we were trying to decide what to do next, how are we going to move forward," says Birge. "Our community that we didn't know we had showed up and said, 'Here, finish this thing.'"
The campaign met its goal in just 24 hours. It doubled the amount over the next 30 days with people from all over the world donating.
"What Joel did was really fine-tune his vision, so you could see from shot to shot to shot that he had a really good eye," says J. Trent Adams, a backer from Denver, who has invested in several arts-related projects through online crowd funding.
"That's a technique that must come naturally to him because it isn't something you see in a lot of young filmmakers. I saw that and realized he had a good vision. He had a good eye. He had a good story, and all he needed was finishing funds."
Guelzo went back and shot more scenes, even going so far to fly Birge, who had moved to Florida, up to Lynchburg for those days.
When filming wrapped at the end of 2014, Guelzo assembled a post-production team that included his brother, Jonah, who used to work as a sound designer in Hollywood; local video production company Hello Studios; and California-based composer Daniel Ciurlizza, who got involved after seeing the Kickstarter.
Guelzo couldn't afford to pay them the full worth of their effort, so he encouraged them to work on "Norman" between paying gigs, even if that meant there was a six-month break between the completion of two scenes.
"It was kind of the ultimate backburner project," says Sam Hanson of Hello Studios.
Sound design and mixing took four years, while Ciurlizza, whose work can be heard in trailers for 2017's "Murder on the Orient Express" and 2018's "Red Sparrow," spent 3 ½ years creating an original score.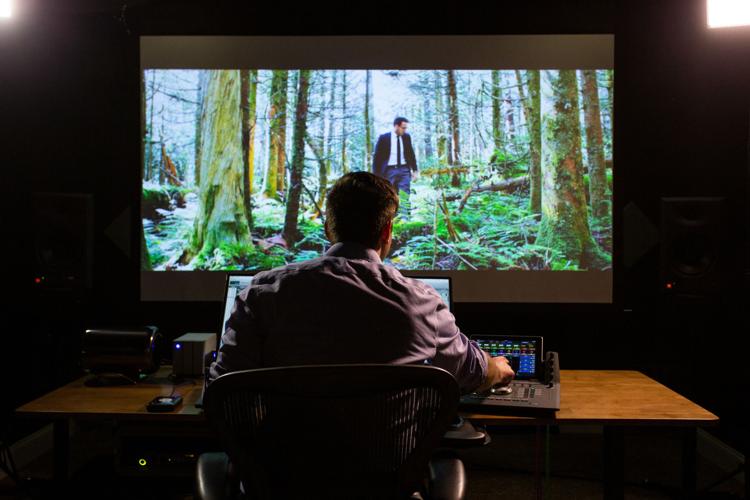 Wanting to ensure his world of science fiction stood out from the many others that already existed, Guelzo paid extra attention to the visual effects, a process that stretched over two-and-a-half years.
"The challenge was the subtlety," says Adam Everett Miller, owner of Hello Studios and a longtime friend of Guelzo's. "[Joel] wanted to incorporate it throughout, but he also really wanted to make it simple. ... Any time we sent him over an example, he said, 'Strip it down.'"
As the process dragged on from one year to the next and tentative deadlines slipped by, Guelzo struggled to stay positive.
"Having to kind of restart the engine every few months, as he would have more shots to send us or have updates or have revisions, I could hear in his voice it was hard for him to ask so much of so many people," says Everett. "Seeing how much he put into it, that kind of fueled us to continue."
Each time Guelzo felt like giving up, he would receive a message of encouragement from someone who had heard of the film,.
"People helped out of nowhere," he says.
Four years into the post work, Adams paid for a team of Foley artists from Ukraine to make the sound effects.
Eight months later, Adams flew Guelzo out to Colorado and connected him with a colorist, who evened out the tones in all of the shots.
"If I remember correct, it's about 10% of the overall budget," says Adams, when asked of his overall investment on "Norman."
In total, the film cost about $35,000 spread across eight years.
"If we had shot this movie in three months and I paid everybody, it might have been about a million dollars to shoot this film," Guelzo says. "It was like pennies for films."
Guelzo completed "Norman" in July 2018. That same month, he held a private screening in Lynchburg, which Adams, Birge and Ciurlizza all attended.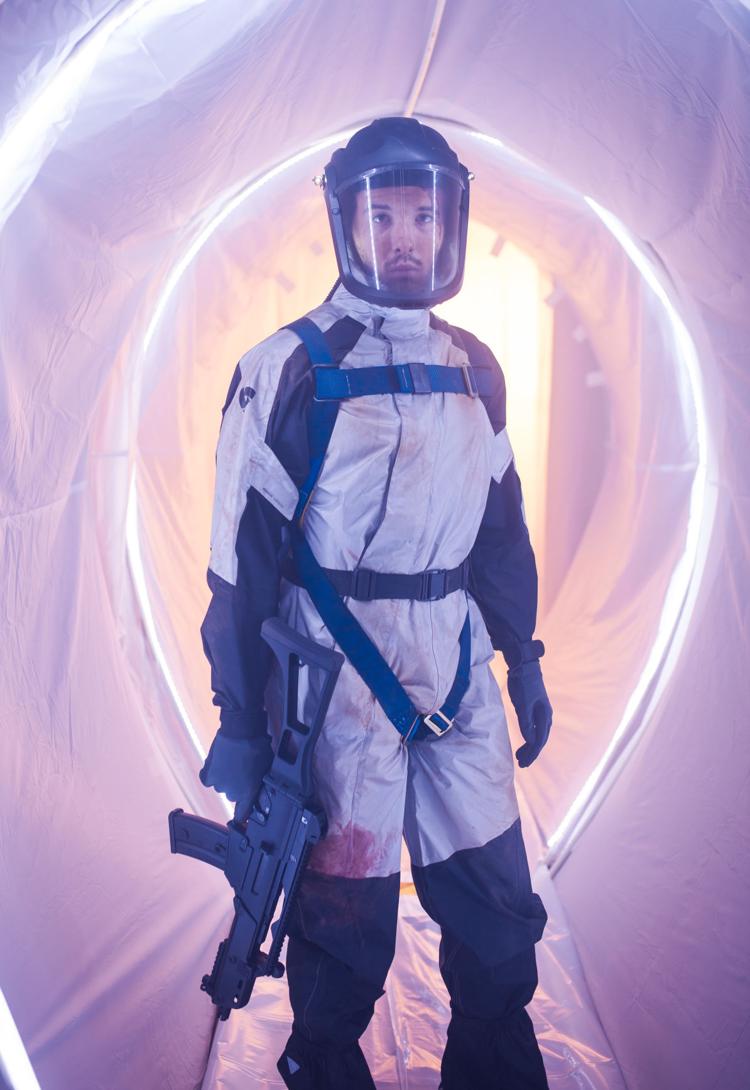 "It blew me away; I was so amazed with what Joel was able to accomplish," Birge says. "It took longer than we anticipated and wanted it to, but in the end it makes sense why it took so long. That was in part because everyone had to catch up with Joel's vision."
"Norman" premiered at the Richmond International Film Festival last month and will head down under for the SciFi Film Festival in Sydney, Australia, this September.
"In my experience, the films that have a clear and strong directorial vision, regardless of budget or resources, rise to the surface," Simon Foster, program director of the SciFi Film Festival, wrote in an email last week.
"Joel's film is such a work; a production where every minute of the 7-year journey to the screen can be seen and felt. 
Guelzo and his team have also submitted "Norman" to more than 20 other festivals and are waiting to hear the results.
"I have a feeling it's going to build on its own reputation," says Adams. "... It's going to act as a springboard for Joel to take his vision for making films to the next level."
Ultimately, Guelzo wants to secure distribution for the film that includes either a theater run or placement on a streaming platform.
Guelzo says he also has about 30 hours of behind-the-scenes footage that he's condensed into a 2 ½ hour documentary.
He hopes seeing the process that went into making "Norman" will inspire other filmmakers who lack the ideal schedule or budget to bring their dream to life.
"You know what making a film is?" asks Guelzo. "It's taking 10 minutes — even if you're literally using the bathroom and that's the only time you have — [to] jot down a few notes."