Why you should know her: Tarsha Joyner will be competing on the Food Network's "Christmas Cookie Challenge," which airs at 9 p.m. Saturday.
---
No one knows cookies quite like Tarsha Joyner.
Joyner's baking company, Mrs. Joy's Absolutely Fabulous Treats, grew out of a branding project from one of her graphic design classes at Lynchburg College, where she received her most recent bachelor's degree in art in 2013.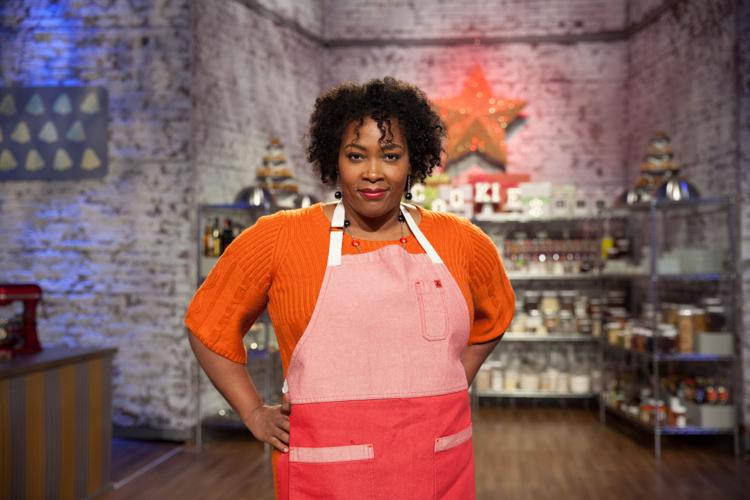 "In that particular graphic design class, we'd been doing a lot of packaging," she says. "I went to a website called The Dieline, and most of the packaging examples were based around food."
Joyner wanted to create a product that would really wow her professors and after looking at so many food-based product lines, her thoughts turned to cookies.
Not only did she want to design packaging for them, she wanted to make an actual product.
There was only one problem: Joyner did not bake.
So she thought of shortbread cookies.
"There's only three ingredients. How could I go wrong?" she jokes. "Turns out, there's lots of ways to go wrong.  The more I researched to see what I was doing wrong, the more fun it became, and I was hooked."
Since then, Joyner has grown her company while working full-time as an IT software support analyst, earning a following at the Lynchburg Community Market, where she has a booth.
Her artistic knowledge of both graphic design and photography is evident in the elaborate cookies she decorates. There are heart-shaped cookies piped to resemble dresses and suits and ties. Adorable yellow ducks outfitted with bowties, glasses and little vests. Victorian armchairs patterned in different colors and textures. Honeycomb-shaped cookies luster-dusted with hexagon shapes and decorated with fondant daisy flowers, golden bows and bees with tiny, fragile icing wings.
Each cookie showcases incredible finesse and dexterity in both imagination and skill.
"She puts so much love and so much dedication into every single detail of her products," says Jennifer Kennedy, market manager. "The first thing that usually always catches people's eye is the aesthetic. … Every single thing is picture perfect and then when you taste it, it's always next level from Tarsha."
Even though she's known as the "cookie lady," Joyner stresses that she does more than just cookies, from gooey marshmallows, French macarons and whoopee pies to custom cakes, candies and caramels. 
Not to mention her doughnuts, which Kennedy says has regulars coming in every Saturday.
Joyner also has built a relationship with cookiers across the world through the Facebook baking community, offering encouragement, trading tips and sharing photos of successful snacks.
Through these friendships she has expanded her culinary wheelhouse, all while experimenting, replicating and putting her own joy-ful twist on treats from different parts of the globe.
"It's really interesting. They don't have all the same ingredients we do and then they work with what they have to create treats that are just as delicious as ours," she says. "I want to experience making treats from all over. See what everyone else is eating and see what I like [about] it. I've found a lot of interesting things. Some things worked and some things didn't."
At the end of January, Joyner will open Mrs. Joy's Absolutely Fabulous Treat Shoppe on Commerce Street.
At the shop, patrons will be able to sit down and enjoy breakfast items, including quiches, pancakes and sausage biscuits, as well as Joyner's mouth-watering confections — especially those sought-after doughnuts and her deliciously detailed cookies.
It will also offer a delivery service to surrounding downtown businesses and condominiums.
Before the flour starts flying and the icing starts oozing at her store, Joyner will appear on the Food Network's "Christmas Cookie Challenge" this Saturday.
"She said she was really the only amateur chef there, which I think first and foremost speaks to the level she's at for her to be among these professional chefs … [picked] by producers of a huge network," Kennedy says. "She absolutely deserves it." 
On the episode, which was filmed in August, Joyner went up against four other competitors as she tried to bake her way to $10,000 and earn the ultimate cookie cred.
Has your background in art helped you in baking and, if so, in what way?
"Yes, it most definitely has. I have learned how to utilize basic elements of design to create my treats. My two favorite elements are color and texture. I mix colors and color matching, and I get to do that on a daily basis with baking — especially with the artisan cookies.
"I'm glad I learned all that I could about the art of photography. I often get asked by other bakers in the world of Facebook groups how to take better food pics, and I'm always happy to share that knowledge. I love taking pics of my food. It's just another way for me to be creative. And food doesn't cry or get whiny or make ugly faces because it doesn't want to be photographed."
Right now, what is your favorite cookie to make?
"Right now, my favorite cookie to make is an alfajore. It's an Argentinean shortbread sandwich cookie, and the crème of the cookie is so delicate, you don't get a crunch or a crisp. It just melts in your mouth and it just kind of crumbles if you don't hold it right. It's filled with a dulce de leche and rolled in coconut traditionally, but we don't always do the traditional way of making it.
"The basic shortbread recipe tastes the same, but sometimes we make it a chocolate cookie instead of a vanilla cookie and sometimes we fill it with ganache instead of dulce de leche. It's just a really pretty cookie to make, and it's just delicious."
What is the longest you've ever spent decorating a single cookie?
"The suit and tie cookies, they take maybe about five or six hours from start to finish. If I was working on one cookie or working on 12 cookies, it would still take me about the same amount of time. ... Those are my favorite, because you get to put in the lapels and the buttons and the little pocket squares; maybe even a flower or something. … I also get to put in fabric patterns and textures."
You said your recipes are top secret. Where do they come from?
 "They come from a lot of mistakes. You can't just trust recipes you get online. I often wonder if most people that share recipes are like me and leave stuff out on purpose. You don't want anyone making your recipe as good as you do. I rarely follow a recipe as written because I can tell by reading it if it'll taste good or not. I generally make my own variation based on my past experience and taste."
How did it feel to find out you had been chosen to compete on the "Christmas Cookie Challenge"?
"I was so over the moon. …I got really, really excited, but then I got really reserved, because I didn't want to believe anything until I got there. Then when I got there, I got sick to my stomach. The thing about it is it's not only my family and the people in Lynchburg [who] are going to see it — that's all well and good — but the cookiers all over the place are going to see that. And if you go there and you don't represent, then you just lose all cookie cred that you could possibly have. If you look stupid, they will rag [on] you about it."
What did you find to be the most challenging part of "Christmas Cookie Challenge"?
"The time factor. As a home-based baker, the time is huge anyway because I have a limited amount of space, a limited about of time to get everything done, seeing as I work full time, but it was just magnified when I went there. The time element is just something that is constantly eating at you while you are trying to perform. It was very stressful, and it was a lot of pressure. Difficult doesn't seem like a strong enough word to describe that time [is] constantly nagging at you while you're trying to do something."
What can you tell me about your new shop?
"It's right next to the Renaissance Theatre and right at the top of the Bluffwalk. I mean talk about art central. I'm really looking forward to participating in First Fridays. As an artist, I really want to be able to help other artists display their artwork, so part of the wall space in [the] shop will be an art gallery. I definitely want to make an impact."