Walking through the cracked doors of Speakertree Records on a recent Tuesday night, the temperature spiked at least 10 degrees.
The room was muggy, humid with the energy of bodies in motion, while stomping feet and speaker reverb shook the hardwood floors. It felt like fiction, that the dark quiet of Jefferson Street in downtown Lynchburg on a weeknight could transform into joyous celebration in an instant. Dancers crowded against the seam of the doorway, stealing cool air from outside, and lined the counter of the coffee bar and spun out across the record-lined floor. 
Lindy Hop, a partner dance that originated in 1920s Harlem, finds new life in pockets of communities across the country — like the one-year-old Lynchburg Lindy Hop group, a rebirth of the popular swing dance in Lynchburg after the old group shut down years before. 
Founded by Timothy Rosales, 25, and Abby Clapham, 26, in February 2019, a group that began with a handful of people now draws upward of 25 to 30 people every Tuesday night. 
Each session begins with a lesson on basic steps from 7:30 to 8:30 p.m., with the social dance lasting until 10 p.m. 
With jazz and big band music blaring, the gathering was in full swing. Dancers were paired off across the span of the shop floor, unencumbered by gender, by status, by age. All you need is a lead and a follow, Clapham said. In her case, she likes to do both. 
That way, she said, you never have to sit out a song.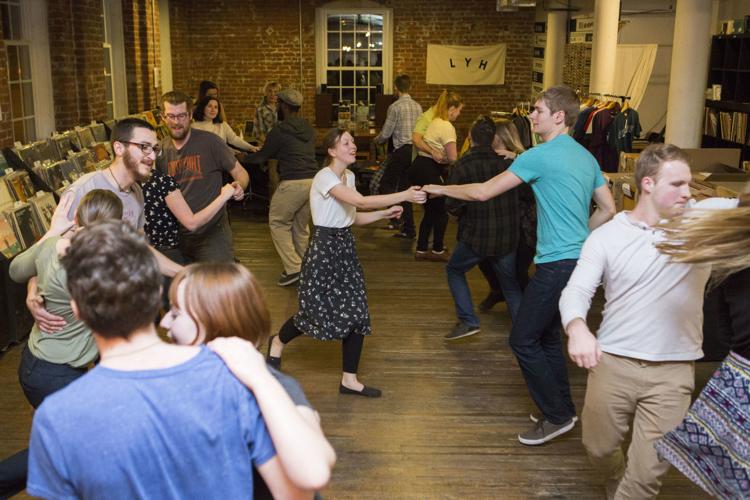 She likened the dance to a language — one where the leads start the conversation, and the follow fills in the gaps. Everything is a suggestion, improv or riff on a foundation of a few basic steps. 
Clapham has been dancing since 2014. When she was asked by a friend what her most pivotal moment was of the last decade, without hesitation she said it was the day she learned how to dance the Lindy Hop. She moved to Lynchburg for work last year, and though she came here knowing no one, through dance she has built a strong, tight-knit group of friends. 
She met Rosales at an impromptu salsa night in the city. They both called it fate. 
"It had been so long since I had such a pure connection with someone, a good connection, that I almost cried," Rosales said. "I didn't realize what I had been missing." 
He described the Lindy Hop as a social activity. Instead of getting together at a bar to drink and socialize, dancing is the mediator to lower inhibitions.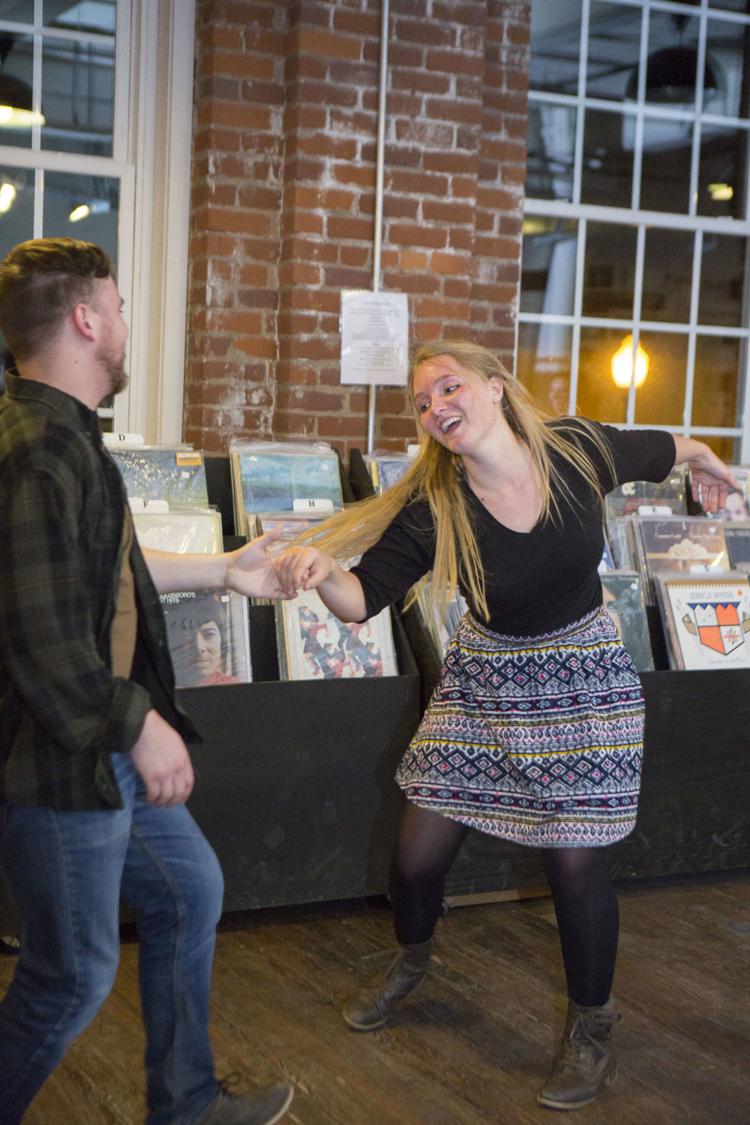 "You are less fearful to connect with one another," Rosales said. "We give basics and fundamentals of how to communicate with your partner, and they use that and jazz music to figure it out from there."
Like Clapham, Rosales said he moved to Lynchburg a stranger to the city. Now, a year later, he has found a dozen of his closest friends and built an entire community. 
"We spend so much time a foot or two away from one another," Clapham said. She touched Rosales' shoulder to demonstrate. "When you're dancing, you have to bridge that." 
Below the music was the constant hum of conversation, both between paired dancers and the waiting audience. From outside came the metal screech of a passing train on the tracks, and the tinny rattle of glasses and ceramic mugs lining the coffee bar. Every so often, the motion of the dancers would shake something loose from the counter, laughter, apologies and a subsequent rescue following in its wake. 
"Lynchburg wants to pretend that it's a very sleepy town," said Christa Voirol, 23, red-cheeked from dancing. "But there's so much bubbling under the surface."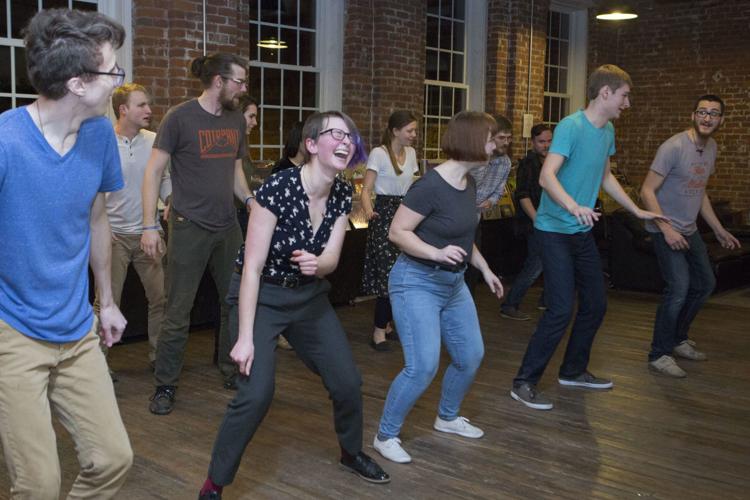 Voirol learned swing dancing in college, and moved to Lynchburg a few months ago. She first came to the Lindy Hop group the night of her job interview in town, and once she was hired, was determined to help grow the scene. 
Of course she loves the dancing, she said, but it's the people that swing dancing attracts that she loves best. She called it the most joyful activity, a history intertwined with the last century in America.  
Lindy Hop is timeless, she said, unchoreographed, with skills accumulated like multicolored crayons. She likened a partnered dance to creating an entire picture with someone. 
It was a room of success stories, of people who found solace and belonging through the burgeoning Lynchburg Lindy Hop community. 
Some, like Haylee Corvin, 22, of Fincastle, drive three hours round-trip every week to come to the group. Others, like Zach Newlun, met their spouses-to-be through the dance. 
Six years ago, Newlun, now 28, was teaching friends how to swing dance in the parking lot of the former Lynchburg Smoothie King on Wards Road, jazz blaring from his car speakers. A car rolled up beside them, and a beautiful woman stepped out of it. 
"This was a movie moment," Newlun said. "Beautiful girl, parking lot, never seen her before ... it was fate." 
They started to dance, and were still dancing three songs later. After that night, she lost his number, and 10 days later he saw her through the window of a Starbucks on Wards Road. 
Their first date was doing the Lindy Hop with the old Lynchburg group. 
"We have been swing dancing, about once a week for six years, ever since. That's how I met her, that's how we fell in love," Newlun said. He pointed her out on the dance floor, and waved her over when the song ended. 
Laughing, Anna Newlun, 25, confirmed it was as romantic as he made it sound. 
"We're old souls, don't let the snapback and the Vans fool you," Zach Newlun said. They're even in each other's phones as Audrey Hepburn and Fred Astaire, he said. 
Michael Siebert, 42, also met his wife through swing. He moved to Lynchburg from California in August and immediately got involved with the reborn Lindy Hop group. He started swing dancing with his grandmother when he was 12 and never stopped. Through dance he has traveled across the country, competed professionally, DJed, opened studios, closed studios and made lifelong friends.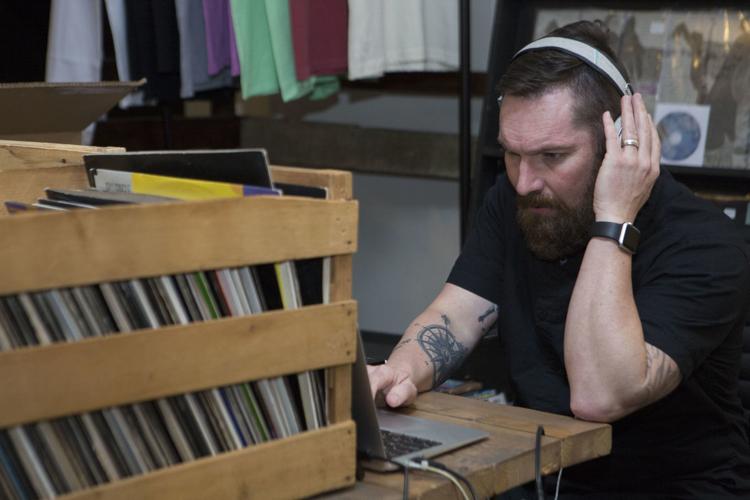 "There is a freedom about this," Siebert said. "Between excitement and the social aspect, it brings people together." 
Started as a street dance, the Lindy Hop has no rubric, and the rules are less limiting then other more structured dances. 
Lindy Hop faded out in the 1950s as the music began to change, while rock 'n' roll became popular and music lost the triple-count beat. It found a resurgence in the 1980s, a macrocosm of the present narrative — like Lynchburg, where it has faded out, before finding new life with a new group of people, years later. 
"There is a legacy of passing stuff on," Siebert said. "I'm a result of having [Lindy Hop] passed to me, and that's what we are trying to do here."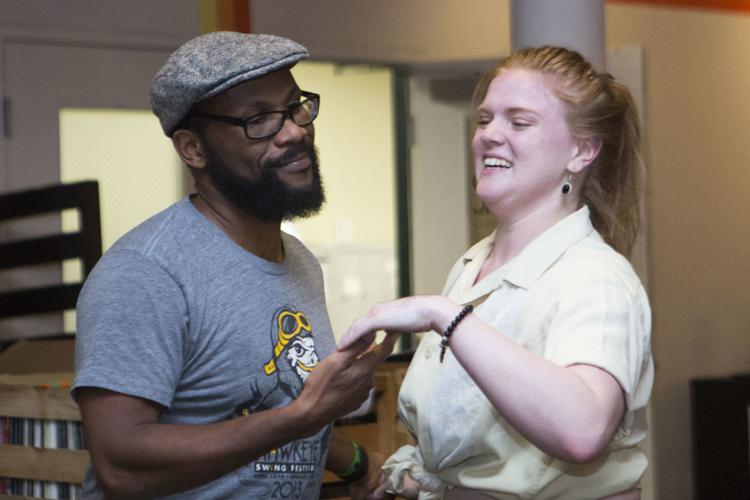 Be it 27-year-old Austin Sohr, who said he is something of a hermit when he isn't dancing, or Daniel Metzger, 21, who said the Lindy Hop has changed his life, everyone was eager to share their testimonial — snagging moments of conversation in between dances, in the lull between songs. 
Emilia Braun, 20, was collecting the cover charge at the door. She said she even walks differently since she started to dance. 
"It's been super healing," Braun said. She pointed out a friend on the dance floor, his limbs all but flailing, and labeled it an "unbounded joy for life." 
"We've come from all different places," she said. "But we found each other at the right time." 
Corvin paused to talk before getting tugged back on the dance floor, shouting over her shoulder as she goes. 
"I see a new person come in," she said. "And I'm like: 'I hope this changes your life.' ... It has changed my life completely." 
The magic of it is that no matter how little dancers know each other, how fresh the partnership or how novice the dancer, whether they lead or follow, it only takes a few beats of the song and then, inexplicably, they are dancing.