A look of concentration passes over Josiah Singleton's face as, with a mighty swing, he lets go of the stationary bar in his hand and launches his body through 12 feet of open air.
With a thud, his hands grasp a second horizontal bar and he holds tight even as the force of his jump tries to carry him farther. 
"I like flying through the air," says Singleton, 22. "That's one of my favorite things in the competitions."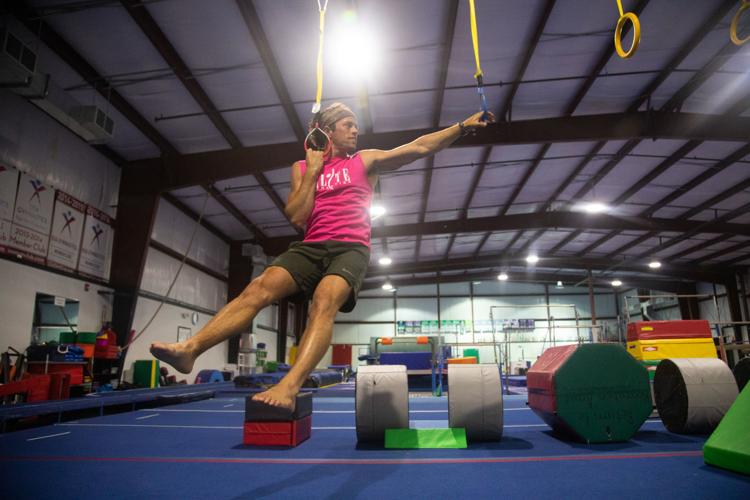 The Brookneal native's adeptness at the move, called a lache, came in handy when he recently competed on season 11 of "American Ninja Warrior."
A spin-off of the Japanese series "Sasuke," NBC's "American Ninja Warrior" is a test of strength, speed and endurance like no other. Each season, hundreds of people from across the country battle their way through a series of obstacles suspended over water in the hopes of being named an American Ninja Warrior.
Those who successfully complete the first two rounds of competition (Singleton fell in round two), or go far enough fast enough to earn a top spot, head to Las Vegas to compete in four more courses of increasing difficulty. The competitor who makes it through all six stages  — if anyone is even able to at all — wins $1 million and the ultimate bragging rights.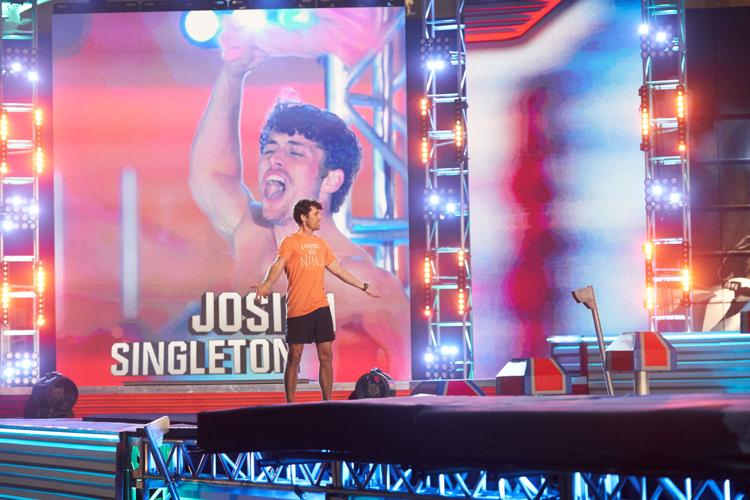 But actually winning the show is no easy feat. In the 10 seasons that have aired in their entirety (the 11th is currently ongoing), only two ninjas have ever reached the course's final stage: a 75-foot rope climb up a structure called Mount Midoriyama. And while both completed that stage, there was only one who clocked in a fast-enough time to take home the cash prize and title. 
That hasn't stopped folks from trying. Thousands apply to be on the show every year — and it's not just pro-athletes or Olympians either.
Schoolteachers, doctors and construction workers have turned out to be some of the most dominant ninjas around, which has led to the growing popularity of the sport.
Here in Lynchburg, a burgeoning ninja community, of which Singleton is a member, is aiming for glory. 
"Since like fifth grade, I've always wanted to be an American Ninja Warrior," says rising Brookville High School senior Carrington Osborne, who has a course in her backyard. 
The appeal of the ninja warrior competition circuit is that it isn't combative or aggressive in the way more traditional sports are, says Forest resident Chad Thornhill, 35.   
Although every ninja is technically trying to go farther than the next, there still is a sense of community.
"There's a mentality that it's us versus the course," says Thornhill, known as "Dr. Ninja Dad Chad" in the Lynchburg ninja family. "Everybody's genuinely cheering each other on, like they want to see everybody do well."
Adds Singleton: "We're just trying to have fun and better each other. That's just kind of the culture that has been created throughout the years."
Although the community is always welcoming, becoming a Lynchburg ninja hasn't been easy.
When Thornhill, who teaches at Liberty University's School of Divinity, got into the sport six years ago, he couldn't find a gym specializing in ninja training in the area.
"There were not any ninja gyms within about five or six hours from here back then," he says.
Like practicing pass routes with your quarterback or shooting hoops from the free-throw line, being able to train on a course with obstacles that are used in ninja competitions is important.
"It helps your body awareness, getting on different obstacles and learning how to use your body — use your core, use your legs in the most efficient way possible," Singleton says. "Because when you get to a new obstacle, a lot of times, if you have that good body awareness or you've been on something maybe similar to that, you can figure it out a lot easier than if you have never done anything like it before." 
Consider, for example, the Salmon Ladder, where competitors climb up two pairs of vertical posts by raising a metal bar up one rung at a time.
A ninja can perform explosive pull-ups — regular pull-ups done as fast and hard as possible — to practice a similar kind of movement, but it won't prepare you for the jarring feeling that happens when the metal bar lands on the rungs, Thornhill says.
Five years ago, Thornhill started building ninja obstacles in his garage so he could practice. A friend of Singleton's built him a backyard course in Brookneal in 2018. 
Singleton and Thornhill eventually started working with Elite Athletics when the gymnastics school added a ninja course to its facility on Waterlick Road in Forest and started offering ninja rec classes a few years ago.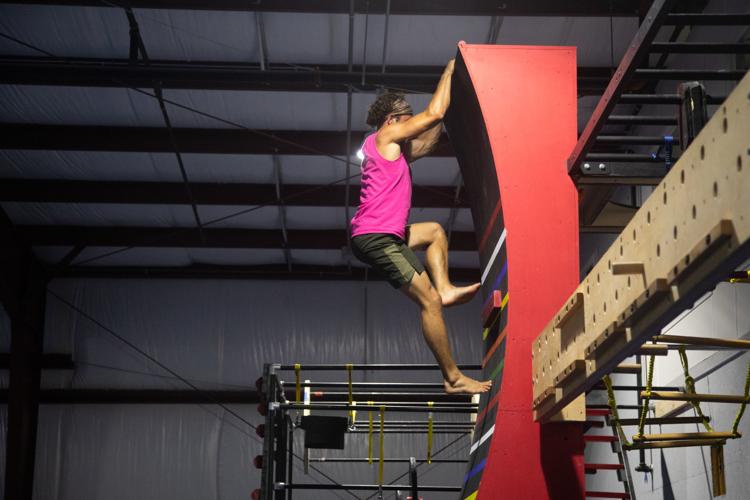 Currently, the school's classes are for children ages 3 and older, but there are plans to add classes for adults soon, says Ben Whitlow, 19, who manages Elite's ninja program.
Over the years, Thornhill has added to Elite's course, which includes the aforementioned Salmon Ladder, making it more difficult.
Last fall, he built a second structure out of pipes that included such obstacles as the Devil Steps, a set of angled stairs ninjas must ascend or descend using their upper bodies, and a set of Fly Wheels, hanging wheels with one-inch ledges on each side that ninjas must traverse by swinging between them. 
"We try to keep the challenges fresh every week so that they always have something new to conquer," says Thornhill. 
The "they" he's referring to make up Elite's ninja team, a group of 11 kids ranging in age from 5 to 12 who train to compete in ninja competitions.
"We try to hit four to six competitions a year," says Whitlow, who also coaches the team.
So far, Elite's team has competed in ninja contests at Ultimate Backyard Warrior in Rocky Mount, North Carolina, where several top athletes from the show compete, and at Level Up in Thompsonville, North Carolina.
Several members of the team, as well as some of the Lynchburg ninja community's older members, also competed at the State Games of America last weekend at Liberty University.
"Two of [our students] cleared the whole course," says Whitlow. "I think that's the first clear we've ever had."
Whitlow says he can't take all the credit for the students' success; one of the other ninjas working with the team is Singleton.
Singleton, who is starting his masters at LU in the fall, applied twice before getting the call to appear on "American Ninja Warrior" this year.
"That was a shock in itself," he says. "You always think, 'Let me send in something,' but they see hundreds and hundreds and hundreds of things. You're not really expecting the call."
Once he'd been picked, Singleton traveled to Atlanta in mid-March for the taping. 
Following in a longstanding Ninja Warrior tradition, where competitors choose or are assigned a nickname based on one of their character traits, Singleton ran the course under the name "Country Boy Ninja," an homage to his hometown.
It "was a little nerve-wracking," he says of his first time on the TV show's course. "... Standing up there [at the start] you see all the lights flashing on you and the whole crowd chanting your name."
His nerves faded as he worked his way through the first 10 obstacles.
"[I] scream[ed] a lot," he says with a laugh. "I was just excited. I was trying to celebrate every chance that I got to because I was like, 'I don't know when my last chance to celebrate will be.'"
The celebration didn't end that run. Singleton made it through all 10 obstacles, including the infamous 14 ½-foot Warped Wall, which contestants must scale.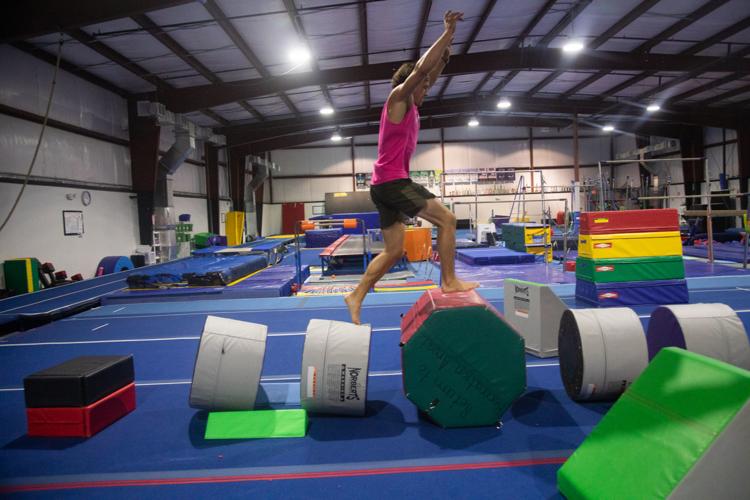 Singleton's time on the show ended when he fell on the eighth obstacle in the second round, called a city final, with just two additional obstacles between him and the end of the course. That run was featured on the show July 22, preceded by interviews with Singleton and shots of him working out at home in Brookneal. 
"For me, I would just say inexperience," Singleton says when asked what he thinks happened on the course.
The obstacle that did him in also ended the runs of some of the show's veteran ninjas, leading many like Whitlow and Thornhill to believe Singleton will make it even farther next season.
"Next year," Whitlow says, "Josiah's got it in the bag." 
But his time as the premiere ninja in Lynchburg is limited, Singleton says.
While the number of adults finding the sport continues to increase, many younger ninjas, including Carrington Osborne, have been training on courses for most of their lives.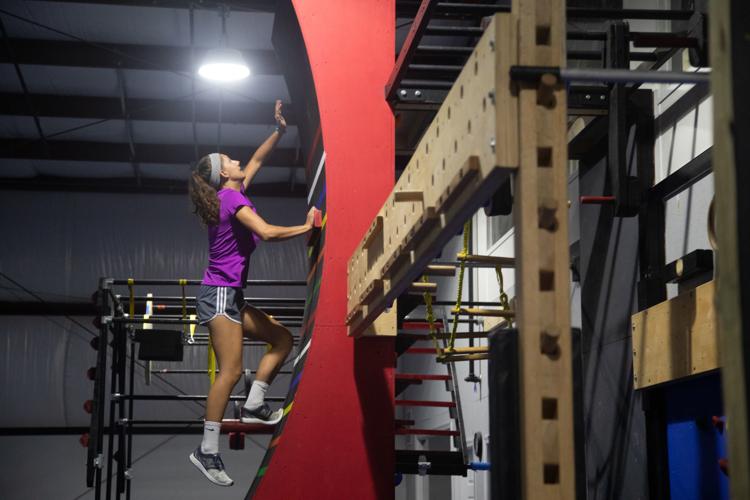 "We've got some up-and-coming kids that are going to blow me out of the water," Singleton says.
After falling in love with the show when she was 7 or 8, Osborne, now 17, convinced her father to help her build a ninja course in their backyard.
The course started small, but currently takes up "a good portion" of the backyard, Osborne admits.
"I keep adding more," she says with a smile.
Her experience on the course shows, says Whitlow, noting Osborne placed first in the female amateur competition at the State Games last weekend.
Osborne, who also is a ninja coach at Elite, eventually hopes to move her course from her family's yard into its own facility.
"I want to own my own gym," she says. "I just want to bring it to this community. This is a great start, but you know, I just want to broaden it."
For the time being, Osborne's focus is on a much nearer goal: Appearing on "American Ninja Warrior," which lowered its age limit from 21 to 19 in 2018.
If everything goes according to plan, she might get there even sooner.
"When you turn 18 you can test a course," she says. "I'll be 18 in March, and usually that's when some of the taping starts, in March. I would love, when I turn 18, to be able to go test a course."