Owners: Lauren and Corey Knapp
Products: Candles made with essential oils and soy wax, as well as diffuser blends
Price: Candles range from $3.50 for a 2-ounce amber jar to $18 for a wine bottle candle that holds about 12 ounces of wax; the 15 mL diffuser blends are $15 each
What's in a name: "K.E. Candle Company began as Knapp Essentials — 'Knapp' for our last name and 'Essentials' for essential oils," Lauren Knapp says. "My husband suggested we revise it to K.E. Candle Company to better identify our industry. That change was made a couple of months ago and has been very positive."
Find their work: At The Crimson Magpie on Timberlake Road, The Hip Tulip on Main Street and Bloom by Doyle's in Boonsboro. Knapp hopes to have her online shop up soon; for now, more information can be found on their Facebook page, www.facebook.com/knappessentials.
---
Lauren Knapp made her first candles in May 2018, when she was pregnant with her daughter and in search of "natural candles that still smelled and looked great."
"The research I found on the health effects of synthetic fragrances alarmed me," says Knapp, an Amherst native who now lives in Lynchburg. "My background is in biology, chemistry and health care, so I understand how environmental factors can impact health in the long term. … I reviewed the manufacturer safety data sheet for a popular fragrance oil marketed for candles and was surprised to see a warning about inhalation even in quantities approved for candles."
Despite a brief break after her daughter was born, Knapp has been making candles using essential oils and soy wax — which she says is plant-based, clean-burning and longer lasting than the traditional paraffin wax — ever since.
Soy wax is a little more expensive than paraffin, she says, but the real challenge comes in working with the essential oils. Because they are naturally derived, she can't offer some of the scents found in fragrance oil candles — apple, for instance — but says "I do my best to replicate what I can with careful blending."
K.E. Candle Company, which Knapp runs with her husband Corey, offers about 25 scents at any given time, she says, and rolls out new ones seasonally.
"Coming up with new scents involves online research of what blends well together, testing out blends using just a few drops of each oil, and seeing what burns well since some oils don't have the best hot throw," she explains, referring to the intensity of the aroma when heated.
Some of her scents are identifiable by their names (think Lavender Lemonade or Pumpkin Spice) while others channel the season or a general feeling, including Sweater Weather, Harvest, Rainy Day and Flannel.
Scenic Drive, for instance, is a blend of cypress, cedarwood, fir needle and sage essential oils.
"It's a woodsy scent that takes me back to days of hiking in the mountains," Knapp says. "My husband liked the name Scenic Drive since it inspired elements of driving with the windows down on the Blue Ridge Parkway."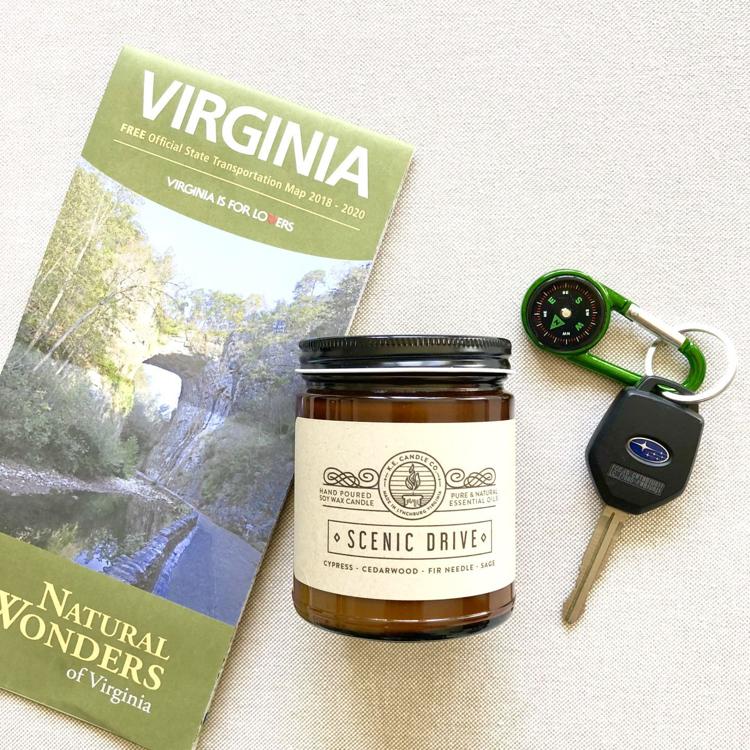 Knapp, who works as a project manager for a large medical device company and makes the candles on the side, began selling them after receiving compliments from family and friends.
The candles come in 2-ounce and 9-ounce amber jars, a conscious choice, she says, because "essential oils will degrade when exposed to the elements, and that includes light. Some oils degrade faster than others but we didn't want to risk the quality of our candles and chose to pour all of [them] into dark containers."
Recently, they began offering candles poured into reclaimed wine bottles as well, and will offer $3 off when a customer provides the bottle.
K.E. Candle also offers diffuser blends that utilize the same essential oil blends that go into the candles, an item Knapp said she added for customers who don't like to burn candles.
"We are constantly learning what works and what doesn't," Knapp says. "… Healthy living is important to us, and the air we breathe is a part of that."