Owners: Rich and Mary Michealsen
Products: One-of-a-kind birdhouses and home and garden décor
Price: The birdhouses range from $69 to $199, and home and garden décor from $22 to $300
What's in a name: "Our children came up with the name 'Geppetto' just because [Rich] has always been a carpenter and has the ability to make anything out of wood. Our daughter Kristen added the 'Primitive Workshop' because we like to make everything with a primitive style and use mostly reclaimed materials."
---
The tagline for Geppettoz Primitive Workshop, the business run by Rich and Mary Michealsen, is "OLD is the new NEW," a nod to the couple's knack for turning reclaimed materials into one-of-a-kind pieces.
The Bedford couple specializes in birdhouses, as well as home and garden décor. They prefer vintage materials to new ones, they say, "because [it lets] you imagine the history or memories attached to each item."
The birdhouses come in several shapes and sizes and often are embellished with old sink faucets, shutters or dresser knobs and legs.
They gather their supplies at yard sales, estate sales and auctions, then collaborate on the designs together. Rich, who has a background in the building industry, handles the carpentry and assembly, while Mary, an interior decorator, takes care of the old hardware, handles, knobs and other finishing touches, as well as the paint or stain.
In the past, they've used barn siding, oak and pine flooring and tin ceilings in their creations; they've also turned old chicken coops into coffee tables and vintage window sashes into curio cabinets.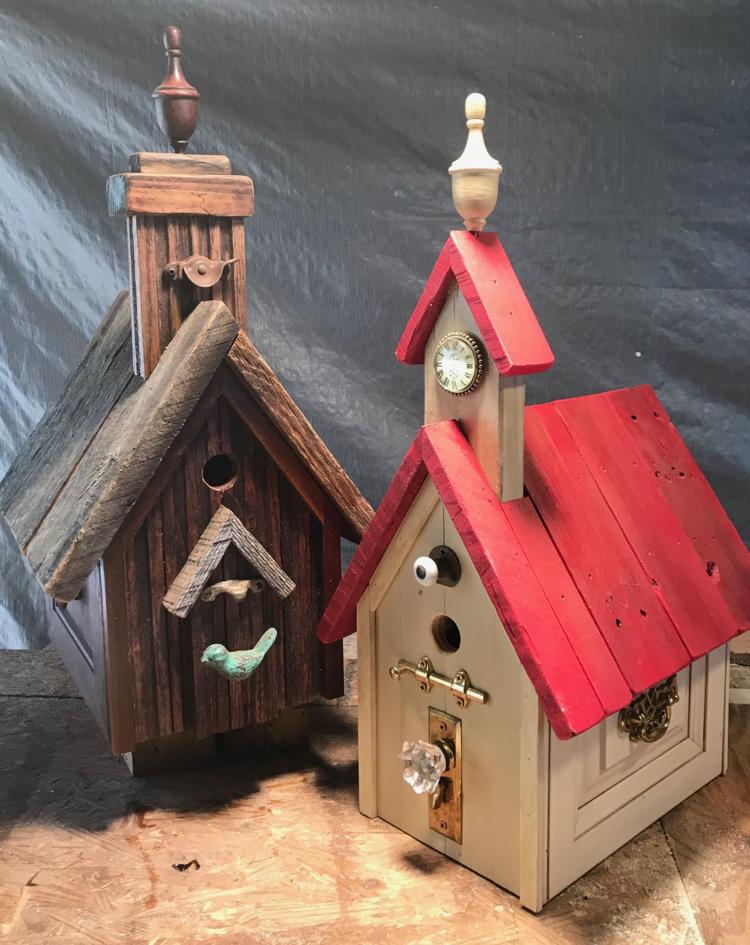 Geppettoz isn't the couple's first time working together so closely. Originally from Northport, New York, they ran a construction business there for more than 20 years, building custom homes and renovating existing ones.
In 1989, the Michealsens moved to Smith Mountain Lake, bringing their business with them. It was there that their interest in older homes was piqued.
"It wasn't long before [our] hobby became restoring furniture and creating gifts out of barn siding and other reclaimed materials," they wrote in an email Q&A, listing off some of their materials: metal roofs, vintage window sashes and cabinet doors.
They relocated to Bedford in 2015, moving in next door to their daughter Kristen, whose barn became the home for Geppettoz.
"We have always made gifts for friends and family, it's just part of who we are," they wrote. "When those homemade items were admired, it wasn't long before people were placing orders for custom items. It slowly evolved, and our clients through the years got excited when we retired and could dedicate more time to creating one-of-a-kind items. We love working together and seeing customers love what we do."