Products: Hand-stamped jewelry and handcrafted leather and macramé accessories
Price: Range from $16 to $28
What's in a name: "My children and I spend a good deal of time outside observing nature and incorporating it into our school days. We have lots of house sparrows around, so it seemed fitting to create a business name incorporating 'sparrow.' Sparrows are also mentioned in the Bible several times, and I knew that I wanted to use my business as a platform to encourage others."
---
Monica Evans attributes her creative streak to her grandfather.
"My grandfather was very handy and spent time woodworking and making various things," she says. "We lived next door, so I was often part of his adventures."
Evans eventually started her own adventures, studying art at Longwood University and earning her master's in teaching from Liberty University.
Combining her degrees, Evans spent six years working as an art teacher at Appomattox Middle School, leaving to home-school her own kids in 2017.
While Evans fueled her students' artistic passions, she also found a creative outlet of her own when she started designing jewelry as Free Sparrow Co. in 2016.
"Once I left my career to pursue teaching my own children at home, I began to put more energy into Free Sparrow Co. in the hopes of transitioning it from a hobby to a business," Evans says.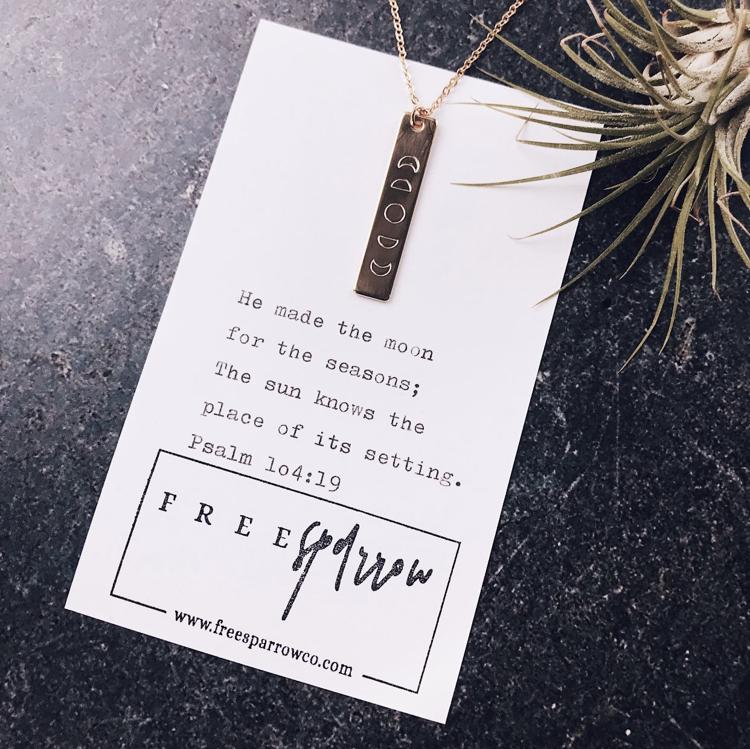 Free Sparrow currently offers hand-stamped jewelry and handcrafted leather and macramé accessories.
"I consider the simple stamped necklaces my mainline items, and then enjoy creating other designs and products as I feel inspired using various materials and ideas," says Evans.
Evans also offers custom work on her existing designs including dates, initials and coordinates.
"I'm even in the process of experimenting with stamping messages using Morse Code," she says.
Evans describes her design aesthetic as natural with a bit of a vintage and rustic flair. She often uses distressed or vintage-plated metals to help achieve this look.
"Most of my necklace designs are placed on a scripture card, which I type using a vintage typewriter."