[Editor's note: This column contains spoilers from Sunday night's episode of "Game of Thrones."]
The Battle of Winterfell delivered.
I woke up Monday morning still processing Sunday's "Game of Thrones" episode featuring the long-awaited fight between the living and the dead. The Night King and his army finally arrived, and our heroes spent most of the 80-minute running time fighting for their survival.
And, in the end, they actually won, something I did not see coming. At all. I was prepared for some of my favorite characters to die as the good guys lost this particular battle against the White Walkers, and for the war to continue in the series' final three episodes (perhaps it had something to do with my desire to watch Cersei taken down by a horde of wights).
So you can imagine my surprise when Arya swooped in to kill the Night King, wiping out all the White Walkers and wights, and ending what had long been billed as the Great War.
The entire episode was thrilling, when I could see and decipher what was going on, but I still feel a little underwhelmed when reflecting on it as a whole. All that build-up, all that talk about the army of the dead, and, just like that, they're gone. I really wanted to see Cersei taken down by a horde of wights.
The opening shot was amazing, as we watched our heroes grimly preparing for battle. Lyanna Mormont shouting orders, Tyrion grabbing a bag before retreating to the crypts, just as Theon and the Ironborn soldiers walk by with Bran. Samwell wringing his hands as he makes his way to the front lines.
It was ominous and a perfect way to start the episode, which kept me guessing until nearly the last moment.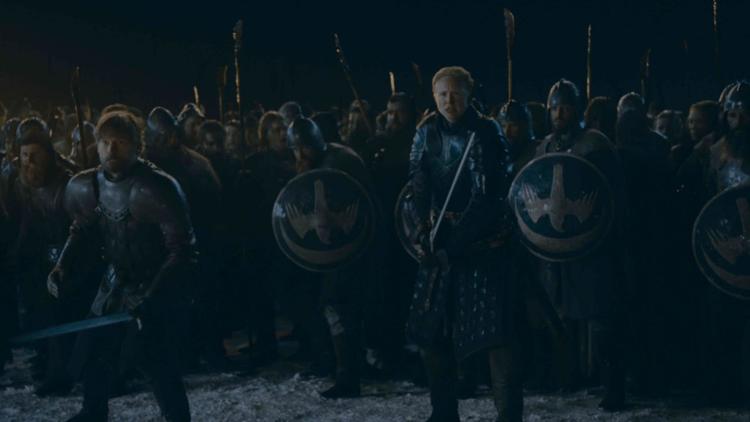 But, like many who aired their complaints on social media, I also struggled with the dark lighting throughout the episode. It was frustrating at times, especially as I lost track of characters such as Tormund, Brienne and Podrick. But it also was incredibly effective at putting us directly into the chaos of the battle.
Melisandre showing up just before it began was a nice touch, and who didn't get chills when she lit up the swords of the Dothraki fighters?
I still don't quite understand the strategy of the Dothraki, led by Jorah, charging into the darkness, where the army of the dead waited. Wouldn't it have made more sense to just stay put and wait for them to make their move? But the results — their flaming swords going out one by one as they essentially disappeared in the darkness — was terrifying.
If the Dothraki are so easily beaten, where do we go from here?
From there, chaos reigned as we got glimpses of everyone in the thick of it. We'd get brief moments of reprieve — the first time Dany and Jon show up on Drogon and Rhaegal, torching wights to help the fighters on the ground — but then something would happen to show how outnumbered the good guys were.
The dragons could have been used to better effect, though, right? I know the plan was to go for the Night King as he went for Bran, but I still think Dany and Jon could've hung around the main battle a bit longer.
While it feels like a bit of a cop-out that so many characters who seemed marked for death last week survived (Brienne, Jaime, Greyworm, my man Tormund), I'm not going to complain. I truly expected to be sobbing through the episode as they all met grisly fates. Knowing they're alive to fight another day, or at least another episode, makes this super-fan sleep much easier.
I was so stressed out by the battle that when the episode's major deaths did happen — Theon protecting Bran, and Jorah in the arms of his Khaleesi — I couldn't even cry. I was too nervous about what would happen next.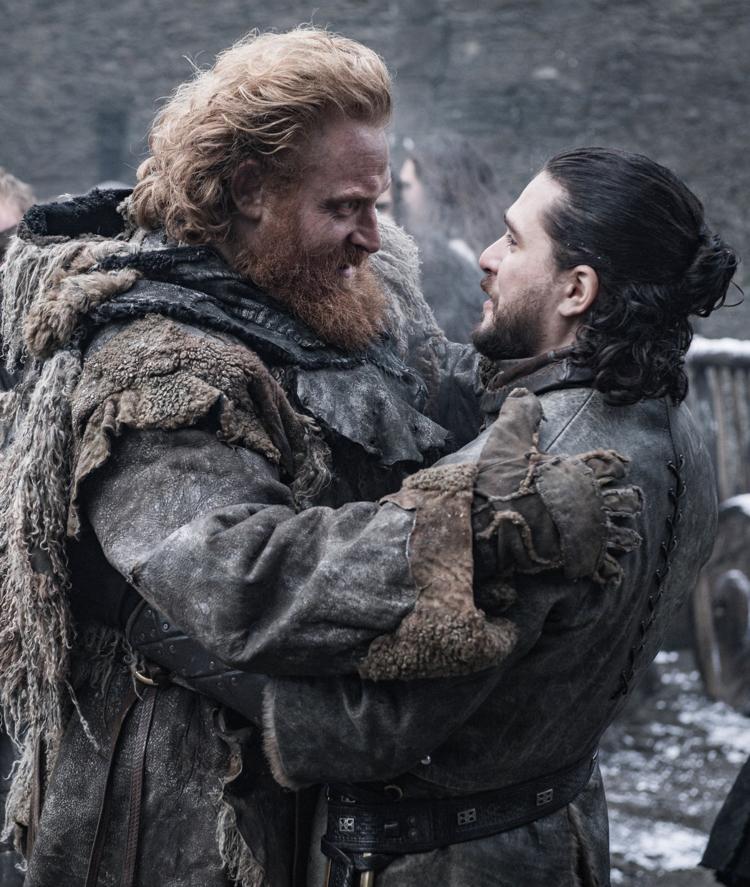 All in all, and quibbles aside, I'd say the episode came down to a series of moments that were simply iconic.
There were so many of them.
The Dothraki swords lighting up. The first glimpse of the Night King, flying atop the zombified Viserion. Melisandre lighting up the trench just in time. Lyanna Mormont charging at the giant and somehow still managing to get a death blow in while it squeezed the life out of her. Man, am I going to miss that girl.
Both exchanges between Tyrion and Sansa as they hid in the crypts (they weren't as safe as everyone said, huh?), first bantering about their ill-fated marriage, then later hiding together.
Dany attempting to end everything by burning the Night King, only to find out dragonfire can't stop him. And that smirk he gave her afterward.
I loved watching Arya in action throughout the episode, first fighting the wights with her fancy new weapon before her façade cracked and the fear came through. That scene of her in the library, using her assassin skills to evade the wights, was horrifying (it reminded me of that iconic "Jurassic Park" kitchen scene). I finally had to cover my eyes until it was over.
The moment when she realized what she had to do, after a brief conversation with Melisandre, was another highlight. "What do we say to the god of death?" Melisandre asked the young Stark, who went stone-faced and uttered her reply: "Not today." Chills!
(Seriously, though, if Melisandre knew the role Arya would play the entire time, why not show up a bit earlier and tell everyone, so they could plan more effectively?)
Now we turn to the next war, for the Iron Throne. Previews show Dany talking about taking it back from Cersei. But after the brutal battle they just endured, it's hard to imagine anyone having the stomach for another fight, especially considering most of her army is gone.
Will her actions in the battle endear her to the Northmen who have sworn they wouldn't bend the knee to any ruler again? Will reluctant leader Jon try to stake his claim on the throne? Will Dany go mad like her father?
And will someone, anyone, please take care of Cersei?