The two paintings hang side by side in Goose Creek Studio, the figures featured within them facing opposite directions.
Each man is wearing a bulletproof vest, a large gun in hand and a stoic expression on his face.
"They're paid bodyguards from the Iraqi War," said Goose Creek owner Patrick Ellis. "They shift. The more you look at them, they shift from being menacing characters. You're almost sympathetic with them. Whatever they're going through is taking its toll."
The artist behind the work, Helen Hubler, based the paintings on two separate newspaper photographs.
As is often the case, Hubler, who paints strictly from photos, felt compelled to depict these men on canvas.
"A strong face and the feelings it evokes can inspire me to make a painting," she writes in her artist statement. "They almost require that I paint or draw them."
Goose Creek and the Bower Center for the Arts, both in Bedford, are currently showing Hubler's work in the exhibition "Faces and Facades: A 50-year Retrospective," which remains up through April 27 and features a mix of oil paintings and charcoal drawings.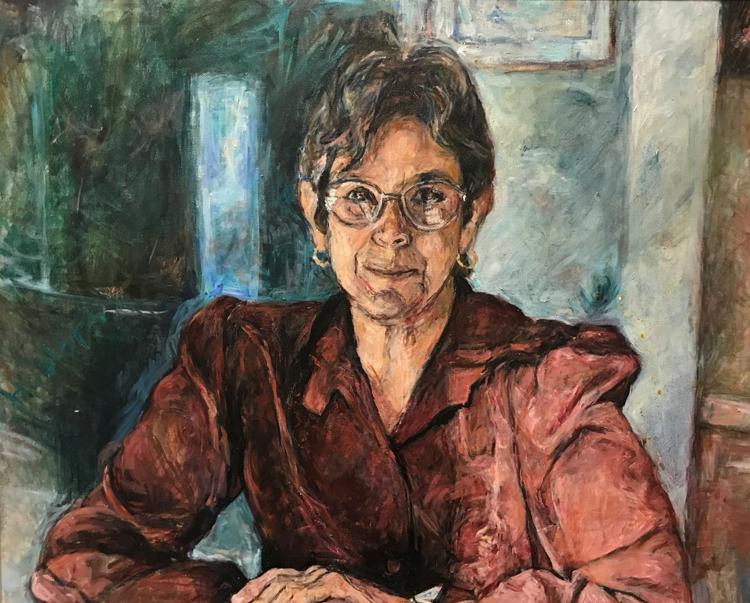 Hubler, who lives in Daleville, specializes in both — portraits of people and depictions of buildings, mostly homes, that catch her eye.
"Her work is so striking," says Dotti Stone, the Bower Center's exhibits manager. "A lot of work has a bit of sameness, but there are a few people out there doing work that you just don't forget. She was one of those."
Hubler says there are two things that motivate her: "The aesthetics, if something appeals to me and I want to paint it. And the other is what I believe in."
In this case, the two paintings at Goose Creek reflect what Hubler says are her anti-war feelings, "particularly the events of the Iraqi War."
"Even though they are guarding Iraqi dignitaries, the men are not evil men themselves," Hubler says. "They have a sensitivity and dignity as well as sadness in their faces. ... They are not so much the enemy as strong human beings who happen to be on 'the other side.'"
Capturing those types of emotions through paint is why portraiture appeals to Hubler.
"The more you struggle to get the proportions [of their faces] right, the more you get the soul and the … mood and character," she says. "What happens is the personality … comes out just from struggling with it."
In most of her work, Hubler hews as closely to her original subject as she can. She says she attempts realism but probably improvises a little bit.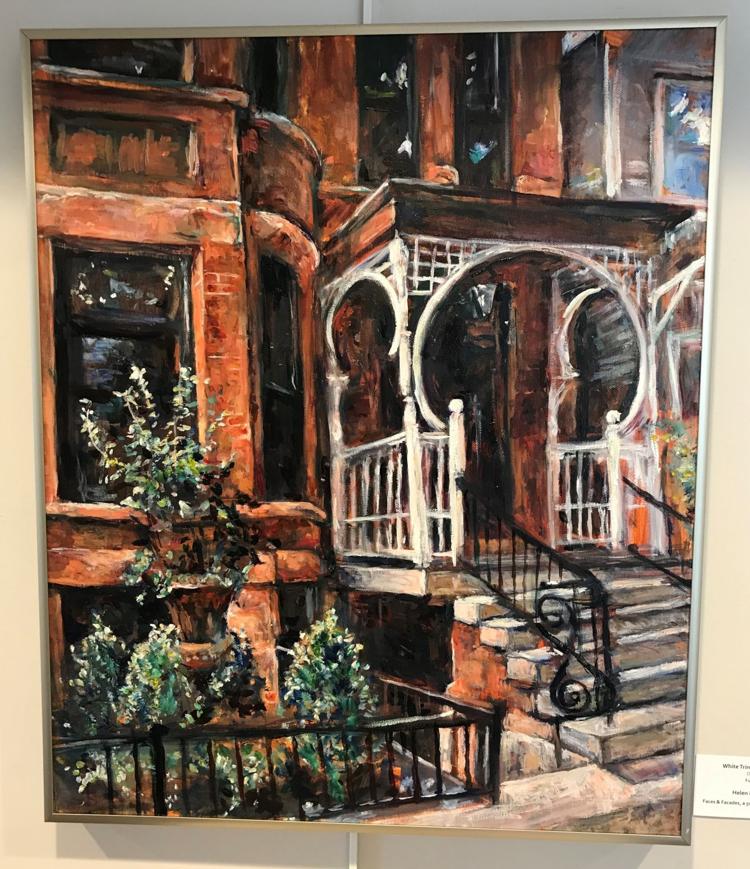 Buildings are less changed, though Hubler has been known to add figures in front of or around them that weren't in the original photo; one of her daughters even pops up on several different canvases, her dog by her side.
"It just helps to have a person," Hubler explains.
Most of the improvisation comes in Hubler's montage work, for which she takes images from various photographs and combines them into one painting.
"You take one subject that really interests you, and you make that central and large," she says. "[You're] telling the viewer where you want them to look first, second and third."
Examples of this include a painting of her late husband, Bud, reading with figures in the background to illustrate how one might picture the action of a book in their head, as well as two paintings that sit next to each other at the Bower Center.
Both include figures from the sculpture "The Angel of Death and the Sculptor," which is on display at the Metropolitan Museum of Art in New York, and are referencing a time when Hubler says her daughter Sara took photos inside the Met.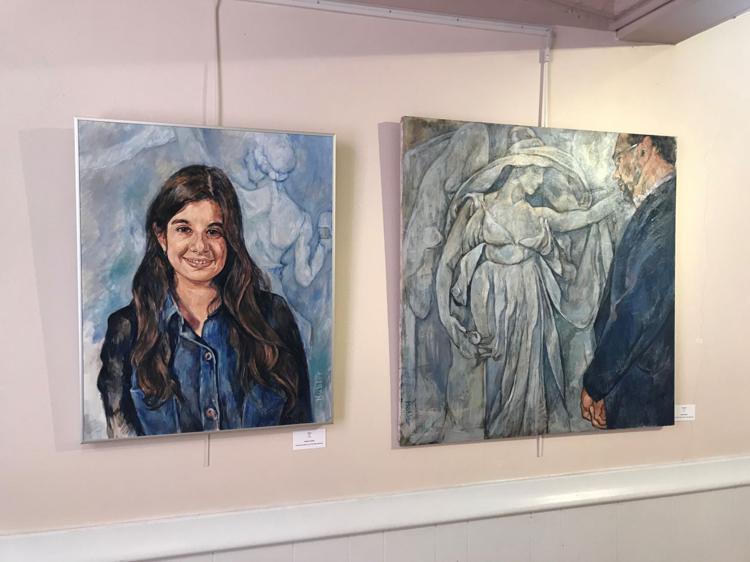 The first painting features Sara in the foreground in what looks like it could be a school photo, with part of the sculpture in the background. In the other, the sculpture becomes the main image, with Bud looking at it from the side of the frame.
"She captures, really, ordinary people," Ellis says. "And they become kind of universal symbols for other things, which is so cool. We have one picture here of an older woman in a hat kind of leaning back, laughing. I can't tell you how many people have walked into the gallery and said, 'I know that person.' Or 'I know a person like that.'"
Ellis still remembers encountering Hubler's work when he moved to the area a decade ago.
"She's one of the artists we were first attracted to," he says. "With our connection with art and spirituality, we saw something really intimate in her work that was deeper, and more reflective."
Ellis is most drawn to her darker work, he says.
"Darker doesn't mean a bad thing. It's almost deeper; it's more melancholy," he says. "It's about memories. Especially the montages, it's kind of a story laid on top of another story. You can't tell if they're like dreams or memories or reflections."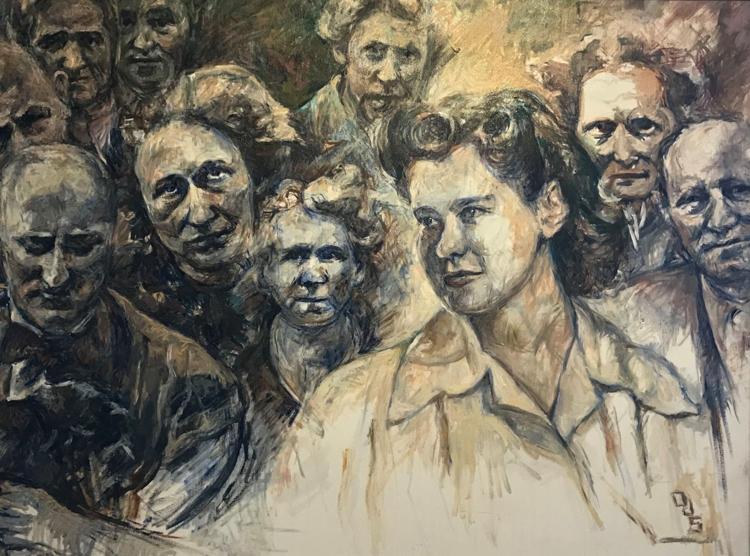 "Before Holocaust," one such painting, was based on a photo Hubler saw on the cover of Parade magazine featuring passengers on the German liner St. Louis.
In May 1939, the ship and its 937 mostly Jewish passengers fled persecution in Germany by sailing for Havana, Cuba, according to the United States Holocaust Memorial Museum. Upon arrival, they were turned away by the Cuban government. The U.S. and Canada also refused to admit the passengers.
They eventually were permitted to land in western European countries instead of returning to Nazi Germany, according to the museum, but 254 of them still were killed in the Holocaust.
In the image, "they have this frightened [look],'" Hubler says. "They don't know what's going to happen."
She chose to juxtapose that image with one of her Aunt Dottie. Her aunt had nothing to do with the Holocaust, other than being alive while it was going on, but "she too had a tragic life," Hubler writes in a description of the painting. "So I felt that she, with what I think was a beautiful face, fit right into the painting and personalized it."
Stone says Hubler's talent at storytelling draws in the viewer.
"With her people, there is so much emotion," Stone says. "There are no blank expressions."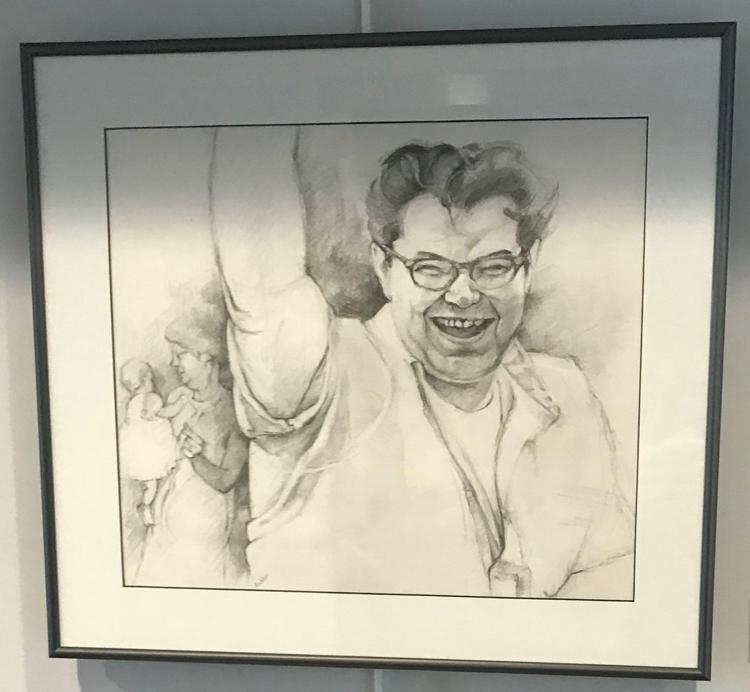 Sometimes images like the one in Parade magazine will catch her eye. Other times, Hubler works from her own photographs or friends give her their old snapshots for inspiration.
In her artist statement, Hubler says most of her paintings and drawings are laced with narrative elements. And even when they don't suggest specific stories, she says, there still is some psychological content.
"I am in this to 'say' things," she writes a bit later on in the statement, in a section called "Purpose: A Fist Full of Paint," "to talk about what I see, what I think, and what I feel — consciously as well as through my unconscious."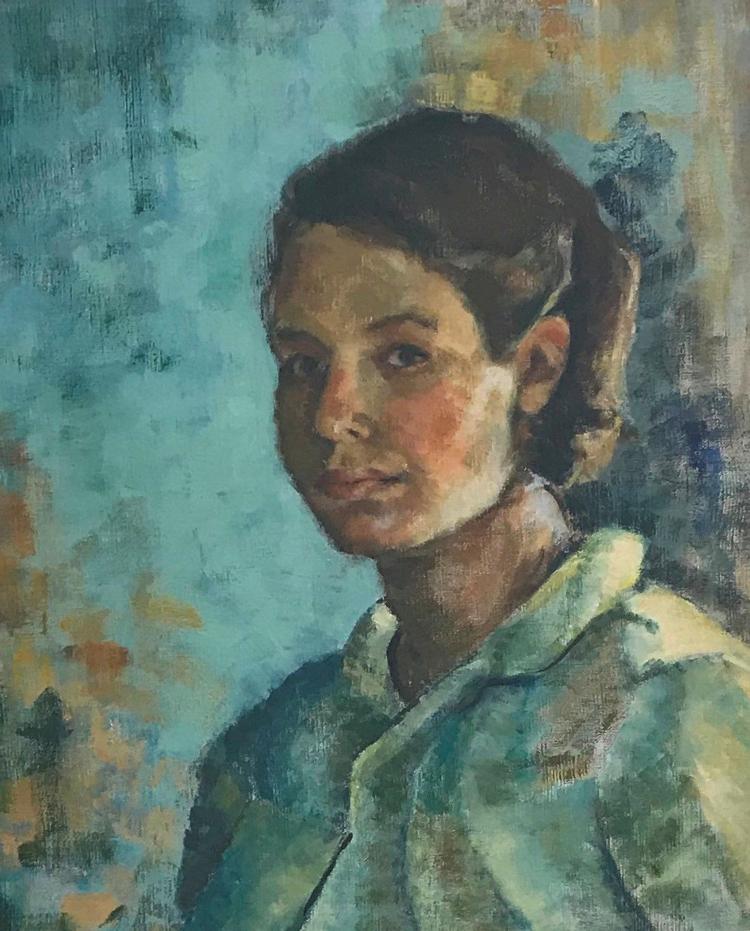 Hubler, an Illinois native, began painting from photographs a bit later in her career, after first studying painting and life drawing at both the Art Students League and the National Academy of Design in New York from 1963 to 1970.
Eventually, she decided to explore commercial art and studied illustration and graphic design at the School of Visual Arts, also in New York, in 1980 and 1984.
"Every single day, we drew in pencil all day long, and we used photographs," she says.
She lived in New York City for much of that time, where she had her own studio, before she relocated to New Jersey and became a commuter.
Outside of the city and in a house, "I would take my easel and go from room to room and paint wherever I wanted to."
In 1992, she and Bud fled the city life for Buchanan, Virginia, just over the mountain from Bedford. She is a longtime member of the town's Gallery by the James, where her work is on display. She's also a member of the League of Roanoke Artists and has racked up awards at the group's annual artist showcase, including Best in Show in 2003, 2016 and 2017.
Hubler's work, Ellis says, is the kind that "you can keep coming back to … again and again."
"Meaning comes in between the images, you know, in how the images relate to each other," he says. "What's so cool about her stuff is … often they're not looking at each other. They're just existing simultaneously."
Doing a 50-year retrospective is a rite of passage "we all want to reach some day," he says.
"She's kind of this old-school master. She learned how to paint, and it's like a second language. She can make the paint do what she wants it to do. The technique is there. The skill with paint is there. … She's not only a gifted painter, but she's cutting-edge at the same time. [At] almost 80 years old and to still be cutting edge is kind of neat."