The old saying goes that home is where the heart is.
Twenty-five Lynchburg-area artists have created their own meaning of the word as part of "No Place Like Home," a public art project celebrating the 25th anniversary of local nonprofit Miriam's House.
"This is a visual statement of what they really do," says Kim Soerensen, executive director of Riverviews Artspace, where "No Place Like Home" is being displayed when it opens to the public on Friday. "That's pretty important when you add the visual component to it. And, of course, it raises much more awareness."
Homelessness has once again become a national crisis in the U.S.
According to the U.S. Department of Housing and Urban Development, 553,000 people went homeless on any given night in 2018. In Virginia, nearly 6,000 people experienced homelessness on any given day, the U.S. Interagency Council on Homelessness reported in January of 2018, and 112 of those individuals were in Lynchburg.
In fact, data from Lynchburg's Homeless Management Information System reveals almost 850 people in the Hill City community went homeless at some point last year.
Founded in 1994, Miriam's House operates with the sole mission of ending homelessness in the area, connecting chronically homeless women, families with children, unsheltered persons, and young adults between the ages of 18 and 24 with affordable housing through a variety of programs. Miriam's House also leads the Central Virginia Continuum of Care, a network of homeless-response agencies that work together to identify and address gaps in local homelessness services.
The progress was small at first, with Miriam's House helping just 66 individuals in 1994. But as the organization's services and reputation grew, so too did the number of people it served.
Since 2015, the nonprofit has reduced the number of persons experiencing homelessness on a single night by 67%, says Kristen Nolen, director of housing services.
Twenty-five years after its creation, Miriam's House has helped 2,500 individuals find new homes.
"Having such a large impact is really a reflection of an incredible community that has given so much to make that possible," says Sarah Quarantotto, executive director of Miriam's House, who has been with the organization for almost nine years. "... And so, we wanted to have a celebration that really was public."
Staff at the social service nonprofit eventually decided on a public art campaign.
"We've always appreciated the way art can depict human experience in such a different way than stories and data," says Quarantotto, noting the organization's 2015 exhibition "Through the Eyes of the Homeless," which featured photos taken by residents of Miriam's House.
"Humanizing our work of ending homelessness and the legacy of the last 25 years is important to us."
Miriam's House teamed up with longtime partner Riverviews and gave 25 blank dollhouses to local artists with one simple instruction: design a piece that depicted their idea of home.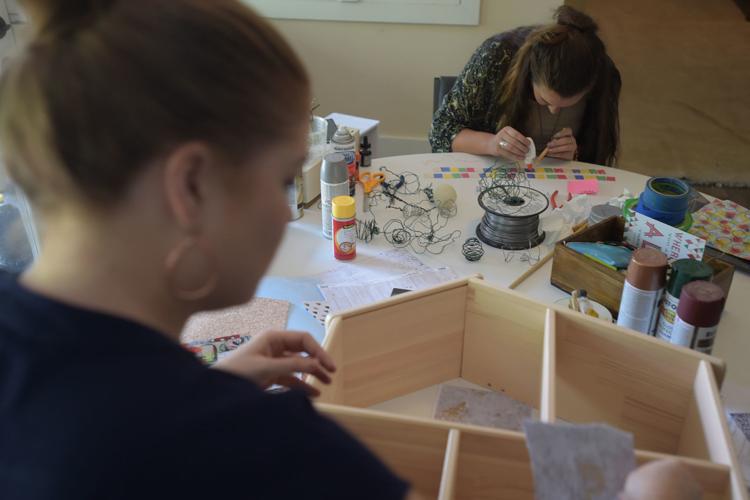 When Pam Winegard received the prompt, her mind traveled to the 65 times she has moved throughout her life.
"Having come from a military background, my father's in the military, we were often moving," she says.
While her family was technically not homeless, Winegard says, they were always starting over and therefore could never really call a place their own.
"I learned as a child to take the memories, and take the little things [and] make it less about ... the place."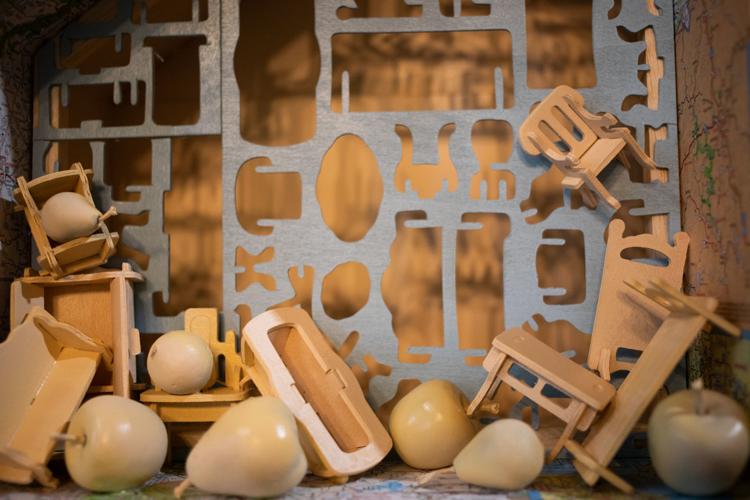 Winegard decided to explore the idea of movement in her dollhouse, covering the frame in maps and filling the rooms with a cascade of small, household objects, such as desk chairs, bed frames and rocking horses.
"Some people have lovely homes, and they go to the finest schools, and yet there is no love, there is no support. There [are] none of those things that you would find at Miriam's House," she says. "And so, just having a place doesn't mean you have a home. It's all the things that people bring into that that make it a home."
Like Winegard, many of the artists have taken a nontraditional approach to their dollhouses.
A vibrant rainforest fills the interior of one dollhouse, while a large, purple bird sits in a nest on the roof of another.
Nugent Kos cut her dollhouse frame up, transforming it into a tree and whittling people out of its bark, while Red Cesafsky turned a dollhouse on its side, carving large flowers into the roof and filling each room with miniature, handcrafted works of art.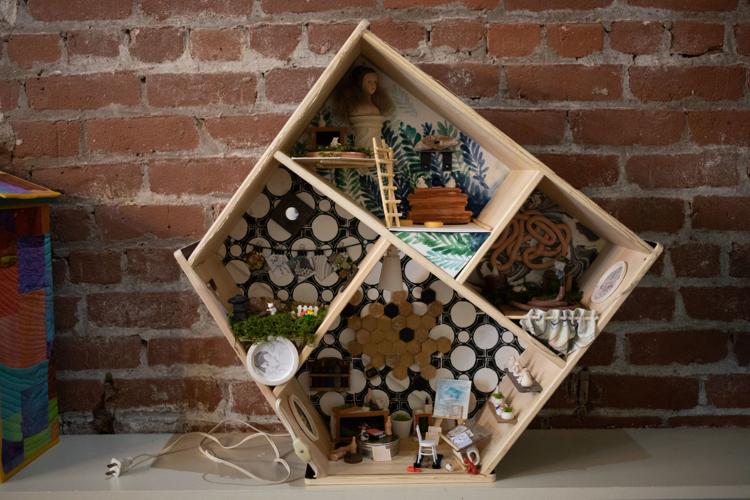 "I thought [the prompt] was a little obvious at first, but afterward I began to see how the potential of such a prompt could produce a variety of answers and final products," says Cesafsky. "... When I dropped off my dollhouse at Riverviews I saw a wide range of houses and outcomes, and I have to say, especially to my fellow artists, that I couldn't have hoped for a better selection."
A few more classical-looking dollhouses do make an appearance in the newly constructed neighborhood, including a collaboration made by artists Phyllis Hollenbeck, Gay Tucker and George and Rosalie Short. Their house looks as if it was cut out of a 1950s women's magazine, complete with a fenced-in front yard, conservatory and flower boxes underneath the exterior windows that Rosalie Short hand-painted.
"We could have kept going forever," Tucker says.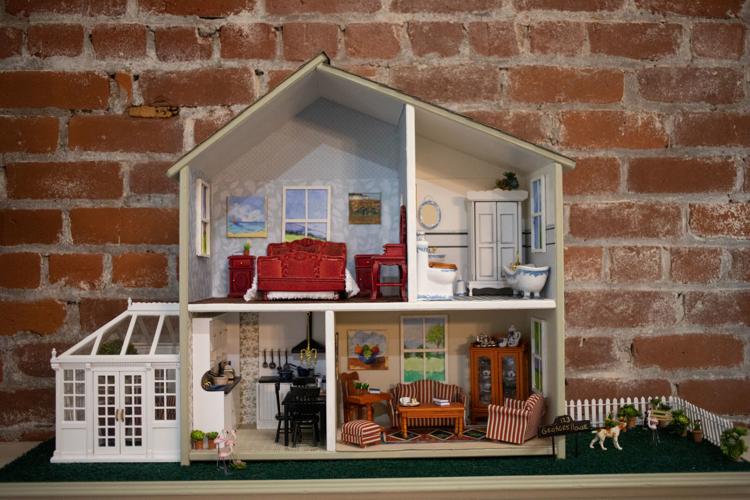 By working together to design the dollhouse, they created a kind of home among themselves, the longtime friends say.
"We are family," says Rosalie Short. "We do have a good time. And yes, it was a group effort, there's no question about it. None of us would have done it without the other."
Each of the dollhouses, like the artists who designed them, are different, reflecting their aesthetic and viewpoint.
"Some of them you can totally identify and pinpoint, without even knowing in advance who the artist is behind the piece," says Soerensen, pointing out the house by Jill Jensen.
Incorporating her signature medium of fiber, Jensen transferred photos, including several of her own family, onto fabric, which she turned into pillows and used to fill her dollhouse.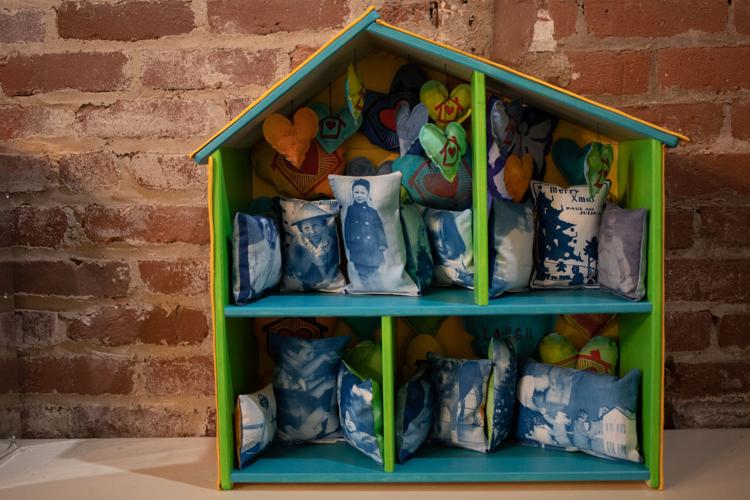 "No Place Like Home" will remain at Riverviews through August. In September, the houses will be displayed at various locations around the city before being auctioned off at a special event on Oct. 18.
All of the proceeds from the auction will go toward Miriam's House and its various programs.
"This is, I think, [a] great representation of what happens when two organizations — nonprofit organizations — work together," Soerensen says. "And in this day and age, collaboration is what it's about. It's the best way to be successful."
Adds Tucker: "It's probably one of the most worthwhile projects I could get involved in."
More than the money raised, everyone involved says they hope the public nature of "No Place Like Home" will spread awareness of homelessness and the work organizations like Miriam's House are doing.
"In Lynchburg, homelessness is sometimes a bit hidden," Quarantotto says. "... We don't ever want to become so insular that the community really forgets that this population exists. This is something that we need to all be working together to solve."
Dollhouse 1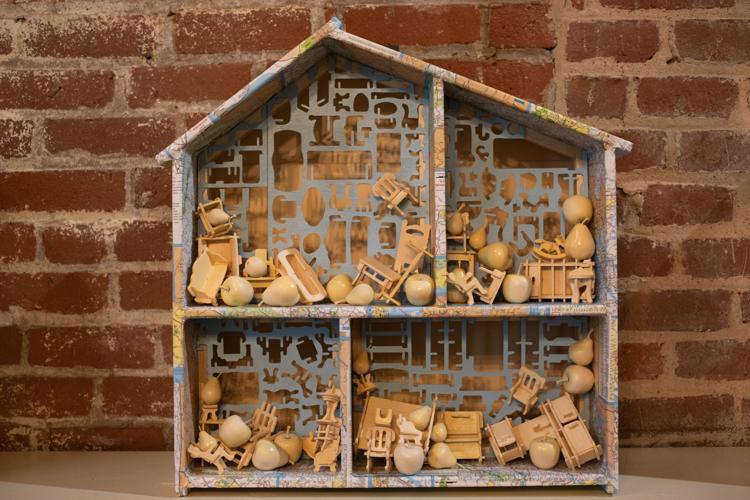 Dollhouse 2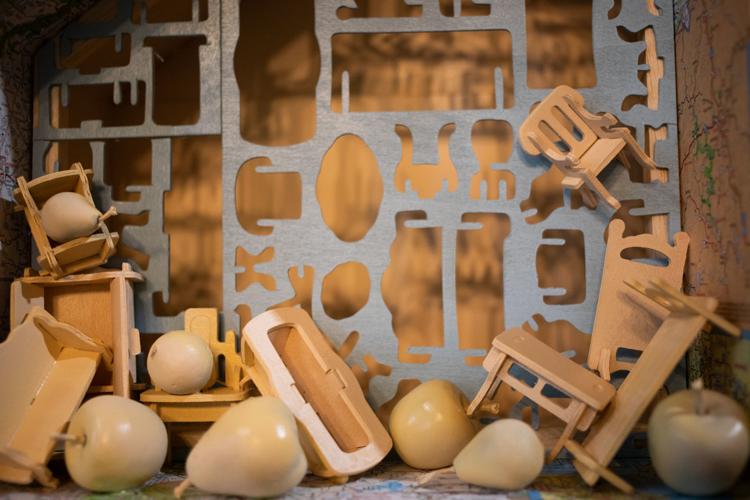 Dollhouse 3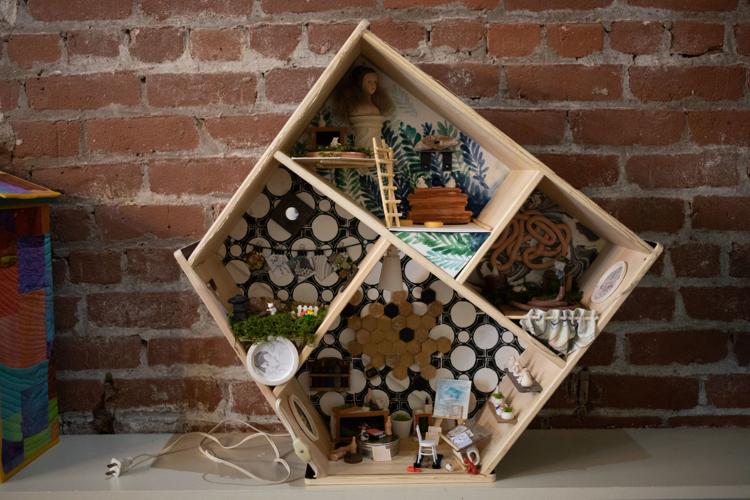 Dollhouse 4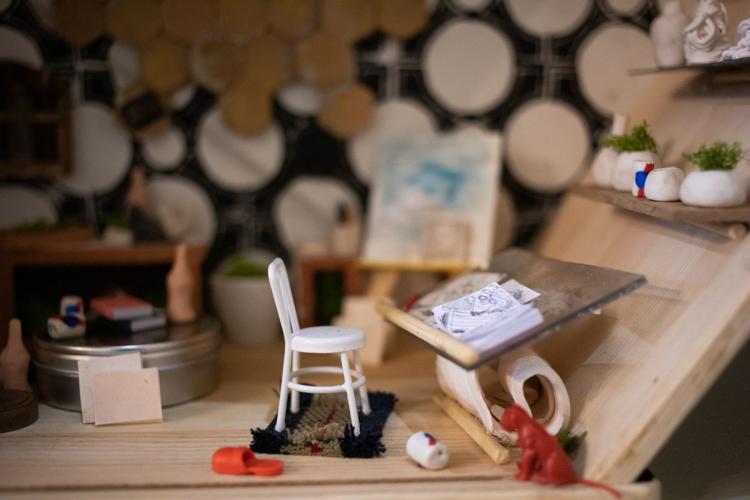 Dollhouse 5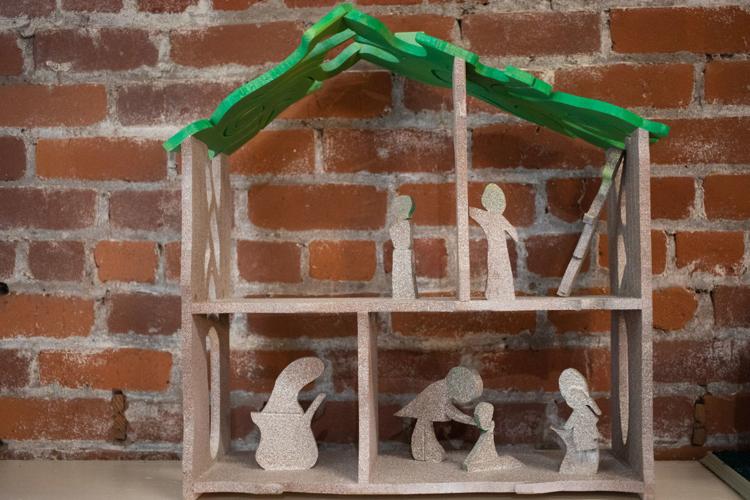 Dollhouse 6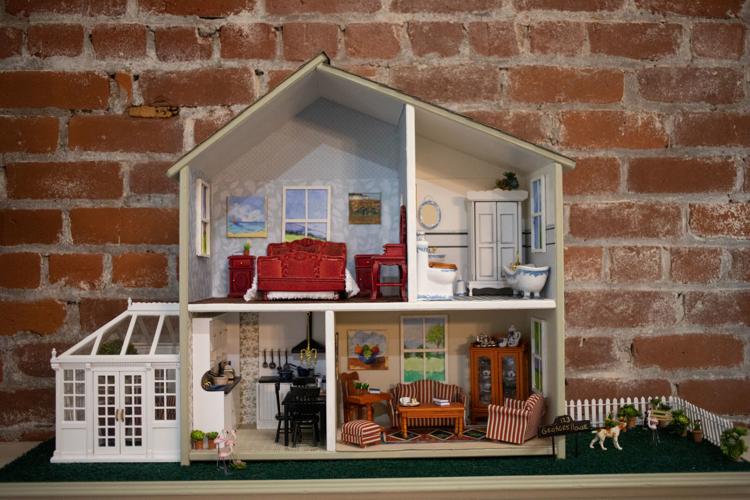 Dollhouse 7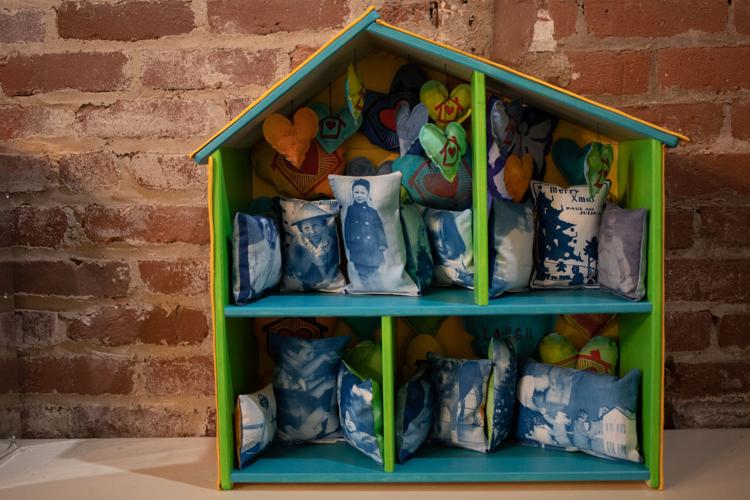 Dollhouse 9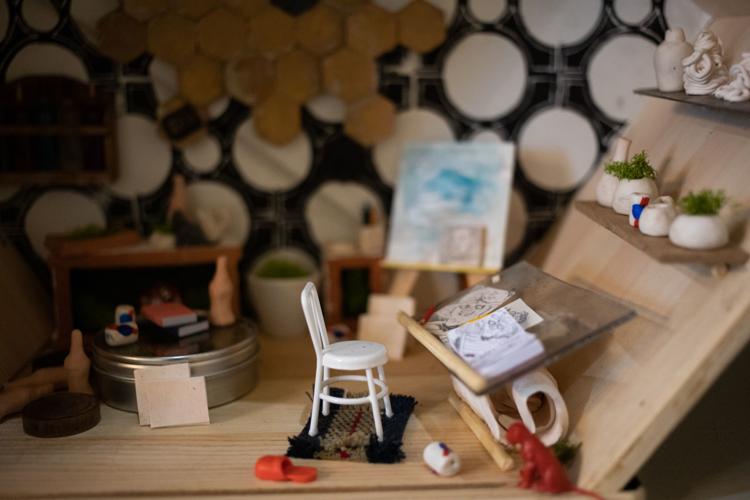 Dollhouse 8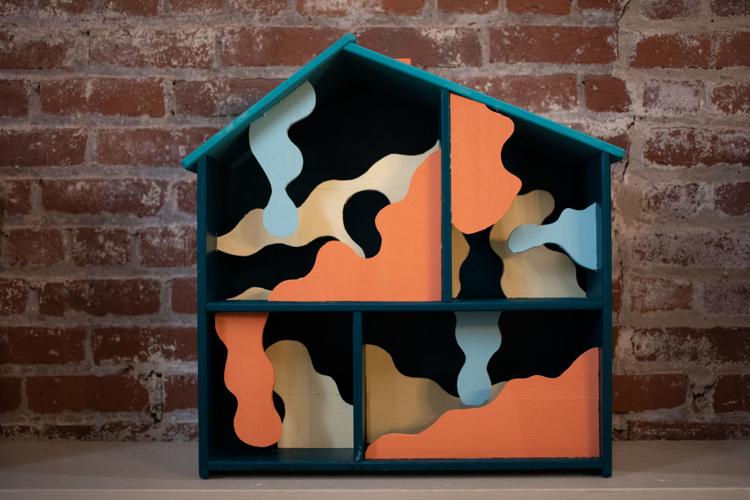 Dollhouse construction 1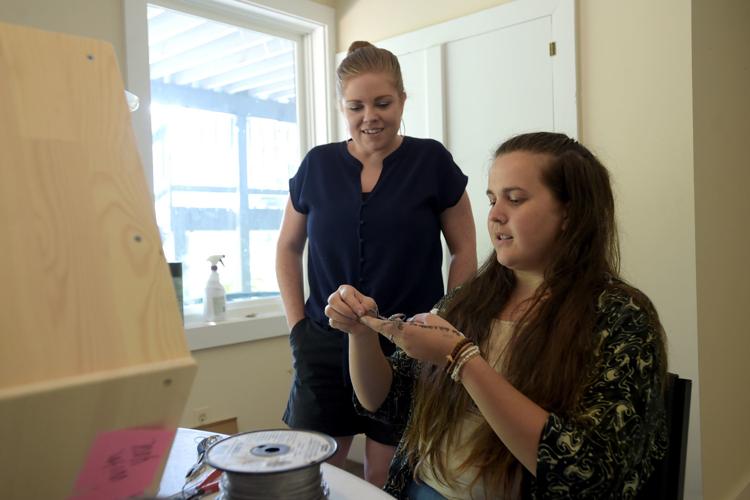 Dollhouse construction 2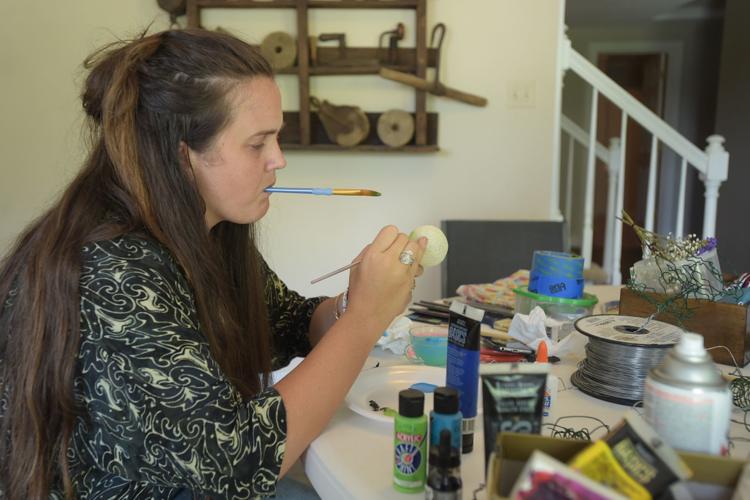 Dollhouse construction 3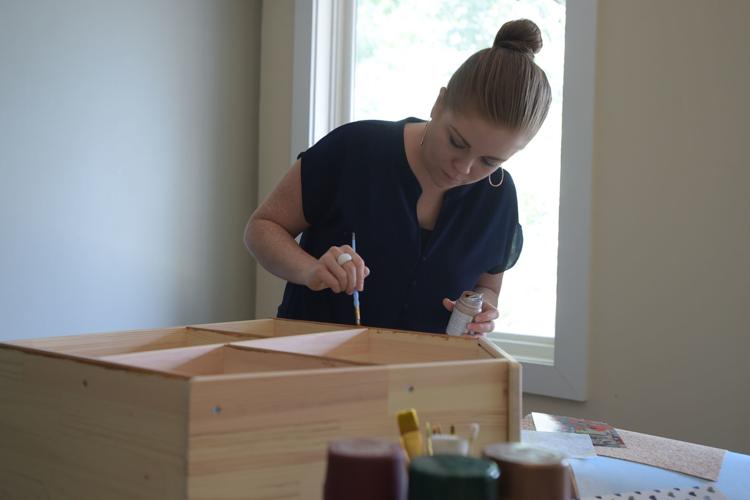 Dollhouse construction 4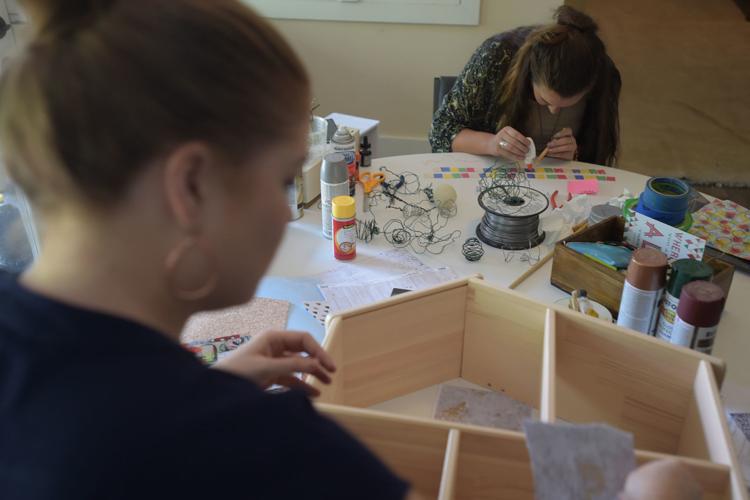 Dollhouse construction 5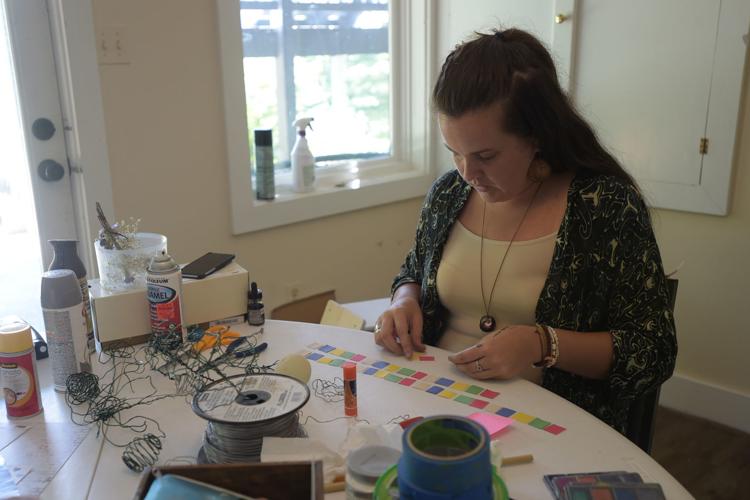 Dollhouse construction 6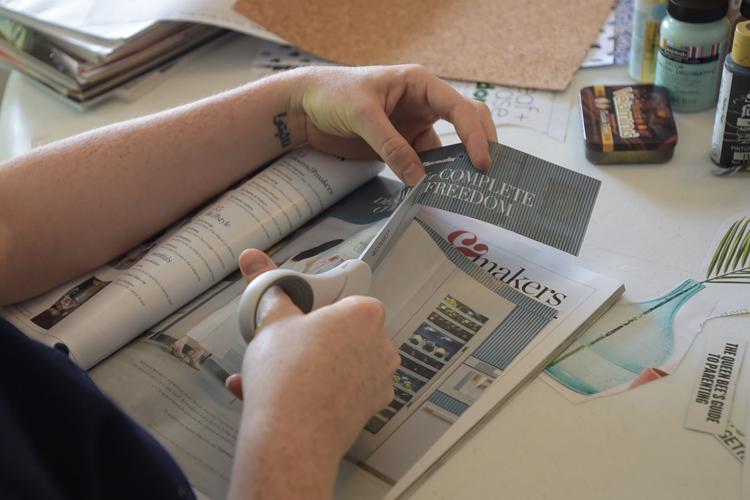 Dollhouse construction 7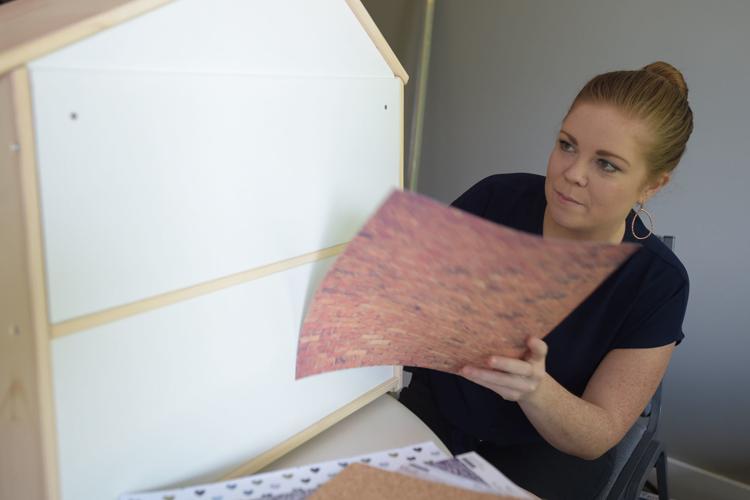 Dollhouse construction 8