With their gentle yellow lights and eerie glow, the four light boxes have a cosmic air about them, the images inside reminiscent of snapshots telescopes have captured of the moon or even Mars.
It's this fuzzy familiarity that makes it all the more startling when the creator of this luminescent installation, D.C. artist Cheryl D. Edwards, reveals the images are of a very earthly origin.
"I started with these microscopic images of saliva," says Edwards as she points out the differences in the samples. They each come from a different source — two men and two women, one of whom is white and the other black.
"Can you tell who they are as you look at them with the naked eye?" she asks.
Edwards' molecular exploration is one small drop in the bucket that makes up her exhibit, "The Reverence of Water and Its Relationship with Identity," which opens inside Riverviews Artspace's Craddock-Terry Gallery this Friday.
Like the exhibit's name suggests, the various works explore the interconnectivity of water and our relationship with it.
"We revolve around water but, the thing is, we don't think about it," says Riverviews curator Brooke Marcy.
The exhibition, she adds, is especially interesting given the gallery's proximity to Lynchburg's own major body of water.
"The James has had such a prominent history in the development of Lynchburg," says Marcy. "What better than to have an exhibit so close to the James about water? About how water identifies people, about how water connects people?"
Raised in Miami, Edwards grew up swimming and fishing on the beach.
Water, she says, gives her a sense of balance — so much so that she prefers to live near a body of water at all times.
"I was in school in Syracuse. There was nothing up there but a lake, and I hated it," she says with a laugh. "It was cold and I hated it."
Despite her personal connection to water, Edwards, who became a full-time artist in the mid-1990s, wouldn't dip her toe into its creative potential until 2014.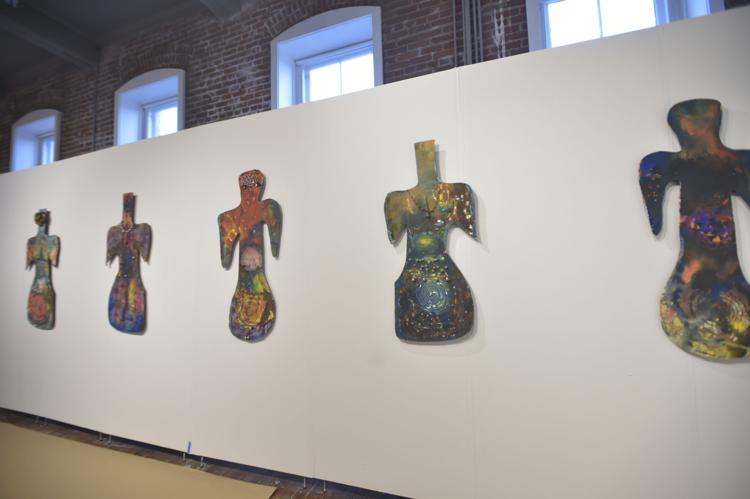 Unlike so many artists who Marcy says have turned their focus to water because of contemporary issues like climate change and pollution, Edwards found the depths in water as an artistic form during a trip to Cuba.
While abroad, she witnessed a ritual practiced in the Afro-Caribbean religion Santería where people would gather and leave flowers in the ocean as a tribute to the goddess Yemayá, the orisha, or spirit, of the sea.
"They would be walking down the streets, singing their songs in Spanish, and they'd be dressed in blue … and then they would lay the flowers in the water," Edwards recalls. "This went on every day."
The artist says she felt an immediate connection to her own Catholicism "and how old-fashioned churches in the South would go to the water — to bodies of water — to get baptized," she says. "Not in a pool in your church. There's a reverence of water in Christianity."
Water began to drown out all other ideas in her mind, especially when she remembered that the human body is largely composed of it.
"I started thinking about water in regards to memory and identity," she says. "What is it about [it] that's so sacred? What is it about it that has the relevance people adhere to?"
Her musings led her to create a series of freeform ink stains using two different types of water in her area: D.C. tap water and holy water from Catholic University, which is across the street from her studio.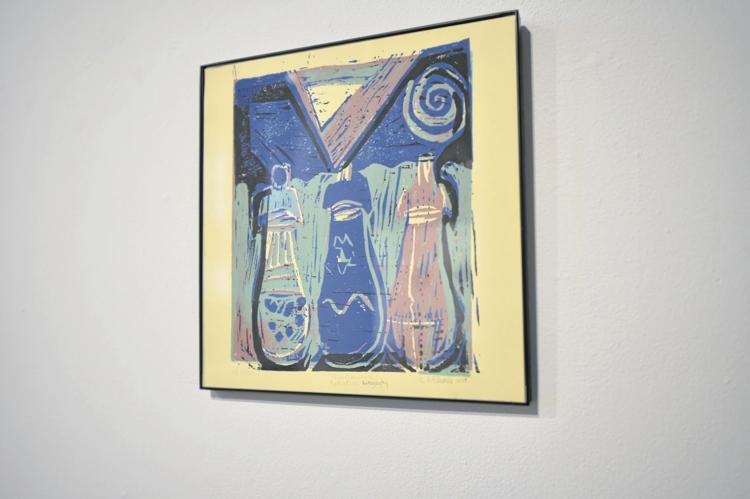 There was an immediate difference in the pieces, she says. The ones created with tap water were brighter while the sacred water brought darker colors to the surfaces of the canvases.
"I was very surprised," she says with a laugh.
The colorful inkings rippled into other water-related projects over the next four years, many of which are being shown together for the first time at Riverviews.
Edwards began adding in elements of science and exploring race, like in her light boxes and the series of silkscreen prints and monoprints she created from the same molecular photo positives.
In addition to appearing in a different color — "Nature is full of color," says Edwards, "and water is full of color" — each monoprint lists the body of water near where the person who provided the DNA sample grew up.
"I asked them, of the people whose saliva I took, what are your best memories growing up? Give me four or five sentences,'" she says. "Every person's had something related to water. The beach. Fishing. The lake. Swimming. That was remarkable."
Since starting her water project, Edwards has continued to add elements from other cultures into her work.
Her "Water Angels" are a series of raw, ink-stained canvases shaped into the pattern of Egyptian paddle dolls, which, according to The British Museum collection database, were found buried alongside the dead and are now believed to have been part of a ritual guaranteeing rebirth.
Pulling all of these various works together is Edwards' newest creation: a 10-foot tall statue of a South African Ndebele doll that stands majestically in the center of the Craddock-Terry Gallery, her dress of black tulle flowing elegantly around the painting that acts as her torso.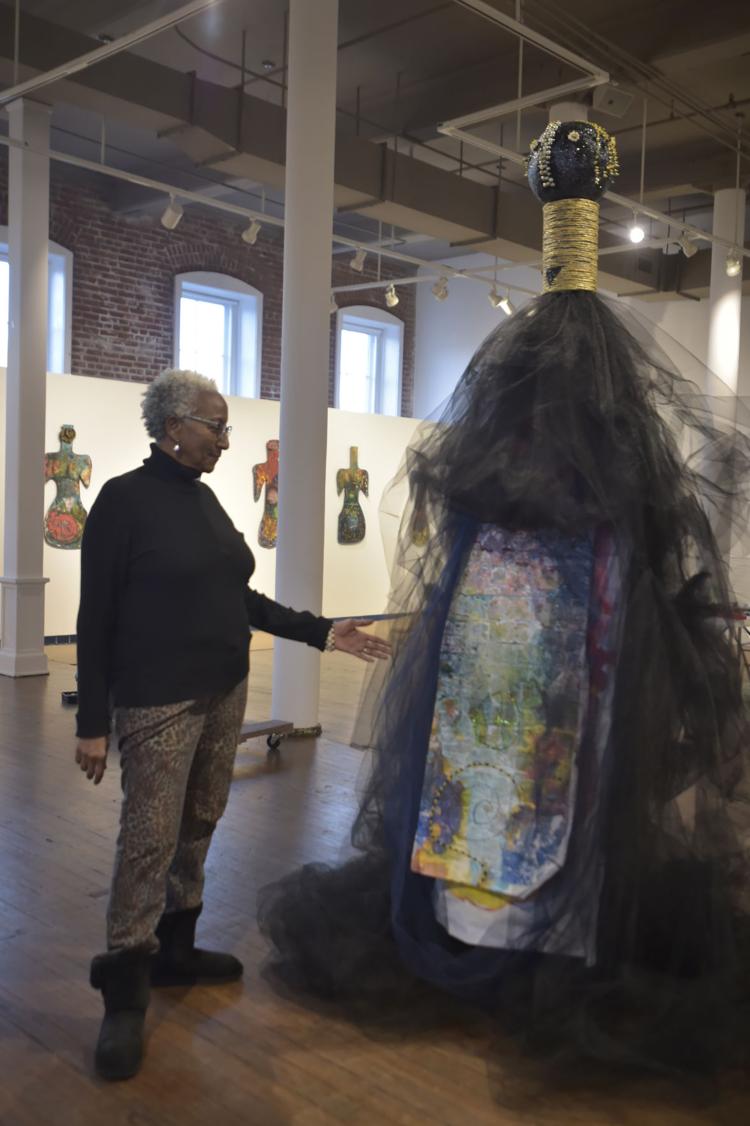 People from Egypt and South Africa have different relationships with water than we do in the U.S., says Edwards, who visited Egypt in the 1980s and South Africa in the 1990s.
Bringing these various pieces together for the first time at Riverviews adds another dimension to the work, Edwards says.
"It gives people a personal reference to what I'm trying to say in my work," she says. "That body of water affects so many people's lives."
Edwards hopes her work exploring the interconnectivity of water can become one stream funneling into a larger conversation on race, one that she says highlights how we are the same, not different.
"Regardless of what an artist does, I think identity comes into play," says Marcy. "I think it's part of the why, and I love how Cheryl interweaves it with the idea of water. Because, geez Louise, we're all made of water."