Tucked away in a closet inside Brookville High School's multi-purpose room are all the elements needed to bring the inhabitants of a certain musical junkyard to life
Normally used as a clothes closet and food pantry for students in need, the closet is currently overflowing with leotards, leg warmers and more than 30 custom wigs for the theater department's upcoming production of the musical "Cats."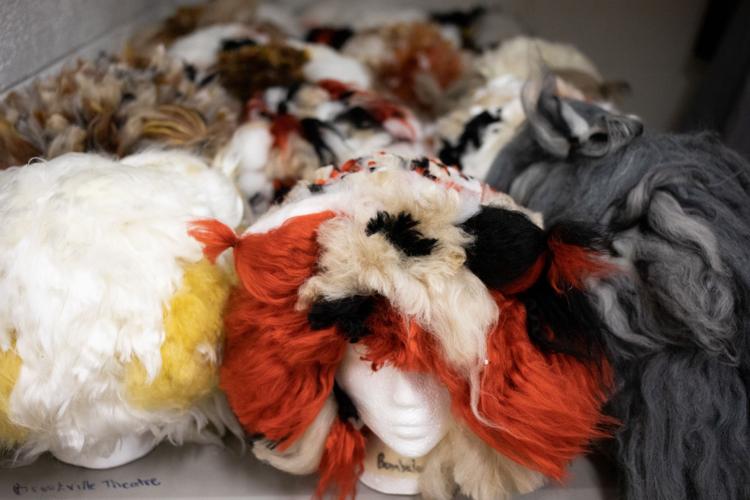 Based on T.S. Eliot's "Old Possum's Book of Practical Cats," the show is set in a junkyard home to felines with names like Rum Tug Tugger, Mr. Mistoffelees, Jennyanydots and Skimbleshanks.
The custom costumes were created by Sherry Johnson, a special-education teacher at Rustburg Elementary School, and her son Grayson, a freshman at Brookville and member of the cast. The mother/son duo also created the makeup designs for each character.
"They're all so different," says Megan Emanuel, director of Brookville's theater program. "… Not just the costumes, but also the makeup design [shows] that each and every cat is unique. And we have 35 of them. They all have their own [look]."
Johnson, a 1993 Brookville grad, has been pitching in to help the theater department since Grayson was a third-grader attending camps there.
"Since he was walking, he has always loved theater," she says. "He has such a passion for it. I wanted to help. We all have gifts."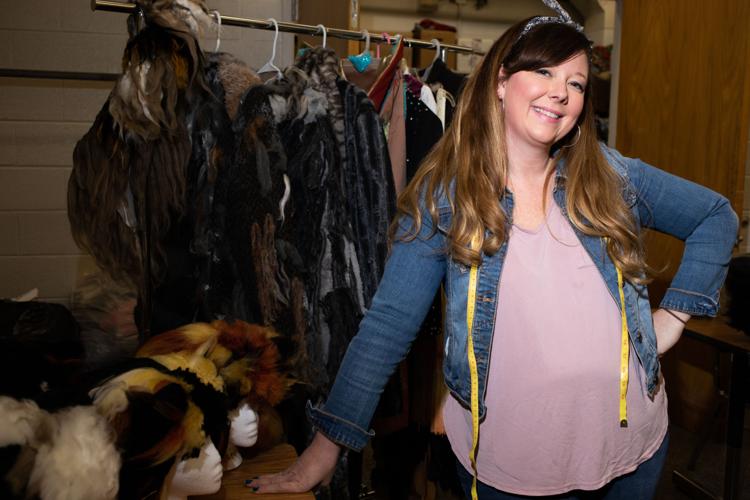 Emanuel got her first glimpse at Johnson's skills when Grayson, then a middle schooler, was cast in "Alice in Wonderland" and, along with the show's other young actors, tasked with making his own costume at home.
"I always did the costuming for the shows. It was just one more thing we did," Emanuel says. "We'd borrow from LC [Lynchburg College] or we'd go to Goodwill. … Grayson came in this elaborate tree costume. He had his makeup done [with] this elaborate headpiece. … [I told him,] 'Your mom needs to do my costumes,' and the rest is history."
Since then, Johnson has worked on all of Brookville's main stage shows, from "Seussical the Musical" and "The Wizard of Oz" to "Hairspray" and "Aladdin," as well as camp productions including "The Lion King" and "Beauty and the Beast."
For "Lion King," she created clay masks for each character, and for "Beauty and the Beast," she and her husband used foam to build out the legs of the young actor playing the Beast, so it would appear as if he was standing in a crouching position.
"We don't have the kind of money to rent for shows. We've always been beg, borrow and Goodwill," says Emanuel, adding that her students have a certain pride about wearing costumes made specifically for them. "It's just more meaningful."
Contributions from people such as Johnson have been invaluable, Emanuel says.
"I think our program itself has been able to thrive and grow. The production quality has gotten so much better since I've tapped into these people who have these gifts. And we have these scenic painters willing to come in and paint, and my husband who is the builder. And the musicians. Our retired choral teacher came back to direct the orchestra [for 'Cats'].
"When everybody taps into their strengths, it makes your production so much stronger."
"Cats" has been their most extensive undertaking so far, Johnson says, "just because each cat is so unique. … And the wigs. They had [a lot of] prep work."
The wigs were made completely by hand by knotting yarn and then pulling at the individual strands on both sides, says Johnson, who jokes she had everyone she knew pulling yarn at one point.
Once that initial work was done, each wig took about two hours to complete.
"My husband had to put shelves on the wall, so we stored them as we made them," she says.
Senior cast member Cassidy Phelps says the Johnsons' work never disappoints.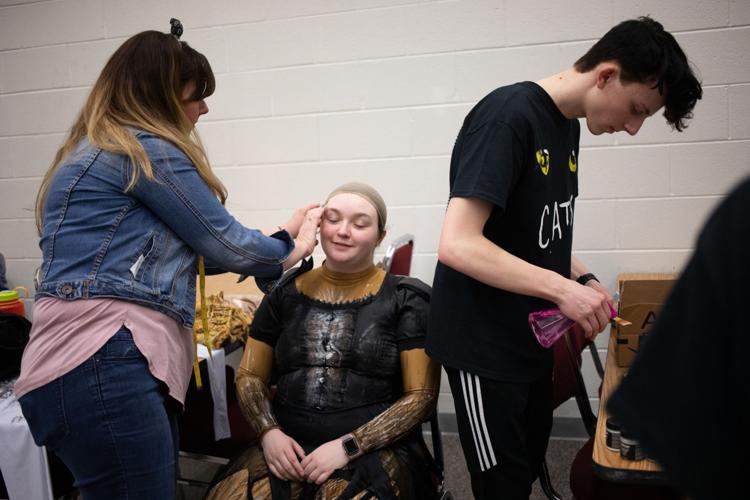 "Just the time and effort they put into making all 35 wigs is incredible," Phelps says. "When they first brought them in and they were all sitting on the table, I just had to take a minute and stare. They're all different styles and colors. It's so very impressive how they made so many professional-looking wigs for us."
For most of the costumes, Johnson bought regular unitards and, together with Grayson, painted them to reflect each character. Johnson does the sponge and brush painting, while Grayson, 15, handles the airbrushing work.
For other characters, such as the iconic Grizabella — the cat who sings what is arguably the show's most well-known song, "Memory" — Johnson went beyond the leotard.
Griz wears a tattered coat and dress and, on her head, a long, black-and-white wig.
"The hand-painted unitard and dress, the coat with all the rips and tears, my wig, all of it is fantastically made," says Phelps, who plays Grizabella, described on the official "Cats" website as a "sad and lonely cat, who spends her days lost in her memories of when she was young and adored."
"They had a good take on the look of Griz. They really captured the 'beaten-up old cat' look."
Then there's Jennyanydots, who has three different costumes, including a flapper dress Grayson airbrushed to resemble the markings of a cat, and a bigger frock with a hoop skirt created by Johnson out of curtains, with a tail, made from tubes of fabric stuffed with batting, snaking around it.
During one of the show's musical numbers, the cats dress up as dogs to entertain their leader, donning bits and pieces of junk to represent various breeds. For Brookville's production, Johnson and Grayson have used laundry baskets, toilet brushes and buckets topped with mop heads. among other items, to achieve the look.
All of their ideas, as well as detailed diagrams for each character's make-up, are compiled in Johnson's "'Cats' Costume Bible."
She says the fact that Grayson is in the show adds an additional element to their work. "He's living it with the music. He's actually able to take references [from the show]. He adds the element of the story."
They also took inspiration from the original Broadway production, as well as from members of Brookville's cast, who they know will bring certain strengths to their respective characters.
"It's one thing to run lines. … It's another thing to truly feel confident in a costume, and it fits you. [You have] your own unique costume," Johnson says. "At the end of the day, when you see this show and all the hard work and hours, to see them become the characters, that's the exciting part."