GOODE — Amid the din of activity inside the ballroom of Glass Hill Venue, Cissa Willman stares out the windows as the clouds roll closer on a Saturday in late June.
Today's wedding ceremony has been scheduled to take place by the venue's outdoor pergola, which offers a picturesque view of the nearby Peaks of Otter. But if the rain hits, it will be moved inside the ballroom — right where Willman and her team at Avenue Foods Catering are setting the tables for dinner.
"It's crazy when this happens, but you just gotta go with it," says Willman. "It's like, you can't let this stuff stress you out. "
Earlier that day, Avenue Foods' catering team, dressed in blacks and grays, carries food from their shop to two large vans parked on Rivermont Avenue.
It's an hour past noon and pushing 90 degrees.
Crockpots in cardboard boxes, trays of pot stickers and a large mixing bowl filled with diced vegetables are maneuvered into one of the vans alongside other supplies and dishes.
"I can't believe how hot it is," Willman says as she walks by with a plastic-wrapped platter of fruit, deli slices and cheese. "Thank God we're inside."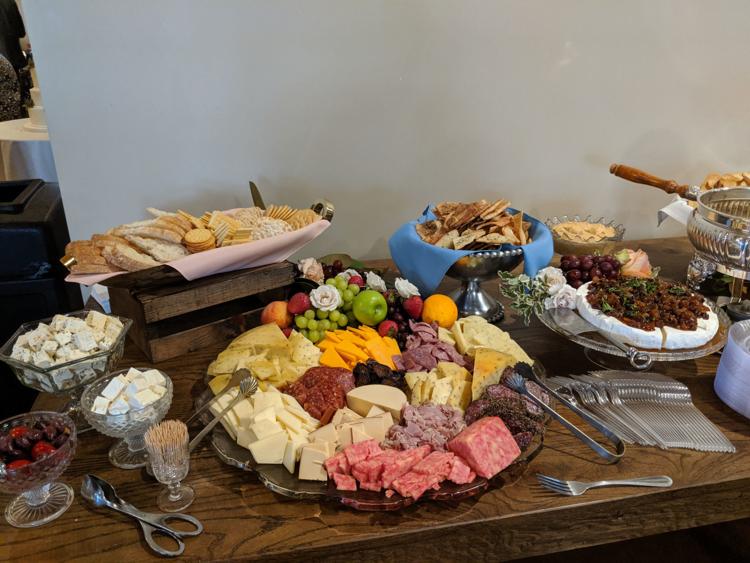 While the bulk of the work will take place today, preparation for the wedding started much earlier.
For a Saturday event, Willman and her two sisters, Laurie Ward and Carrie McCall, who own and operate the 22-year-old catering business, will typically make and freeze all of the sauces on Tuesday and marinate the meats on Wednesday.
The bulk of the cooking takes place Friday, though in this case, the tenderloin, which serves as one of the evening's proteins, was cooked Saturday morning so it would stay warm, Willman says.
This isn't even the only wedding Avenue Foods has on this particular day. Willman and Ward will head to Glass Hill in Goode while their sister takes point at the second event, which starts later in the afternoon at Sierra Vista in Bedford.
After a 40-minute drive along winding country roads and a stop for extra bags of ice, the team arrives at Glass Hill and immediately starts moving supplies into the building's kitchen.
The kitchen, Ward says, is a perk.
Because many Virginia weddings are held outside, they often are working under a large tent without fridges or ovens, Willman explains. In this setup, food is kept in a cooler or hot box until service.
"As long as we have electricity, we're fine," she adds. "Of course, it's nicer in a kitchen."
There's a synchronicity in the way the team moves, weaving in and out of each other, arms laden with silverware, napkins and dinner plates.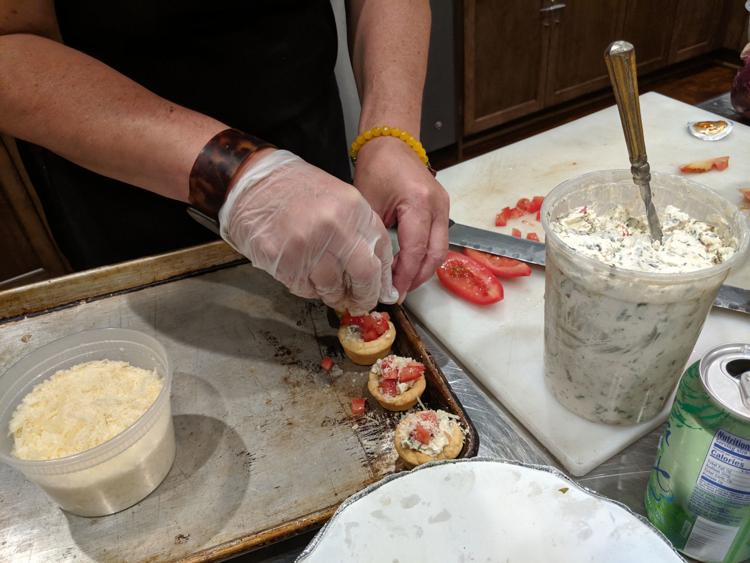 "It helps when you've worked together for so long," says David Harris, who has worked with Avenue Foods for 20 years. "It's like a Broadway play."
As the sky begins to gray, Willman sends a couple team members out to begin setting the tables. This job doesn't typically fall under the caterer's purview, but it does for this particular wedding.
David Harris' wife Holly alternates placing dusty blue and peach napkins in front of each chair as he follows behind laying plates.
Willman soon joins them, laying glassware and glancing every so often toward the large windows.
"That's why I wanted to get the tables done," she says as the winds pick up outside. "We can do the rest in the kitchen after that."
Once every table setting is in place, Willman and the Harrises return to the kitchen where other team members have been warming sauces and dips, mixing dressings into salads and laying out hors d'oeuvres for reheating.
The oven is currently occupied by a casserole that will be served to the band; Avenue Foods also will feed the bus drivers the wedding party has hired to transport guests to the venue.
"People truly want food they recognize ... because they want to appeal to everyone," Willman says.
Today's meal includes marinated Caribbean jerk chicken with an apricot sauce and grilled mango and pineapple chutney; beef tenderloin with a Cabernet sauce; red-skinned mashed potatoes with shredded cheese, green onions and bacon; and a green bean, tomato and corn salad with basil vinaigrette.
"[Guests] eat a lot at weddings," Willman says. "People are hungry. A lot of times it's because they've been busy during the day, and they have to get here so early. ... By the time 5 o'clock rolls around, they're hungry."
At 3:45 p.m. — when the ceremony is scheduled to begin — the wedding planner appears in the kitchen doorway to update Willman: It's raining hard, but the bride is determined to get married outdoors, so they're pushing the ceremony back.
If it's still raining in half an hour, Avenue Foods will need to open the bar early to occupy guests until the skies clear. They'll even hold the entire cocktail hour before the ceremony if they have to.
"Let the rain come," Willman says. "There's no rush. We're fine."
The rain does stop before appetizers are served, the bar is temporarily closed and the wedding proceeds outside as planned.
Once guests reenter the venue, small bites begin to leave the kitchen, carried on serving plates by members of the Avenue Foods team.
This part of catering is something of an art form, says team member Holly Harris. The trick is to be invisible. And if a plate returns to the kitchen half full, then you've definitely done something wrong.
Crab cakes and cream cheese tarts leave the kitchen in a constant flow.
"We're all out of pot stickers," is uttered as someone else says, "Let's put those tomato pies in."
Finally, the chicken enters the oven and the tenderloin gets sliced — an hour behind the original schedule.
But it doesn't matter; the catering team will be there until the very end of the event at 10 p.m.
Once the guests leave, Willman and her crew will clean, pack up and drive back to the Rivermont area.
"We usually get back to the shop," says Ward, "and have a glass of wine."