A polar bear in a bowler hat, a pig with a meat cleaver and a suited shark firing a bubble gun all walk into a bar …
Haven't heard that one before?
That's probably because these critters aren't characters in a joke but the centerpieces of Amy Burczyk's painting "Money Moves."
The animal-infused work, along with 11 more of Burczyk's paintings, are currently on display at the Lynchburg Art Club (LAC) as part of its exhibition "Other Voices," which also features work by artists Veronica DeLuze and Eric Kjeseth.
Burczyk's "pieces are surreal," says Kjeseth. "You can't take your eyes off them."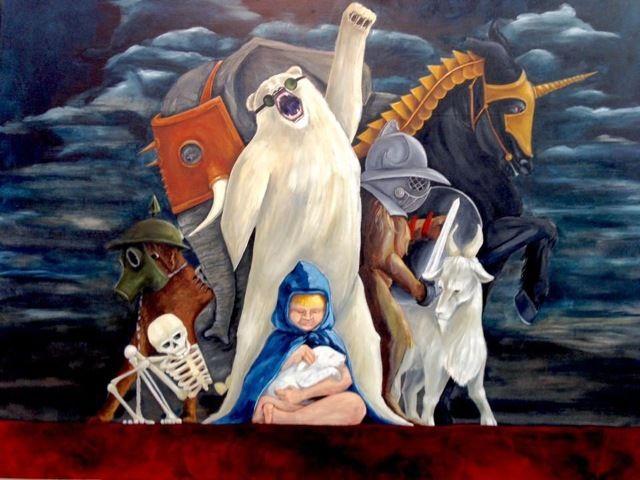 Originally from Wisconsin, Burczyk, who moved to Virginia in 2011 and Lynchburg in 2015, always had an artistic side.
"She didn't have a style that really you could point to or pick out when I was growing up," says her son Andrew Vallozzi. "You saw impressionistic stuff; you saw art nouveau, modernistic."
That changed about seven years ago when she re-read one of her favorite children's books: "Alice in Wonderland" by Lewis Carol.
"There's so much going on there you go, 'This is for kids?" she says with a laugh.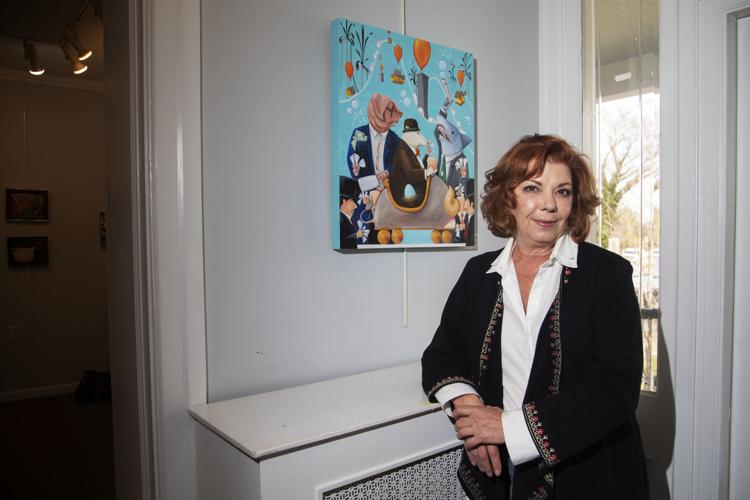 After returning from Wonderland, Burcyzk examined other children's literature and nursery rhymes and noticed a few themes.
"I looked at how kids look at the world, and they're always amazed and there always is this sense of wondering," the artist says. "They're open about it and they're honest about it and free to enjoy. Yet, they have these crazy awesome coping mechanisms."
As Burczyk channeled this childlike viewpoint into her artwork, fanciful worlds began to take shape on the canvas.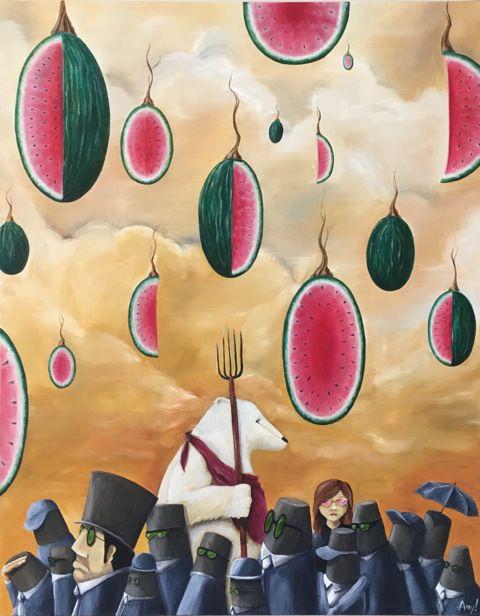 A bear wearing a clown nose juggles knives and narwhals while a pig is lifted into the air by butterflies tied to colored balloons. Watermelons fall from the sky as the simpletons below wear sunglasses and cover their heads but never look up.
In her play on the classic painting "American Gothic," an overall-wearing bear holds a pitchfork and a hummingbird cake — full of actual humming birds — while a pug in da Vinci-like wings lazes beside him.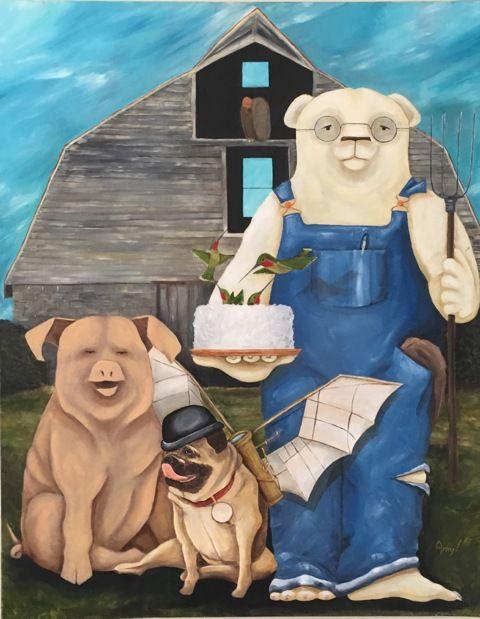 "Not only are they technically amazing, they're very dream-like and imaginative," fellow LAC member Michele Fredericks says of Burczyk's work. "And every one of them is a conversation piece that tells a story."
Most of Burczyk's paintings feature animals, and the ones currently on display at LAC all include polar bears.
"There's such a wonderful juxtaposition of this super fierce beast, yet everyone thinks they're cute and cuddly," says Burczyk. "… I really like the juxtaposition that this animal is both because people are both."
Using animals and otherworldly creatures makes it easier for viewers to imagine themselves in the situations she paints, which often have a dark undertone, the artist says.
One of her pieces explores women reentering the workplace after giving birth, while another work plays with the superficiality of beauty.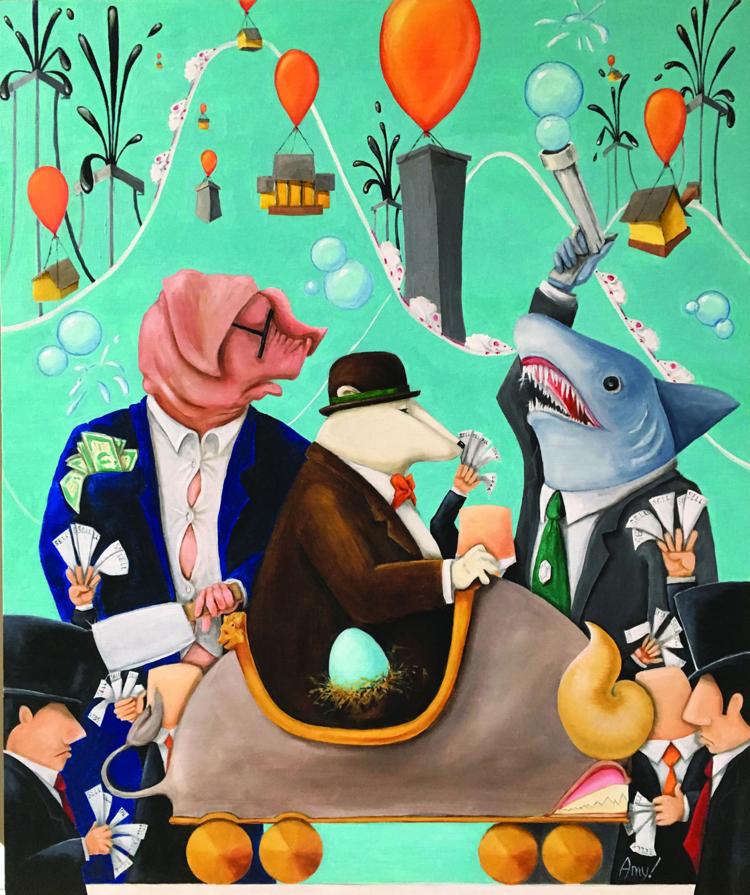 In the aforementioned "Money Moves," which illustrates the ups and downs of the finance world, a polar bear rides the rollercoaster of the market while keeping a close eye on his literal nest egg. All the while, bubbles and balloons pop around him and greedy hogs and sneaky sharks try to hack at his profits.
"It's whimsical, but it's also severe," says Vallozzi. "It's happy and joyful and silly, but at the same time it's, interestingly enough, dark and kind of scary too."
Making this kind of surrealism believable takes a certain kind of precision, and Burczyk has that, says Fredericks.
"It's very tongue-in-cheek and it's spot on every time."