In illustrator Jerry Pinkney's painting of the Aesop fable "Belling the Cat," a group of nervous-looking mice gather together, most with their attention turned toward a bell hanging above them.
A mouse outfitted in a top hat and red vest holds the bell, looking down at his fellow rodents.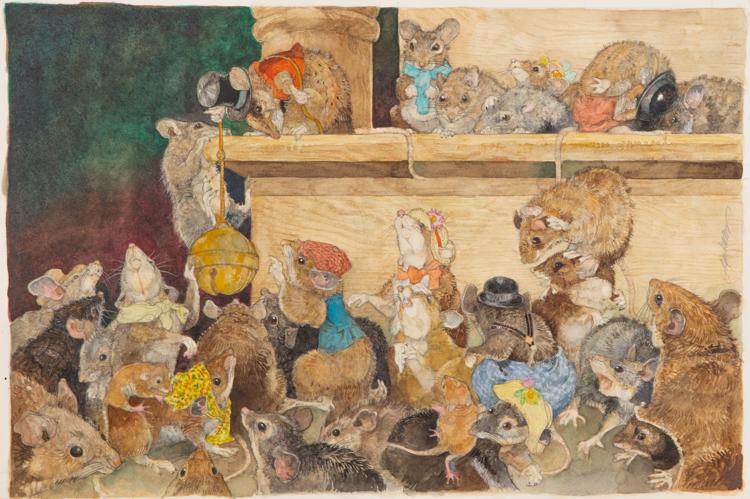 The debate at hand: Who among them is going to take on the arduous task of hanging that bell around the neck of their enemy the cat, which would warn them of any future approaches by the pesky feline? It's a suggestion that sounds good in theory but not necessarily in execution (you may have heard the term "belling the cat," which refers to agreeing to attempt, or attempting, a nearly impossible task).
"Nobody wants to be the one to hang the bell," says Kathy Muehlemann, chair of Randolph College's art department and curator of the exhibit "Children's Book Illustrations: Visual Storytelling," which opens at the Maier Museum of Art at Randolph College Friday and runs through Dec. 15.
"Belling the Cat" is one of several pieces by Pinkney — a past winner of the prestigious Caldecott Medal, which Muehlemann refers to as the Oscar of the children's book illustration world — included in the show, the museum's 108th annual exhibition of contemporary art.
The painting first appeared in Pinkney's 2000 book "Aesop's Fables," which featured more than 60 illustrations and retellings of stories such as "The Shepherd Boy and the Wolf" (also known as "The Boy Who Cried Wolf") and "The Ants and the Grasshopper," both of which are included in the exhibit.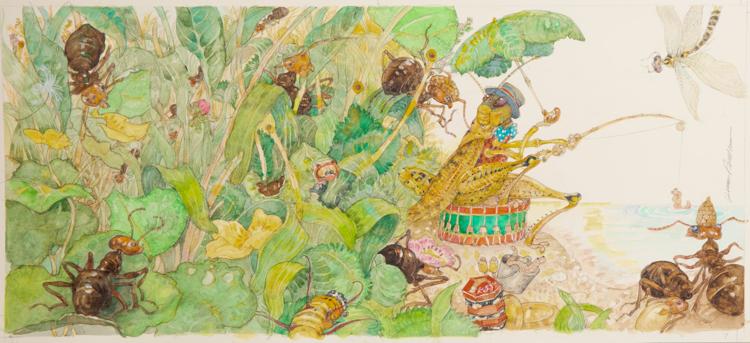 Muehlemann praises the detail present in Pinkney's work — in "Belling the Cat," "the mice look real, but they also have these costumes [on]" — and how it can ignite a child's curiosity.
In his take on "The Tortoise and the Hare," also included in the exhibition, the hare sits atop a tree stump, one paw placed on the ground next to his opponent the tortoise, the other holding a stick that's extended toward the edge of the frame. The turtle, wearing a blue cap and red handkerchief, glances up at him with an alarmed, or maybe annoyed, look.
A child looking at the image might wonder why the rabbit is holding the stick, Muehlemann says, or why the turtle is wearing a hat.
"They take the story on these side journeys of narration," she says. "They become more curious with illustrations."
The exhibition grew out of Muehlemann's time living in New York, when she heard about an exhibit organized by artist Joseph Cornell designed specifically for children: "Adults were allowed to attend if accompanied by a child, works were installed at child height, and for the opening Cherry Coke and brownies were served," she writes in an essay in the exhibition catalog. 
Muehlemann began teaching a children's book illustration course at Randolph six years ago and eventually proposed the exhibition, which took a few cues from Cornell. The work is hung at a lower height than normal, and there will be a cookie bar at the opening.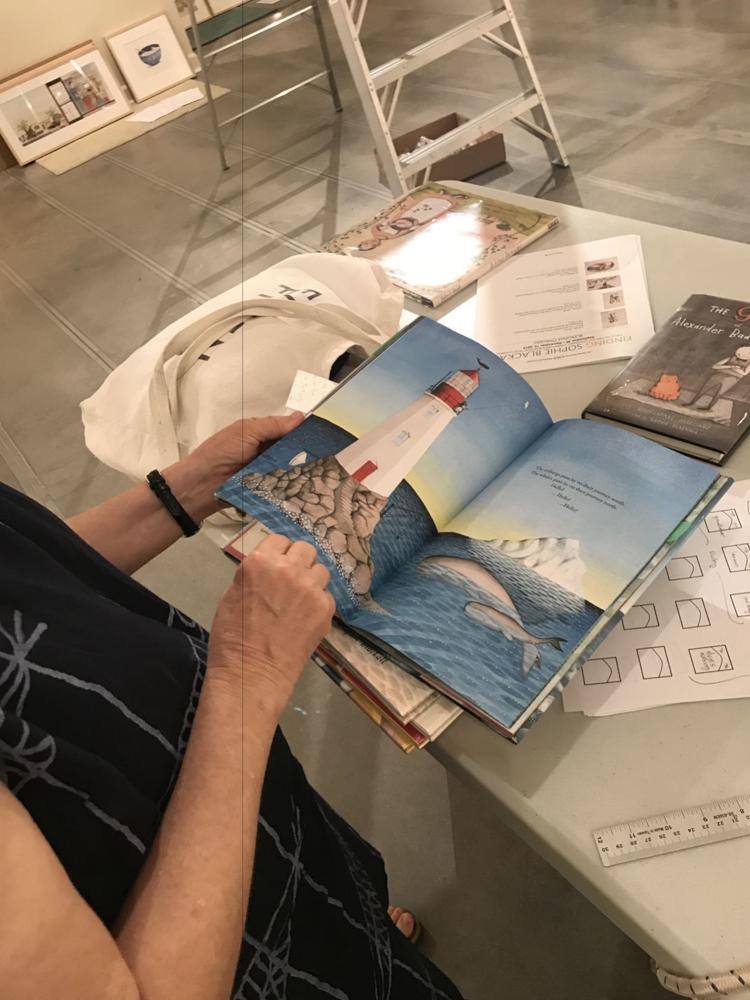 "It's a really popular class and she always has great involvement in it," says Martha Johnson, director of the Maier. "It's a pretty unique kind of thing to be offering in the curriculum. Then to be able to bring in the very best children's book illustrators [for the show]. … It's great to be able to expose our students to primary sources [that are] the best in the field."
"Children's Book Illustrations" is composed of two parts: The main exhibit, which features the work of Pinkney and four other artists, and the retrospective "Finding Sophie Blackall," featuring illustrations by the current 2019 Caldecott winner.
The retrospective features more than 60 of Blackall's illustrations, from books like "Finding Winnie: The True Story of the World's Most Famous Bear," which won Blackall her first Caldecott in 2016; "Pecan Pie Baby;" the children's detective series "Ivy and Bean;" and her 2019 Caldecott winner "Hello Lighthouse."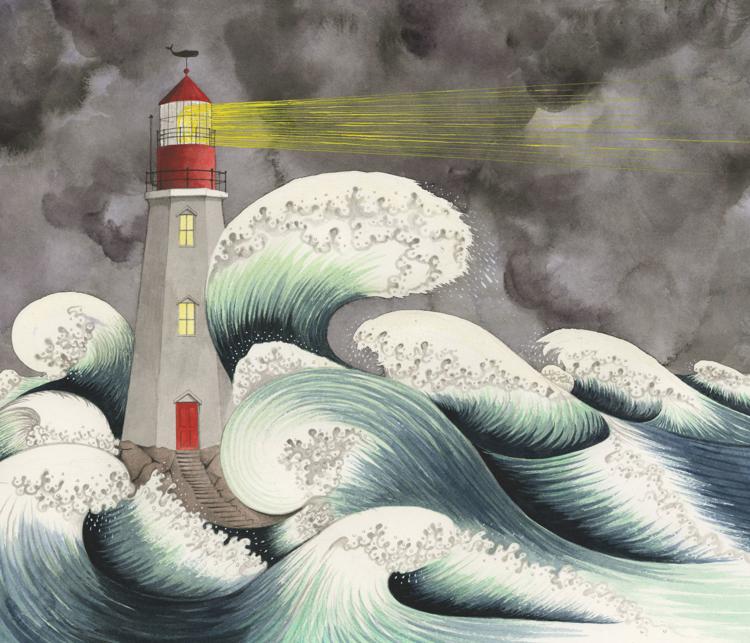 Blackall, one of nine illustrators to win the medal multiple times, will give an artist talk at the Maier at 11 a.m. Saturday. 
Muehlemann calls her work, made with Chinese ink and watercolor, "wonderfully detailed. … She talks about liking all the details of where someone might live, when they live."
The retrospective was organized by the National Center for Children's Illustrated Literature in Abilene, Texas, and was brought to the Maier as a prepared exhibit. 
Muehlemann curated the main exhibit, which features paintings, drawings and collage, from Pinkney's "Aesop's Fables" to colorful, whimsical collages by Vanessa Brantley-Newton.
In her artist's statement, Brantley-Newton writes that she wants "all children to see themselves represented and celebrated in picture books" and that she hopes to create "images that lift and inspire and make you laugh out loud."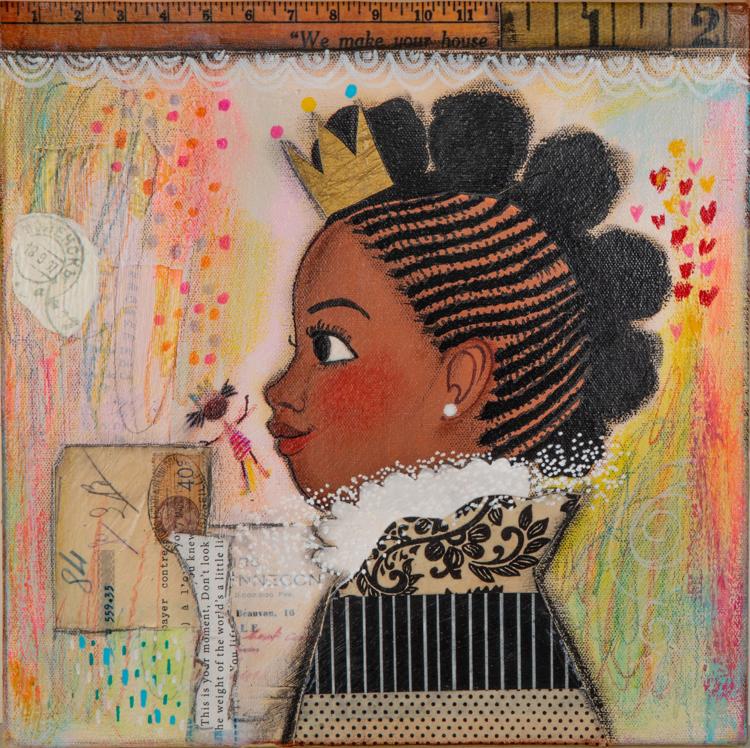 Her work does just that; it's hard not to smile while looking at something like "B Ride," a collage featuring three children joyfully riding a bee over a cityscape.
The work of E.B. Lewis, on the other hand, is much more realistic, featuring vignettes of daily African American life in different eras, from plantation life to a more modern scene of a mother brushing her daughter's hair.
"He takes you through these moments," Muehlemann says, adding that while a lot of children's books are "big, bright," Lewis tends to focus on quieter moments depicting children as they develop "an inner life of their own."
In his artist's statement, Lewis compares illustrating a manuscript to weaving a cloth: "You have to weave through it and to bind it together and that's what the illustrator does. He comes in and weaves those spaces. To do so, I have to do some research. I have to make sure that when a child opens my book, they're transported." 
The work of Douglas Florian would most definitely fall into the big and bright category Muehlemann mentions. His pieces on display — pulled from his book "Beast Feast," which features 21 animal poems paired with corresponding paintings — are humorous and quirky.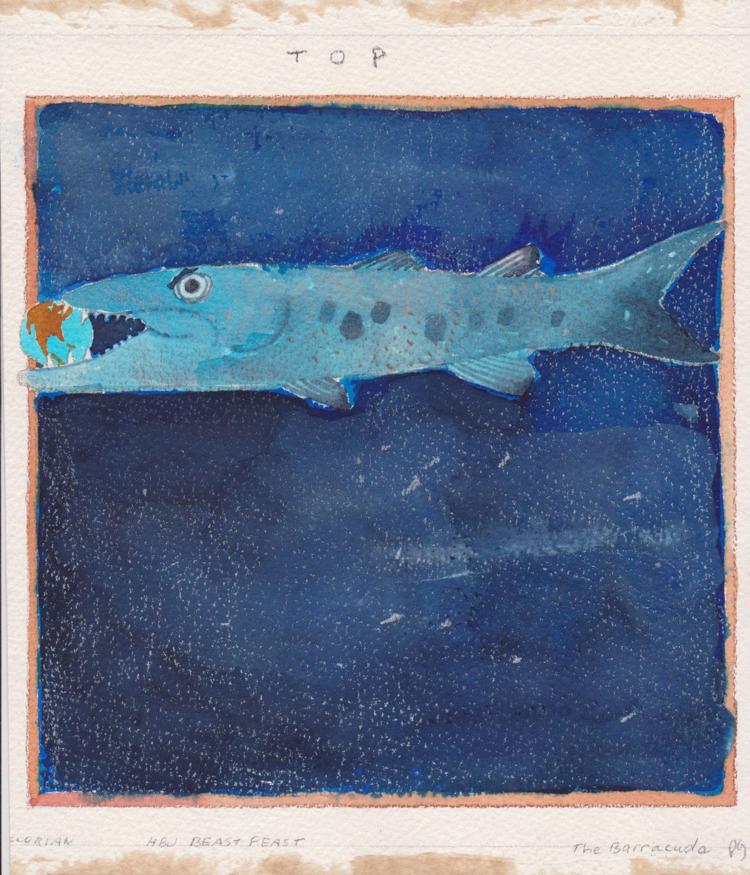 There's a firefly attached to a chord that's plugged into a wall, a chameleon holding an artist's palette, and a barracuda with the entire globe in its mouth (the poem: "In all the world/Nothing's ruder/Than a hungry/Barracuda").
"There's a play on words, kind of a rhyming," Muehlemann says. "The images … they stick. A child can easily learn the poem and recite it back."
Illustrator Larry Day's entire process is documented along one wall of the gallery, from storyboards and early sketches to the final images for a wordless book called "Found," featuring a little girl and a lost dog.
"It's so elegantly done," Muehlemann says of the drawings, which feature pops of color here and there. "The clarity, the simplicity."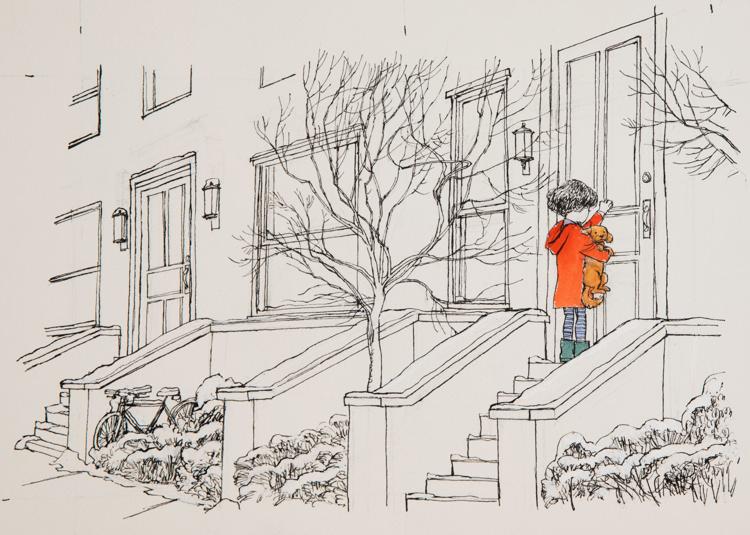 In Day's artist statement, he writes about his lifelong search for "the emotion of things." 
"I love the challenge of visually depicting a story's heartbeat," he writes. "With a wordless book like 'Found,' art truly becomes text, and my job is to carry that heartbeat throughout." 
Muehlemann says it's not hard for students in her children's book illustration classes to relate to the texts by thinking back on their own childhoods. 
"Bedtime stories are a perfect example of a time when you quiet down ... [and] go from one state of consciousness to the other," she says. "... You get kind of dreamy and sleepy. It's one of the first things we experience." 
In her essay about the exhibition, Muehlemann says she's often wondered how an interest in the arts develops in a person, and how something like children's books can contribute to that. 
"Maybe the engagement at an early age, with images and words in a picture book, encourages in the child an early affinity toward art and literature," she writes. "And just maybe, it will lead them to create narratives and images of their own."