"You'll never want to see 'The Sound of Music' indoors again," actress Julie Trammel Key — "Maria" in the musical drama — said during a rehearsal break at Wintergreen Resort last week before the show's upcoming run.
And who would argue with a nun — even if the novitiate turns out to favor becoming stepmother to an Austrian sea captain's children over a convent in the Alps?
The cast of 50 comprises all Virginians except for the lead roles performed by Key, Blake Burgess (Captain Von Trapp) and Jayme Aliliaw (Mother Abbess).
Rehearsing in the resort's ballroom for a week before moving to the outdoor stage site at the Highlands ski area the final week, the cast was energized by the story, each other and director Brian Clowdus. The founder of Atlanta's Serenbe Playhouse has specialized in immersive theatrical experiences, including "Titanic: The Musical," "Mamma Mia!" "The Edgar Allan Poe Experience," "The Christmas Carol Experience" and "The Sleepy Hollow Experience."
The heartwarming "Sound of Music" story — which first opened in New York as a stage musical on Nov. 16, 1959, and premiered as a film on March 2, 1965 — becomes immersive at Wintergreen from the first scene: Maria, in her novitiate's habit, runs up the Highlands' steep hillside singing of the hills being alive 'with the sound of music.'
"And, of course, the children steal every scene they're in," Key said.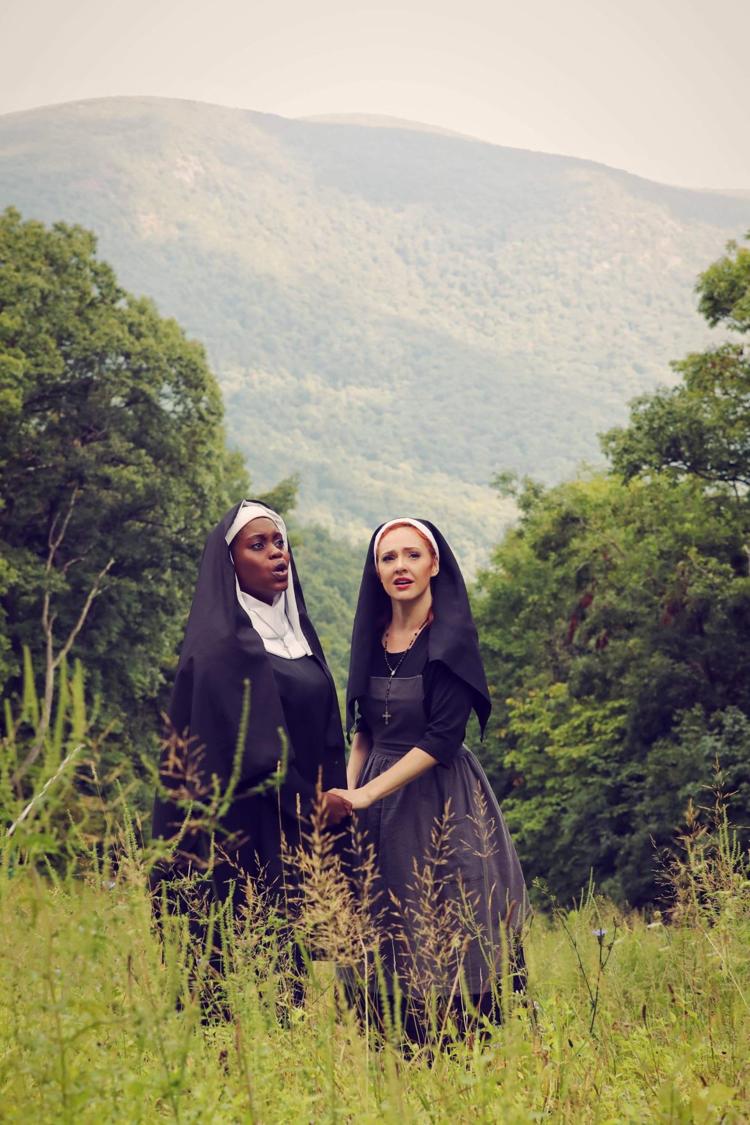 Auditions last March in Charlottesville and Lynchburg included "hundreds of children," she added. From that number, 14 received roles — two sets of the seven Von Trapp siblings to allow for alternating them in matinee and evening performances.
The youngest, Gretl, played by 5-year-old Bela Ware of Lynchburg, commutes daily to Wintergreen with her mom as chauffeur. Asked how many previous shows she's performed in, Bela responded, "I don't know." (Her mom explained, "She does a lot of theater.")
Karl Lindevaldsen, who has appeared in many Wolfbane Productions in Appomattox, appears as the Nazi, Zeller, in "The Sound of Music." Lindevaldsen said he went to Atlanta expressly to see Clowdus's production of "Titanic: The Musical" last year (in which Key, who played a first-class passenger, had told of jumping into 35 feet of Lake Serenbe at the end).
"That show didn't have a weak link anywhere," he said. Small wonder that he dropped everything to audition for the Wintergreen experience when he learned of auditions in Lynchburg.
Several members of Clowdus' team, such as the assistant director, stage manager and musical director, have worked for him in several of his shows; a couple of them apprenticed with him at Serenbe Playhouse right out of college.
"I follow Brian," Key said. "I'll do whatever he decides to do next."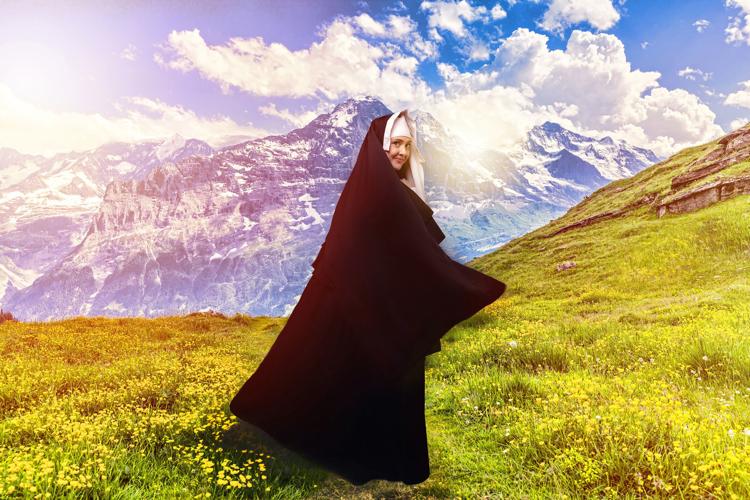 At the end of each rehearsal, the director's detailed oral notes to cast and crew encompass everything from making sure the colors of microphones worn by performers match their skin tones — so as to be unnoticeable — to rebuking singers for "wandering eyes" during a song-and-dance number — which show a lack of engagement.
Following a redo of the "Sixteen Going on Seventeen" scene last week, Clowdus gave Liesel (the oldest Von Trapp daughter) and boyfriend Rolfe a pep talk on dramatizing more convincingly their roles as teenagers learning — and trying to show — what it's like to be in love for the first time. As the two singers tried yet again, Clowdus chased them around the ballroom with a tall potted plant until he had them hopping and laughing as they sang.
"That's it," he said at the end. "You've got to get outside of yourselves — start having fun with this."
Sometimes he couldn't demonstrate precisely how to do what needed to be done with a role or a scene. In situations like this, he empowered performers by saying, "I can tell you what you've got to do — but you have to figure out how to do it. … I do not settle [for anything other than the best], and I hope no one here settles. I want us to go into the next rehearsal better than the last one."
During his constructive criticism, he told the cast, "I'm only being hard on you because I want you to be fantastic. Are there tools I can give you that will help you? Tell me. That's my job." A couple of hands shot up with suggestions of specific things he might tell them for songs or dance movements.
He told the 14 children specifically at one point, "Don't forget to sing — you're making Julie do all of the work. You're all so cute, but we can't rely on your being only cute. Von Trapp children are sharp, precise — that's what sets you apart. The 14 of you beat out hundreds of other children so give it all you've got."
Above everything else, this native of a small town outside of Birmingham, Alabama, wants the cast to remember the heart of the show: "In this last week [of rehearsals], we'll be focusing on a lot of logistics and doing things like safety walks around the site, but you always have to remember the heart of this story."
For Burgess, who plays Captain Von Trapp, the heart is "the captain's learning to open up to his children. The warmth of a family is truly something special — and opens you up. This is what happens to the captain."
"Family" takes on an extended meaning in the words of the Mother Abbess near the end of the dramatic musical, as Aliliaw's powerful voice inspires the Von Trapps — whom she's helping to elude Nazi soldiers — to give a dream "all the love you can give." This is also a reminder that despite the show's gorgeous music, lyrics are supremely important.
One of Clowdus' final cast tips might apply equally well to visitors who come to the show: "When you're not onstage, use every opportunity to observe and take it all in. Be in the moment."
As skiers will know, theatergoers have to be "in the moment" when taking the chairlift down the valley to the stage site and their seats — and back up the mountain at the end. While this is the standard mode of transportation to seats at the show, Wintergreen is providing van service for visitors who have disabilities or a fear of heights.
The resort is also giving accommodations discounts during the show.
Rod Kessler, general manager of Wintergreen Resort, noted, "We're building on the strength of the musical programs provided by Wintergreen Music [formerly Wintergreen Performing Arts] to expand our cultural presence." It will be a bonus for the resort, too, if visitors decide "to explore the complete Wintergreen experience and dine with us, golf with us, spa with us, and spend the night with us."