A transformation has taken place inside the walls of St. Paul's Episcopal Church.
Not inside the sanctuary, which already features decadently painted walls, intricate stained glass windows and a 2,239-pipe organ.
This facelift, which was completed by local artists Megan Davies and Sonny Harlow, has filled the church's antechamber, called the narthex.
"If you had seen the narthex prior to Sonny and Megan painting it, it was just kind of a tan, generic — not very interesting — which clashes with the the full sanctuary in its ornamentation," says the Rev. Todd Vie, who ministers to the church alongside his wife, the Rev. Diane Vie.
This newly repainted narthex — which includes a starry ceiling, golden leaves and branches around the doorways and decorative patterns inside the archways — is already causing a buzz ahead of Interfaith Outreach Association's Downtown Lynchburg Historic Church Open House this weekend.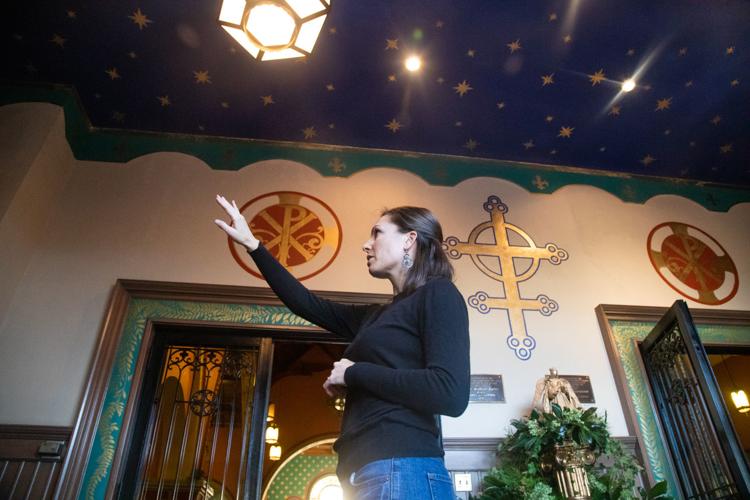 "You would not believe the number of calls we've gotten," says Shawne Farmer, executive director of Interfaith Outreach. "People have been dying to see the new painting of the ceiling."
Now in its fifth year, the free holiday event, which takes place this Saturday, invites members of the public to visit eight downtown churches within a five-block radius.
In addition to St. Paul's, seven other churches are featured on this year's tour: First Baptist Church, Jackson Street United Methodist Church, Diamond Hill Baptist Church, Holy Cross Catholic Church, Court Street Baptist Church, Court Street United Methodist Church and First Unitarian Church of Lynchburg - Unitarian Universalist.
Each church will open its doors for an hour and also will host a unique 15- to 20-minute holiday concert.
There will be Appalachian Christmas carols at Court Street Baptist, a cellist at Holy Cross, a gospel choir at Diamond Hill Baptist and organ music at Court Street United Methodist, says Farmer.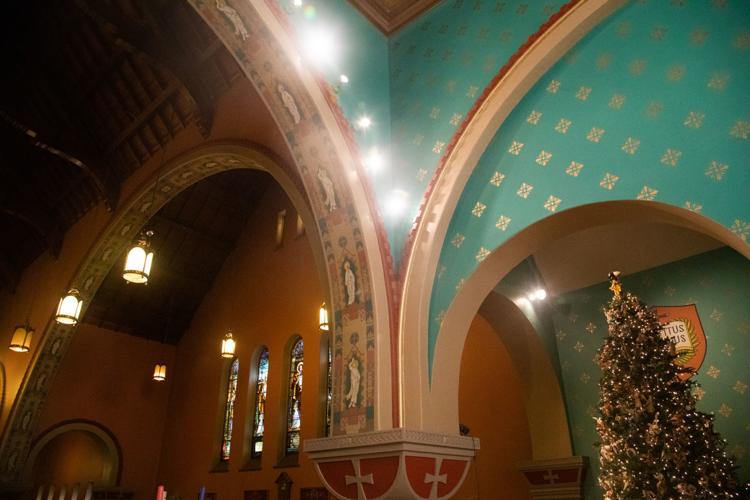 "Each of them is so unique architecturally as well as with their congregations," she says. "... [It's] fun to see the various churches in the stages of their Advent and Christmas traditions with their nativity sets and their Christmas trees and poinsettias. It's beautiful."
Originally housed on the corner of Church and 7th streets, St. Paul held its first service in its current, Romanesque-style building at Clay and 7th in 1895.
Around a century later, the church hired local artist Sonny Harlow to add some decorative paintings to the sanctuary, which was being remodeled.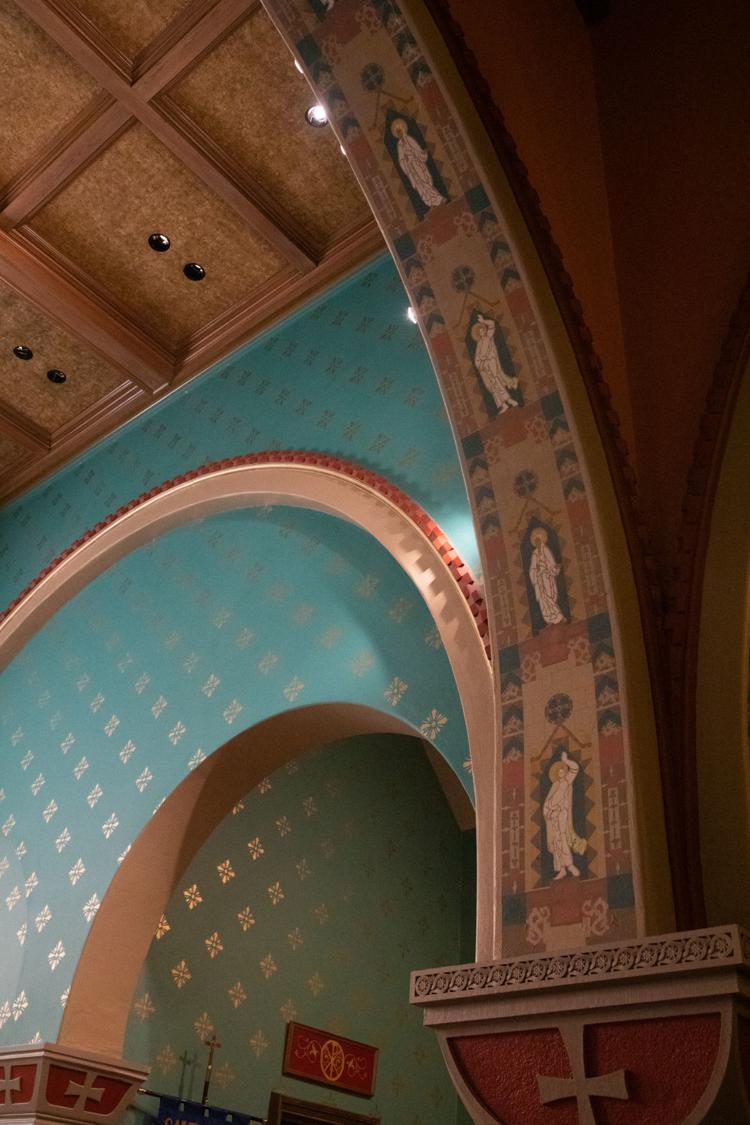 During the course of the project, Harlow, who also has done work for Amazement Square, Elizabeth's Early Learning Center and the Putt-Putt Fun Center on Timberlake Road, painted on almost every part of the sanctuary.
He painted the wallpaper-like pattern of crosses adorning the front wall and the panels depicting the tree of life on each side of the altar. He marbleized decorative columns, replicated a long-faded design on the massive overhead arches and added decorative borders above the wainscoting.
"He didn't duplicate anything or any other church, but you can see the echoes through the centuries of European cathedrals and even chapels," says the Rev. Todd Vie.
When work on the narthex was approved, the church once again reached out to Harlow.
"I have crippled up, [but] when they called me about this narthex, I was determined to do it," says Harlow, 60, who has been on dialysis for four years as he waits for a kidney transplant. "I loved working in this church 20-some years ago and I could not let this pass up."
This time, Harlow teamed up with fellow Lynchburg artist Megan Davies.
As it happened, Davies was already familiar with Harlow's work, having painted murals of her own at both Amazement Square and Elizabeth's Early Learning Center.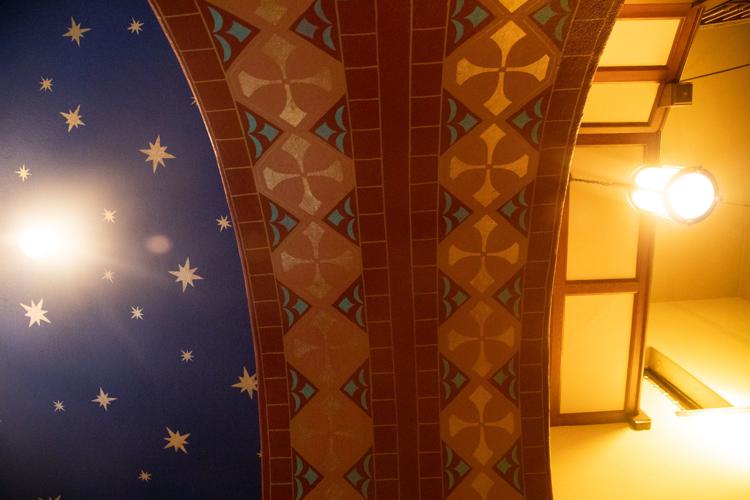 "A lot of the work that I was doing there [at Amazement Square] was also doing touch ups and matching his style," says Davies. "Going in and making sure that when I touched something up it stayed consistent."
The focal point of the narthex's design is a sea of golden stars that pop against the ceiling's fresh coat of cobalt paint.
"This isn't unusual to be ornamented in this way in Europe," says Vie. "It's very not American, but there are American churches that have done what we've done."
Davies and Harlow also incorporated other elements from Harlow's previous work in the sanctuary into the narthex's design.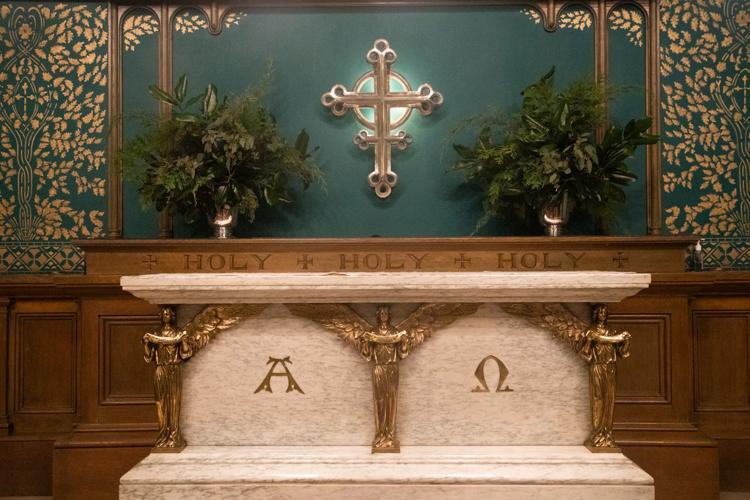 The same cross that hangs above the altar is now painted between the two pairs of wrought iron doors that lead from the narthex into the sanctuary, says Harlow.
They also used Harlow's tree of life as a border around each of the interior doors, and the design on the inside of the antechamber's archways mimics the decorative border above the sanctuary's wood paneling.
Vie says St. Paul's congregants have been enjoying the narthex's new beauty since the project was completed in late September.
"It's the best result in the church: everybody thinks it was their idea," he adds.
And it's not just the church community feeling the blessings of this project.
"There's already so much history with all of these churches downtown," says Davies, "... it's kind of fun to be a piece of that."