Two months were spent crafting the title, as the curators searched for the perfect words to intrigue as well as inform.
"We kept going back and forth with if we wanted a straightforward title or a metaphorical title," says Randolph College senior Jordon Kirkpatrick, who curated "Developed and Disturbed: Visions of the American Landscape" with fellow upperclassmen Elisabeth Ayars and Sara Primm.
The exhibition, which starts its eight-month run in the Maier Museum of Art at Randolph College this Friday, examines how industrialization has impacted the American landscape.
"Planning an exhibition is very different than doing a research paper because you're thinking about the audience in a broader way," says Lesley Shipley, an assistant professor of art history at the college.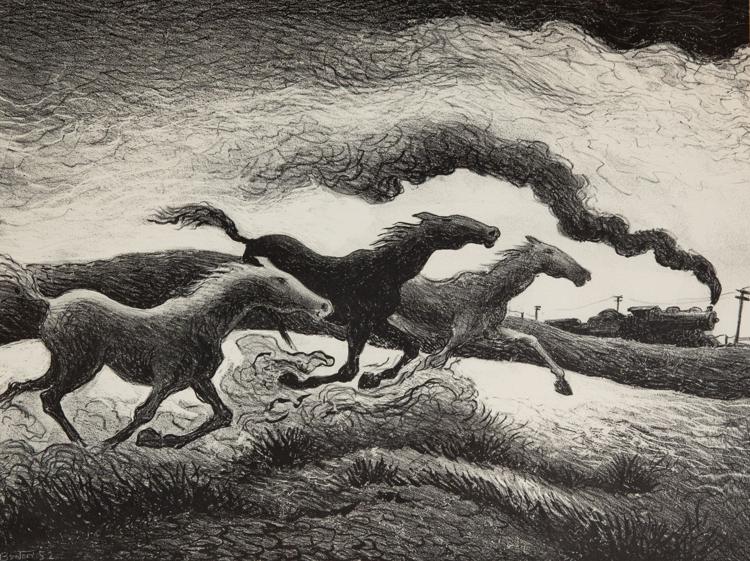 "… This is an opportunity to get everyone excited about this material, which is really exciting and fun and intellectually challenging."
Designing a show at the museum was the capstone project for the students' curatorial seminar class last semester, says Shipley, who guided the students through the process along with staff from the Maier.
While the curatorial seminar is not new, the art museum has only held about six student-designed exhibits in the last 16 years, says Martha Kjeseth-Johnson, director of the Maier.
"It's so unusual," she says. "… Who comes out of college saying 'I curated an exhibition with this stellar collection of American art?'"
In addition to being an instant resume builder, this kind of applied learning gives students a deeper understanding of museum work and hones their writing and communication skills while highlighting the importance of collaboration.
At the beginning of the fall semester, Shipley presented the students with a broad concept — landscapes — and a selection of about 30 works from the Maier's permanent collection to give the students a starting place for their exhibition.
From there, the students worked together to give their collection a focus.
"We wanted to focus on how artists have portrayed the landscape over time," says Ayars, who also is a senior. "And it does end up being kind of chronological just because of how the American landscape has developed over time."
They narrowed the works to 15 pieces and laid out how the exhibit would flow when placed in the gallery.
"The bookends of our exhibition are starting with an extreme and ending with an extreme," says Ayars.
The oldest piece in "Developed and Disturbed" — Thomas Cole's 1844 oil "Corway Peak, New Hampshire" — represents the landscape in its most natural form. Complete with blooming flora, flowing water and a majestic mountain, the picturesque forest scene is untouched by man.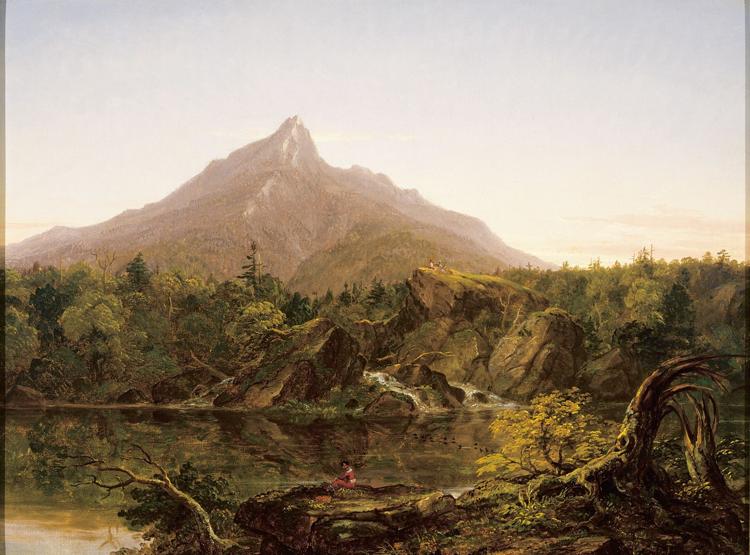 Conversely, man's influence is in every inch of Sang-ah Choi's 2007 work "Welcome to America!," from the larger-than-life forms of Mickey and Minnie Mouse, buttoned up in business attire and beaming at the viewer with glassy eyes, to the pixilated sky above buildings laden with corporate logos including Costco, Best Buy and Starbucks.
"We start with Thomas Cole, who is trying to portray this idealized wilderness of America in the early 19th century," says Ayars, "and we end with 'Welcome to America!,' which is also an extreme version in the opposite way."
The rest of the time was spent writing and finessing the essays in their exhibition catalogue.
"It was a process of writing a long essay at first and cutting it down for space," says Primm, the only junior in the curatorial seminar. "To cut it down to such a small text was difficult … but all our research will be given to the docents."
Finding a way to meld three distinct visions into one cohesive message is often complicated, but the group says they found a balance.
"None of us were stubborn in our ideas where we pushed too far," says Kirkpatrick.
"I could come in with this big idea I'm trying to say and she just comes up with the perfect word," adds Primm of Ayars. "[It's like], 'That's what I'm trying to say.'"
Seeing the exhibit come together after an entire semester spent designing is still a bit unreal, the students say.
"It's crazy because some of the works, I hadn't seen in person actually ever," says Ayars. "… It's like even though you planned it, it's like seeing it with fresh eyes for the first time."