BEDFORD — Lori Stetson's hands never stop moving.  
Even during an interview, the Bedford artist dexterously weaves a thin, silvery strand of wire around a larger copper cable.
Slowly, the pieces begin to form the shapes of feathers, and the feathers, wings.
"I don't do anything that I know how to do," Stetson says as an afternoon glow fills her studio in the Bower Center for the Arts. "I think that sounds weird but ... there's got to be something about it that I really don't know how to do and have to figure it out."
Watching Stetson's creations transform from the humble materials of wire and pipe cleaners into fully recognizable animals is a bit like witnessing a magic trick.
"It's like that hobby material we all used in Boy Scouts or Girls Scouts, she takes that material and transforms it into fine art," says Patrick Ellis, co-owner of Goose Creek Studio, where Stetson often shows her work. "We're just intrigued by it — [that] you can do that with a pipe cleaner."
Stetson, who moved to Bedford about 40 years ago, has loved animals her entire life. They even play a part in her earliest memories.
"I can remember riding in the back of the station wagon thinking about horses," she says. "My sister teaching me to draw horses."
It should therefore come as no surprise that Stetson spent 35 years working as an office manager for a mobile equine practice, Windhaven Equine Clinic, in Forest.
The clinic ended up jump-starting her artistic career as well. Stetson gave Dr. Ronald Fessler and his wife Karen, who ran Windhaven, some of her drawings as gifts, which they hung in their home.
Soon, the Fesslers' friends were calling in the hopes that she'd paint their pets as well.
"She always picked out the essence of the dog, or the animal," says Karen Fessler. "You could see the personality."
Fessler says she assumed Stetson was able to successfully capture her pets' personalities because she already knew the animals.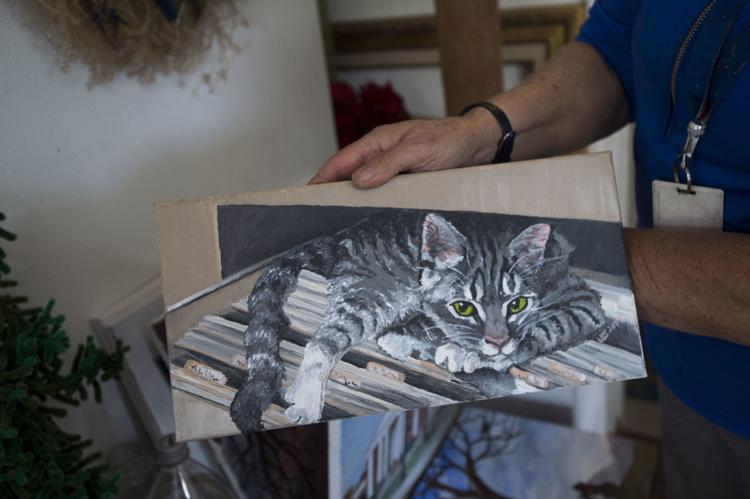 "But then," she says, "when she started doing commissions ... I realized she could go out and take pictures, snapshots, [and] still could pull out the inner look of the eye or whatever it was that made them an individual personality. That, to me, really makes Lori outstanding."
It wasn't just Stetson's ability to capture a pet's likeness, though. It was also the creativity she brought to her portraits.
"When she did my older son's horse, he had a little cat that he loved," says Lili Wykle, who has commissioned many paintings from Stetson. "She made the horse's portrait so that the horse was in my barn with the brick and then the cat was there, so it looked like the horse was leaning down to connect with the cat."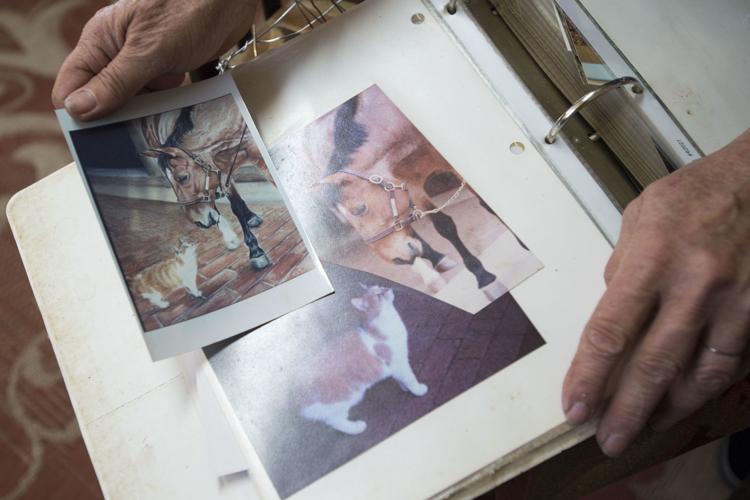 The paintings, adds Wykle, evoke memories of beloved pets, which make them even more special.
"When I see her paintings, I remember them," she says.
Over the years, Stetson picked up many commissioned portraits, both through word of mouth and through her job at the equine clinic, where Fessler says she designed the office's announcement cards.
It was also at the clinic that she transitioned from painting to wire.
During a slow day at the office about a decade ago, she noticed a roll of fencing wire. She picked it up and started twisting.
Stetson began by creating trees but transitioned to animals within the first year or two.
"I still love to do the trees, but a lot of times, the trees will also incorporate animals," she says. "Whatever I'm doing, it's got to have movement. That's what fascinated me with the wires."
Three years ago, she started using the same technique with pipe cleaners.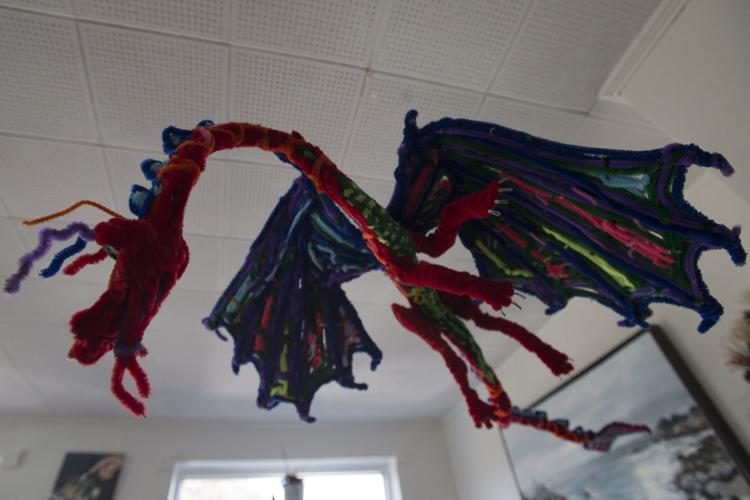 Her first creation was the dragon Fancy (named for the expression "flights of fancy," which also is the piece's title) who used to hover over the design table at Goose Creek and enthrall visitors, Ellis says.
Now, entire scenes come to life with the bending of wire and a little whimsy.
A baby colt jumps on its patient mother's back, and a curious raccoon investigates a bird feeder occupied by various feathered friends. A herd of deer explores a snowy mountainside and a fox leaps into the air, poised to catch a terrified mouse.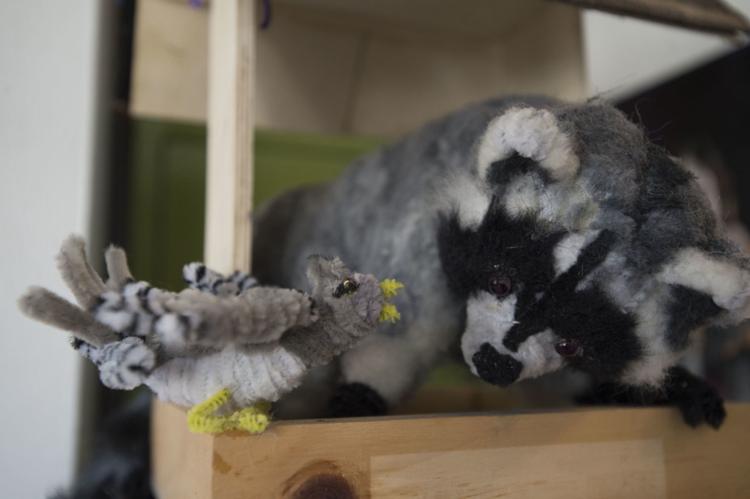 Despite the intricacy of her designs, Stetson never uses glue or any other adhesives to secure her works.
"Don't ask me why, but to me, it's cheating," she says.
Instead, she creates each shape by building a structural base, called an armature, and then wrapping and cutting the wire around the framework.
"The wirework is very technical," Ellis says. "It looks effortless, but getting the wire — the creatures, I should say — getting the creatures to stand requires a great deal of mechanical reasoning, and all before she even starts the more creative aesthetic process."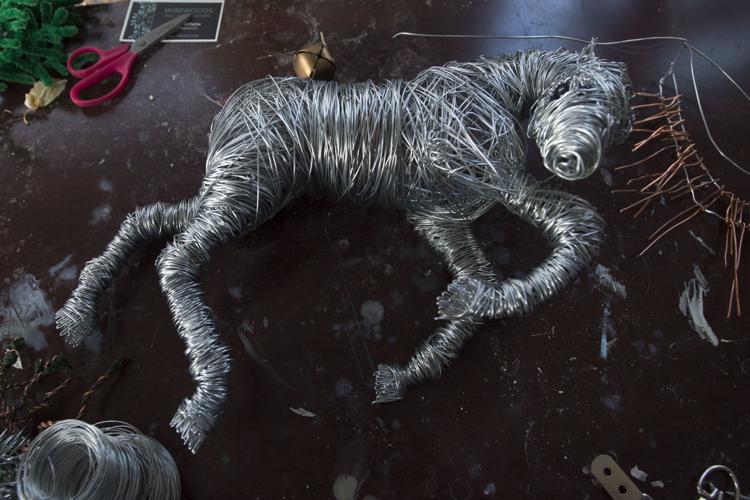 Stetson's technique has evolved so much that, at first glance, you might not even realize that some of her critters are constructed from pipe cleaners.
Part of the beauty in Stetson's work is the sense of movement that she manages to capture through the static medium of wire, Ellis says.
"All these furry creatures, they're made out of wire, and it doesn't seem to matter."
Even though Stetson has changed mediums, the concept of portraiture still lingers in her work. Each sculpture she designs tells a story, capturing the animal's life and personality.
And for Stetson, that is what makes her wirework as fun as it is challenging.
"To be honest, I don't think I became an artist until I started doing things that scared me," she says. "Doing things that I didn't know how to do and taking the chance."