Judy Bodenhorst Stowers lights up when talking about her grandmother, German-born artist Minne Meffert Bodenhorst.
"[She] must have known I was going to paint someday," says Stowers, who is showing her work alongside several members of her family in the Academy Center of the Arts exhibit "Five Generations: From Ecuador to USA."
"She'd talk to me like I was a painter. … I remember her saying to me, 'The biggest mistake is people are afraid to do bold colors.'"
Stowers pauses a beat, looking at her aunt, Monica Navarro, whose work also is featured in the exhibit and who was in town last week from Ecuador for the exhibit opening.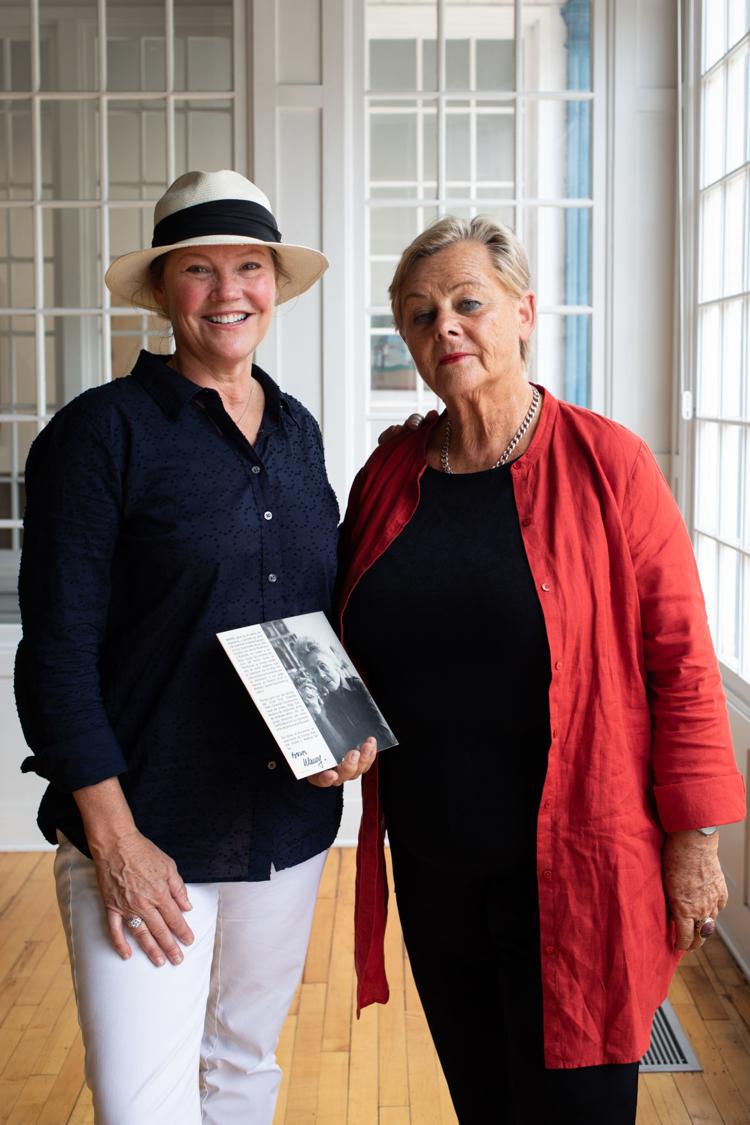 Then she shares another memory of her grandmother telling her, in her thick, German accent, "You pick up a brush and paint, and you sit back … sip some sherry and take a puff of your cigarette and reflect."
At the time, Stowers says she thought her grandmother was only talking about painting. But as she grew up and had her own children, Stowers began to see the life lesson in it: "Work, sit back, reflect."
Honoring Minne, as Stowers calls her, is one of her goals with the exhibit, which remains up until June 29 and will be the subject of an Academy Art Talk, featuring Stowers, from 5:30 to 6:30 p.m. Thursday.
Ted Batt, the Academy's exhibitions manager, originally approached Stowers about doing a solo show, he says. About six months ago, she came back with a proposal for a generational show, featuring work by Minne, Stowers and Navarro, as well as Stowers' father, Piet; Stowers' brother Jeoff and daughter Meredith B. Wynne; and Navarro's granddaughter Camila Mantilla.
Minne, who died in 1991, was probably the closest to a professional artist in the group.
As Stowers told Batt a bit more about her grandmother, he says he "got the sense [that] this is one of these pioneer women who was an artist when not many women were doing that kind of thing."
She began painting in the 1930s after moving from Germany, where she had been a modern dancer, to Argentina with her soon-to-be-husband, Benno.
They later relocated to Ecuador, where they raised five children and where Minne joined up with a group of fellow artists, including the late Oswaldo Guayasamin, who both Stowers and Navarro say is well-known in Ecuador.
"They went on these trips together and painted together," Navarro says.
Because she was the youngest, born six years after her next oldest sibling, Navarro often accompanied her mother on these trips, including one into the Amazon where she recalls sitting in the front of a canoe in soaking rain.
That trip, in 1948, was documented in the book, "Viaje a la Selva/Jungle Trip," which was published in 1950 and focuses on their journey into the jungle after Guayasamin was commissioned to paint a mural of the Amazon River despite having never seen a real jungle. A friend suggested they fix that with an expedition, according to the book's description.
Navarro also remembers gathering at the home of another artist in Quito, Ecuador, where painting sessions would be accompanied by coffee, classical music and a big, roaring fire. The group typically painted nudes from live models.
"I still remember thinking, 'How strange that the model is there, and they all paint something different,'" she says. "… I can still smell the coffee."
The Academy exhibit features several of Minne's sketches from those live model sessions, as well as a completed nude painting.
Batt, looking at the sketches, compares the simplicity of her lines to the drawings of Picasso.
She worked in oil, watercolor, charcoal, pastel, acrylics, collage, sand and even crayons — "whatever she needed to express herself or what captured her interest," Navarro writes in a biography she put together for her mother.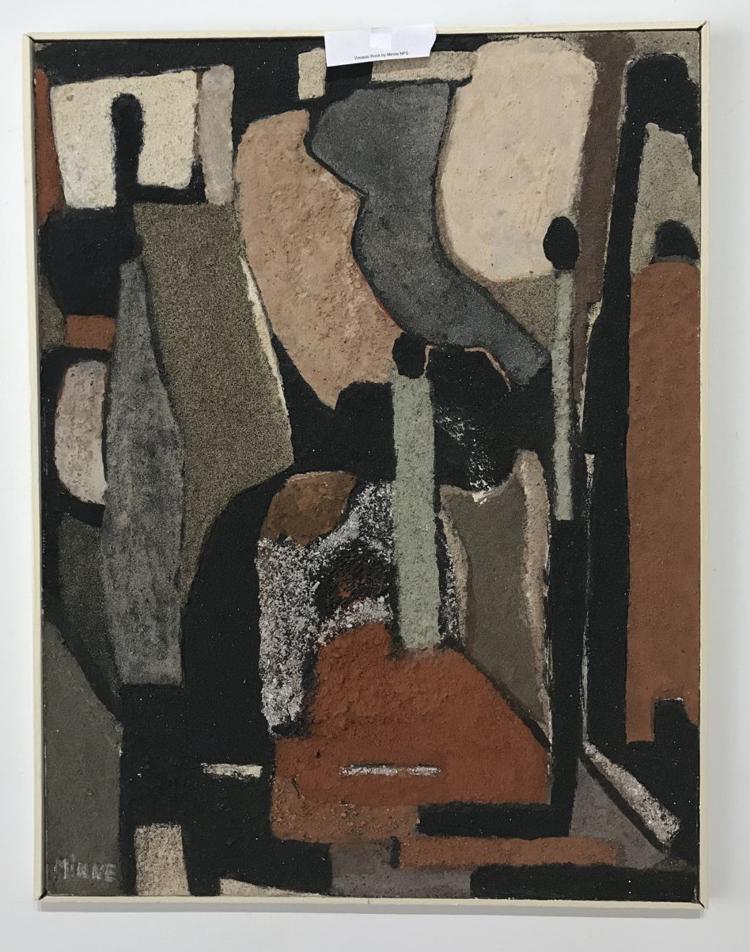 One such painting is an abstract piece Batt calls "highly unusual and beautiful."
It features volcanic rock that was ground up for the painting, Navarro says, "because she wanted to study the medium and take advantage of the textures."
In her mother's biography, Navarro writes she had a special outlook to life and was "always friendly, easy-going, avant-garde, creative, open-minded, sensitive and sensible."
Navarro says many of her siblings were creative — her brother Klaus, for instance, painted and wrote poetry — but none of them ever pursued it as a career.
Stowers' father, Piet, only has one piece featured in the Academy show, a city scene he painted when he was 6 years old.
For her part, Navarro studied fine arts and design in Europe and the U.S. before moving back to Ecuador, where she worked in several fields before starting her own landscaping business 30 years ago.
She still paints using watercolor, acrylics, oil and occasionally pencil, and considers blueprints for the gardens she designs, all of which are done by hand, also to be a form of art.
"I find that plants are a very nice medium to work with," she says.
Her paintings in the Academy exhibit include brightly colored landscapes, inspired by an earlier visit to Lynchburg when she was struck by the autumn foliage.
Stowers also paints landscapes, but her real passion lies in portraiture, much like her grandmother. She too has a group of friends with whom she paints from live models. One of her nudes is featured in the exhibit, as well as several scenes from Smith Mountain Lake, where she now lives.
Other work featured in the exhibit includes a landscape by her brother, whose doctor recommended he pick up painting to de-stress; an intricate, black-and-white drawing by Navarro's granddaughter, Camila; and a series of sketches by Stowers' daughter Meredith, from a semester studying at the Art Students League of New York.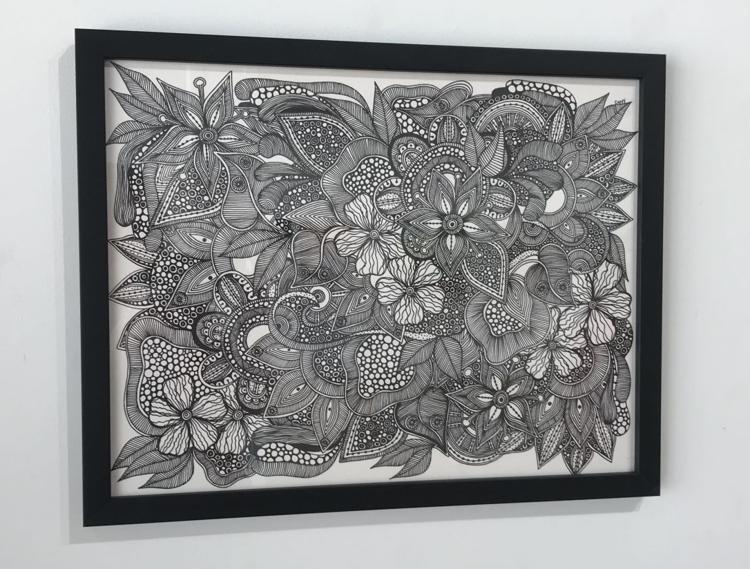 "It's all she's ever done," Stowers says. "She never went back."
Whether they continued creating art or only briefly experimented with it, it's clear a passion for creativity runs deep within the family.
"At one point, I thought this might be a tough show to make flow through the gallery," Batt says. "But at the same time, as I was installing it, [I realized] it doesn't have to flow. It's clearly ... different people, or five different generations. [And] it actually flows pretty nicely anyways.
"I think it's just an interesting story in itself, that it's so many family members that clearly have talent."
Stowers, one of five children, says she remembers her father encouraging her to draw as a child. He even painted the walls in their basement white and "gave us each a white wall [to paint on]."
Other than the typical childhood drawing and painting, Stowers never pursued art seriously until 2012, after the youngest of her six children went off to college.
"The desire is deep down inside of me, but I've had to work really hard. I study and study. … It changes the way you see."
Batt, who has known Stowers since 2004, remembers when she told him she'd started taking painting classes. The Academy first showed her work, alongside local artists George Dawson and Holly Perrow, about four or five years ago.
"She had a talent right away, I could tell," he says, adding that when she showed him newer work a couple years ago, "I'm going, 'OK, she's really taking off.'"
Stowers says her journey is still a work in progress, but one that's directly linked to her grandmother.
"Every time I go into the studio, I just feel her spirit with me."