E.C. Glass Theatre's season continues this week with "The Heart of Robin Hood," a "spirited new version of the great English legend" that premiered at the Royal Shakespeare Theatre in Stratford-upon-Avon in November.
"It's a little bit poetic. It's a bit whimsical but it's also a bit tough," Allison Daugherty, director of Glass Theatre, says of the show, which opens at 7 p.m. tonight and continues with with performances at 7 p.m. Thursday and Friday and 2 p.m. Saturday. 
In it, "Robin has lost his way," Daugherty says.
He still steals from the rich but instead of giving to the poor, he keeps it for himself. 
"He and his boys only take. ... It's all about people taking and taking and stealing and keeping what they can for themselves." 
Things start to change for Robin when Marian, on the run from an arranged marriage, shows up. At first, he won't accept her into his group because she's a woman. So she comes back dressed as a boy and, eventually, forms a close bond with Robin while wrestling with the secret she's keeping. 
"They fight together. She's a real fighter," Daugherty says. "They sword fight together. They battle together. ... It's a fun script. I had a fight director come in and work with the kids, and they just ate it up." 
The play fits in with the community theme of Glass' current season, which began with "Our Town" in the fall and continues with the musical "In the Heights" in April. 
In the show, "this is a community that has lost its heart," Daugherty says, "and has to find it again." 
The production itself has been a community effort within the school. The centerpiece of the set is a nearly 50-foot-tall tree designed, engineered and welded by students and the department's new technical theater director Erin Foreman. The cast includes student athletes and those involved in the school's ROTC program, and the original score was composed by students.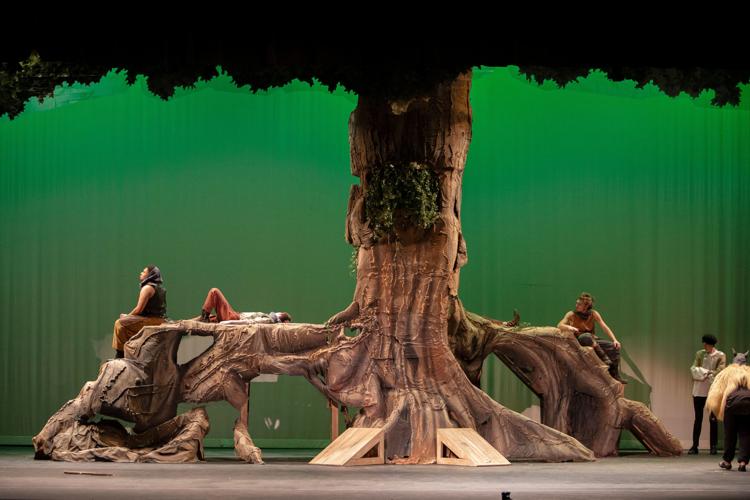 "It just happens," Daugherty says. "[They said] 'Hey I've been thinking about writing something.' [I told them] 'OK, bring it in.'" 
All the collaborations have produced something Daugherty is incredibly proud of. 
"It's more much more beautiful than I ever could have imagined."