Paul Laurence Dunbar Middle School For Innovation is starting its academic year off by jumping straight into winter with a production of "Frozen Jr."
The play, which opens Thursday, is a special one for Dunbar, says Albert Carter, who runs the middle school's theater department with his wife Lori.
It is the first summer show the middle school has staged in at least 26 years, he says, and will be a final hurrah for recent alumni who begin their high school careers this same week.
"The Carters knew us ninth graders had to be able to do this show," says Dunbar Middle alum Kayla Stanley, now a student at E.C. Glass High School, who plays future queen Elsa on select nights of the musical's run.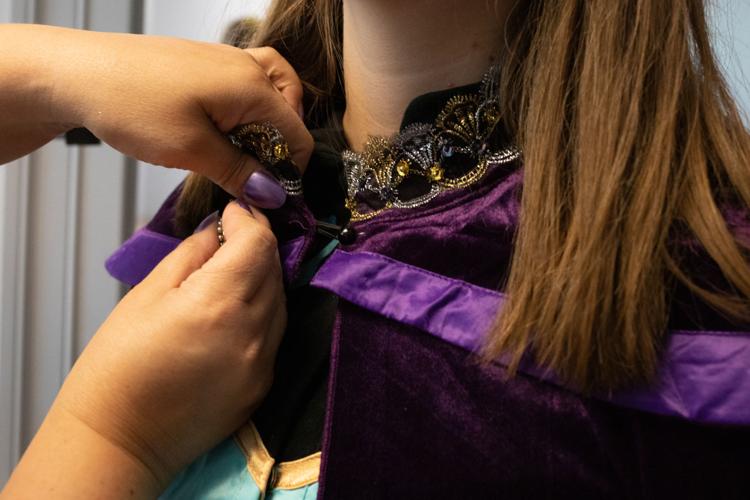 The musical — based on the 2013 Disney movie, which got the song "Let It Go" stuck in your head — is about two sisters, princesses Anna and Elsa, the latter of whom has the ability to create and control ice and snow. When Elsa accidentally reveals her powers at her coronation ball, she flees her kingdom, leading Anna to chase after to try and bring her home. 
In addition to featuring beloved characters like Olaf, the summer-loving snowman Elsa accidentally brings to life, the musical also incorporates several new songs written by the film's original composers, husband-and-wife team Kristen Anderson-Lopez and Robert Lopez.
"Theater has this capability of taking very intense moments where you can zoom into a person's face on the screen and turning that into a song or a scene," Stanley says. "So we have a few very powerful songs that are condensed moments of the movie."
The roles of Anna and Elsa have both been double cast in Dunbar's production, so Stanley and Lilly Wood, the Anna to her Elsa, will be switching off with students Brantley Carson and Lexi Felmlee throughout the show's run.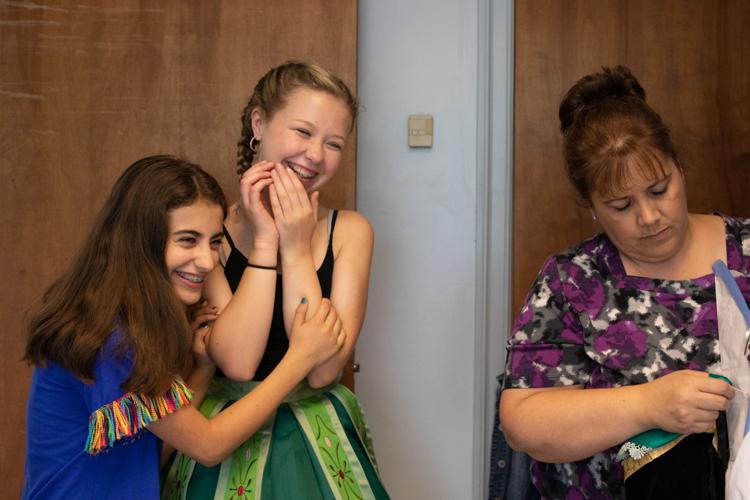 The opportunity to stage "Frozen. Jr." came about at the Junior Theater Festival in Atlanta this past January.
The musical was included in the festival's annual New Works Showcase, at which time the schools in attendance learned they had the option to license the show before anyone else.
"I think we had 35 kids ... and they all turned around and looked at us and said 'Please,'" says Albert, who also teaches at Dunbar.
The Carters had already planned Dunbar's spring theater season, so they decided to rehearse the musical with interested students over the summer.
"I think we started on the last week of school this past year," says Wyatt Moore, now a ninth grader at E.C. Glass who plays Kristoff, an ice harvester who, along with his pet reindeer Sven, helps Anna search for her sister. 
Fitting rehearsals in has been an interesting challenge, Lori says. 
Many of the students are involved in summer theater camps, meaning they go from one rehearsal during the day to another one at night.
There's also been family trips to work around, so most of the rehearsals have not included the entire cast.
To keep everyone up to speed, the Carters have used Google Classroom to help those on vacation learn the choreography so they walk into rehearsal prepared, Albert says. 
Despite their packed schedules, many of the students say they found the evening rehearsals more productive.
"Usually, when we're doing shows at Dunbar, we have the entire school day beforehand, so once we get to rehearsal, there's a lot more going on inside our heads," Stanley says. "But during summer, it's very nice to just be able to focus on this show."
Working this way has given their students a better understanding of what working on a community theater production is like, Lori says. 
Dunbar's production of "Frozen Jr." also will feature projected backdrops and minimal set pieces, a technique the school used in its production of "James and the Giant Peach Jr." last year, Albert says. This has allowed the directors to focus entirely on the students instead of splitting their time between rehearsals and building a full set.
It also helps brings some of the magic from the movie into their production, Lori says.
Adds Albert: "With the animatedness of it, you see the blizzard [in] the background, you see the magic that Elsa does."
The magic isn't just for those in the audience.
Getting to perform one last show with the Dunbar theater family has been especially meaningful for the 20 rising freshmen in the cast.
"To be able come back to Dunbar after doing [theater] for three years," Moore says, "I thought I was done. ... We're very grateful."