Sitting in Savannah Bower's workshop at the University of Lynchburg, the eye-catching green dress stands out among the racks of costumes surrounding it.
The bold color palette is evocative of a modern design but it actually dates back to the 1920s, a creation of Ukrainian illustrator, painter and textile designer Sonia Delaunay, who made her mark on the art world in the early- to mid-20th century.
Bower created the dress at the request of Barbara Rothermel, director of UL's Daura Gallery, to be showcased alongside their latest exhibit, "Freedom, Fashion, Art."
Featuring 28 of Delaunay's art and fashion plates, it opens with a reception from 4:30 to 6 p.m. Jan. 28.
"I just find her work and her life fascinating, particularly because it was so of its time but also feels fresh and modern," says Rothermel, who acquired the prints from a print dealer.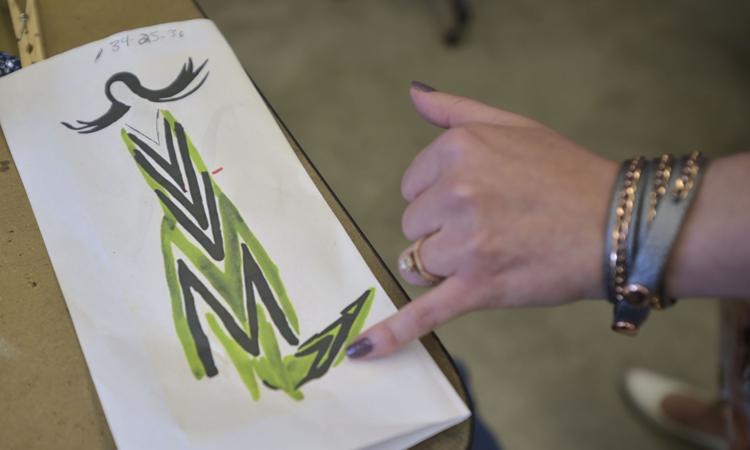 "She's not remembered as much for her fashion design outside of the fashion world, which is really a disservice to her work," Rothermel adds. "… She saw no difference between the fashion and the art."
Rothermel is always looking for ways to collaborate with the college's other departments, so she approached Bower, the theater department's costume shop supervisor, about making a dress from one of Delaunay's sketches. After looking at some of the designer's work, Bower says she was immediately drawn to the green dress, which has a black-and-white "V" pattern running down its middle.
"There was just something about this one, with the points," she says of the black-and-white detailing. "Points are really challenging. Points are really hard. I wanted to do something that was a challenge."
Bower created her own pattern for the frock based on Delaunay's original design. But because the sketch was only of the front of the dress, Bower took some artistic liberty, creating a silk chiffon cape that cascades down into a train. It's a very 1920s style, she says, when capes often were attached at the shoulder of dresses.
She expects the dress to be under a bit more scrutiny than the pieces she creates for the college's theater productions. They aren't seen up-close by audience members, while this dress will be in the middle of a gallery where patrons can inspect every stitch.
"I'm having to do a lot more hand-sewing and a lot more careful details," Bower says.
It's fitting, as Delaunay was known for her "extraordinarily precise" embroidery work, says Rothermel, who calls Bower's dress incredible.
"I think it will really make her designs come to life. People will see not only a practical aspect [of her work] but a painterly [one]."
Delaunay is often credited with being a pioneer of abstract art in the pre-World War I period. In 2015, The Guardian dubbed her the "avant-garde queen of loud, wearable art" and last April, National Geographic named her one of six artists who turned the modern art world on its head.
She studied painting and printmaking in France and Germany and, together with her husband Robert, spearheaded a movement called orphism, which Rothermel says is characterized by "exuberant movement, bright colors, pure abstraction."
Her dresses were just that, vibrant patchworks of color, swirling patterns and geometric shapes.
The term was originated in 1912 by French poet and art critic Guillaume Appollinaire, inspired by the couple's work, according to Tate Modern gallery's website.
The Delaunays' specific brand of orphism was dubbed "simultanism," according to Tate Modern, referring to the phenomenon of simultaneous contrast, when colors look different depending on the colors around them.
The couple "dispensed with form and aimed to create rhythm, motion and depth through overlapping patches of vibrant hues," according to the gallery, which has shown Sonia Delaunay's work.
Among her first abstract pieces was a blanket she made for her son from bits of fabric. That was in 1911, a couple years before she created her first simultaneous dresses, "a mix of squares and triangles of taffeta, tulle, flannelette, moiré and corded silk," according to the Jewish Women's Archive.
"She went on to explore what she referred to as freedom of movement, freedom of expression, in clothing," Rothermel says, noting the ties between Delaunay's work and the changing roles of women during that time period. "[They had] freedom to move and do things that had not previously been part of a woman's world," she says.
"The construction was one of freedom of movement," Rothermel adds. "She was influenced, among other things, by the foxtrot. Popular new dances that required more movement."
Over the years, Delaunay continued to paint while also founding her own textiles label, working as a costume and set designer for stage and screen, creating an illustration for a 1926 cover of Vogue magazine and designing much of the furniture in her home, some of which is now on display in Paris' Musée des Arts Décoratifs in Paris, according to the Jewish Women's Archive.
In 1927, she was invited to speak at the Sorbonne about the influence of painting on the art of clothing, where the Jewish Women's Archive reports she introduced the idea of prêt-à-porter, or ready-to-wear, clothing.
Years later, in 1964, she would become the first living female artist to have a retrospective exhibition at the Louvre.
"Her fashion design was very much an element of its time," Rothermel says, noting that current design labels like Givenchy and trends like color blocking owe a debt to Delaunay, who died in 1979. "They not only harken back to but are a tribute to her early fashion designs."
"Her fabrics," Rothermel says, "were paintings on a different medium."