Angus Carter can still describe when the trains on the wallpaper of his childhood bedroom came to life.
"I remember lying in bed, and not sleeping from the glow of the nightlight, just watching these trains go around," he recalls. "And then ... I remember rather clearly these trains coming off the wallpaper and circling around me."
In a way, it's not surprising that this early memory has stuck with the Augusta County artist the way it has. For years, Carter — whose exhibition "Cold Fact" opens at Riverviews Artspace this Friday — has used his artwork to question our sense of reality.
Whether or not it was a vision his 5-year-old self saw only in his mind, Carter maintains he witnessed the trains on his walls chug along the room as three-dimensional objects.
"I think that's also how my work is now: of looking around and going, 'This is the reality that I'm taught this is, but is this the reality that I want to live in? Is it the reality that I actually see around me?'"
Always a creative spirit, Carter, 37, spent five years as a professional photographer before turning to paint. The decision to abandon the medium in which he earned his degree came from a place of disillusionment.
"When you're a photographer, a lot of things are just weddings or headshots," says the artist, who has shown his work across the commonwealth as well as in Italy.
What arose from his self-taught experiments with pigments was a distinctive style that could be nestled within the overarching umbrella of outsider art beside names like August Walla, Adolf Wölfi and Thornton Dial.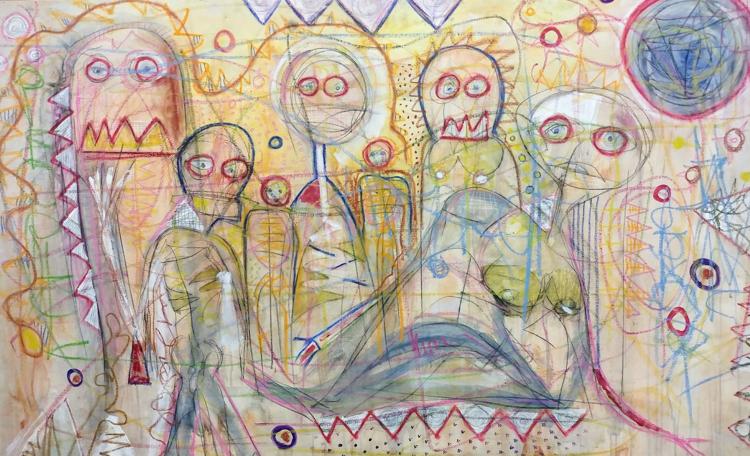 "Most of our artists have [an] art education; Angus does not," says Riverviews curator Brooke Marcy. "He is a self-taught artist. All of this comes from his own intuition."
Showcasing an artist who does not have formal training as a painter means Lynchburg audiences will see "a pure distillation of art," without the influence of past artists or current happenings in the art world, Marcy says.
"He's not observing something externally and reproducing it," she says. "He's taking external images and internal images, you know, mixing them up, and then creating something very original."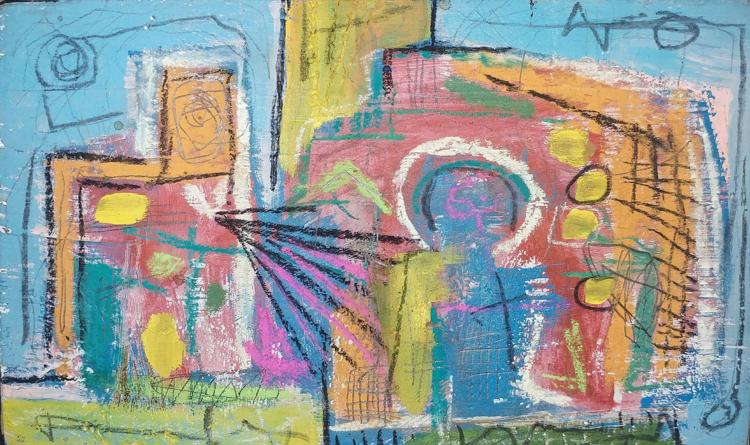 Layers upon layers of color and shape fill Carter's paintings, building a world of impulse and movement. It's chaos on canvas, filled with primal energy and discordant harmony that seems almost alive.
"This is a complete activation space, and so some people will get overwhelmed," Marcy says of his work. "Just like when too much noise is thrown at you."
Shades of pastel greens, blues and pinks contrast with images that at first glance seem slightly macabre to the point of grotesque.
The juxtaposition creates an accessibility that enables the viewer to more easily observe the darker, more haunting side of Carter's work, says Meg Weston, Riverviews' program manager.
While there is an element of Basquiat-like abstraction, Carter, who still takes photographs and also makes experimental films, considers his work to be more non-representational. Some of his forms do hold human-like shapes, but most are looser, allowing the freedom of imagination to fill in the blanks.
"Some have exaggerated features that turn them into monster-like figures," Weston says. "... It's [kind of like] the monsters inside of people; the skeletons in our closets."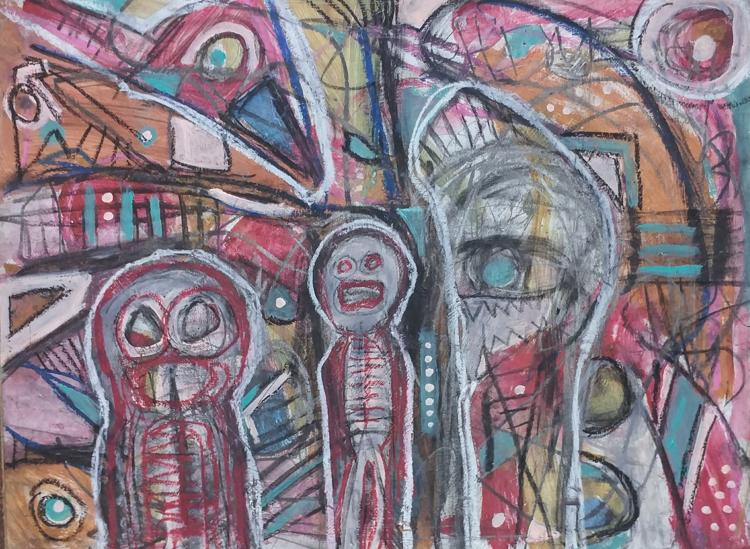 To find that freedom, Carter says he is always trying to return to that mindset from his childhood — one that allowed him to see wallpaper trains in a whole new light.
"Cold Fact," which is on display in Lynchburg through mid-October, puts Carter's wide-eyed wonderment on full display.
The collection of paintings — which range from the 5-foot-high by 7-foot-wide "Cries find me a river" to the 9-inch by 9-inch "Is rising" — also include Carter's newest avenue of artistic exploration.
"There's these few pieces I'm showing where it's not just chaos across the entire canvas," he says. "But these like plain, solid color backgrounds with chaos in the foreground."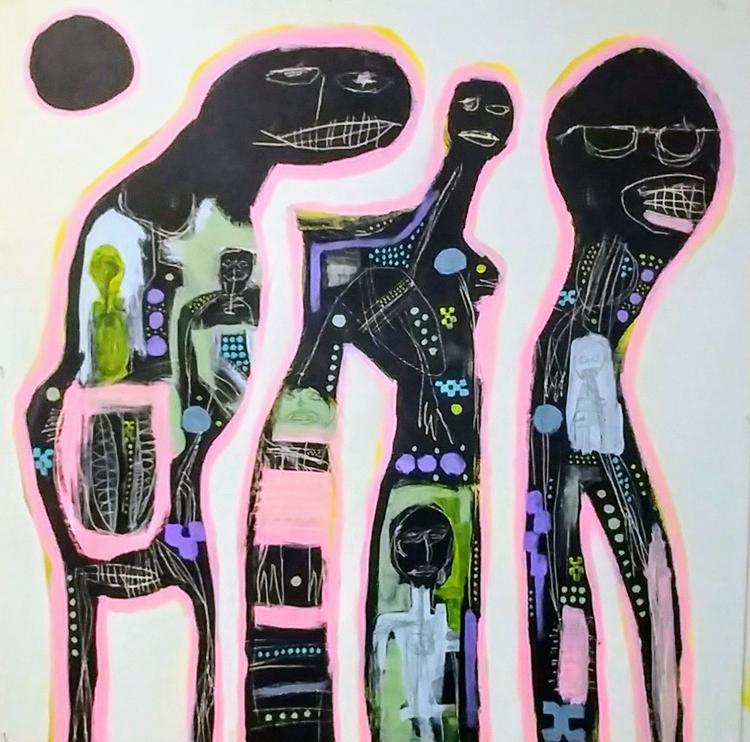 Viewing Carter's paintings is as much about analyzing the images as it is about allowing yourself to have an emotional response, says Marcy.
"One of the greatest gifts we give our viewers as artists is the ability to see through our eyes," Marcy says. "And this show is a perfect example of allowing us to enter not only his eyes but his brain."
Despite its seemingly rushed and spontaneous appearance, none of the chaos in Carter's paintings is random. It's actually a reflection of the world we live in.
"Looking around society, it is just chaotic and overwhelming to me a lot of times," he says.
Even when he ventures into the woods around his home just outside of Staunton, Carter says he still sees chaos in the lines and textures of nature.
Carter can't escape the chaos in the world around him but, he says, that's not necessarily bad — despite society telling us otherwise.
"I find a certain peace and beauty in it," he says. "I think it makes me realize how connected everything is."