​The opening reception for the Bower Center for the Arts' latest exhibition will be a bit different than its usual gallery gatherings.
When visitors arrive to see "Immigration" on Friday, they won't actually get to view all 35 of the pieces right away. For the first half hour of the event, work made by immigrants to Bedford — whether from a different city, state or country — will be hidden from view.
"I think it will make people very curious," says Suzanne Paddock, co-chair of the Bower Center's exhibit committee, which based the exercise on a similar experiment done at Wellesley College's Davis Museum in Massachusetts.
In 2017, Davis Museum covered and removed all of the work in its permanent collection that had been created or donated by immigrants for several days — which illustrated what life would look like without the contributions of immigrants in a very real way.
While the number of covered pieces will not necessarily be the same at the Bower Center, the art center's staff hopes the experience will have the same unifying affect.
"I think it'll surprise people to see what is an immigrant necessarily, and who among us are immigrants," says Paddock. "I think that will help us see insider, outsider, it's not really relevant."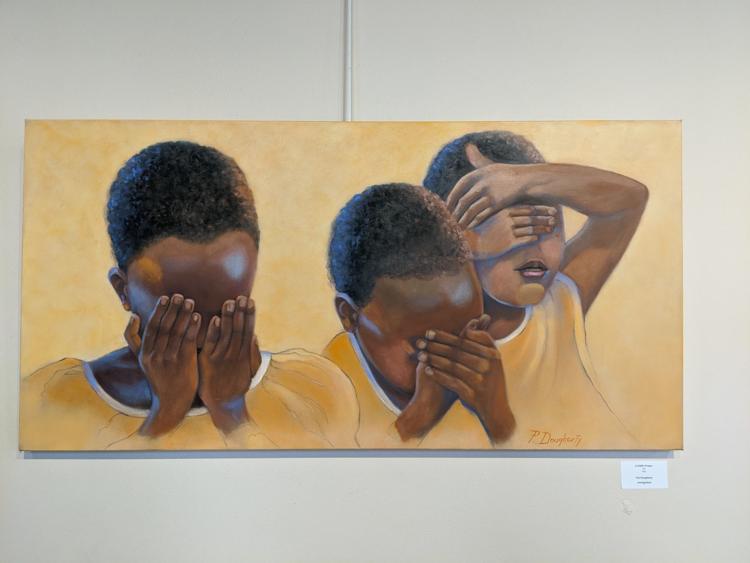 On display until Jan. 25, "Immigration" is the latest step in a new direction for the Bower Center, which has been around since 2006.
During the last few years, the Bedford art center has been tackling social issues with exhibitions like "This Is Our Service: America's Veterans Make Art" and "No Borders/No Boundaries," which explored the global response to natural disasters and man-made violence.
The exhibit committee has been working toward this moment for quite some time, says Paddock.
"We take ourselves more seriously," she says. "We want to take on challenges. It is another way to bring in new people, and we're always trying to bring in new people, new artists, new members, new audiences."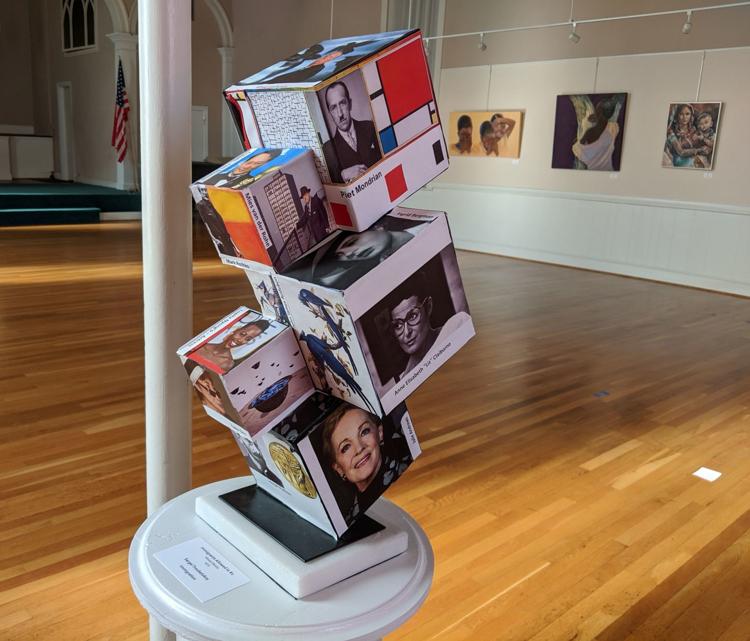 Still, "Immigration," which Paddock calls "a huge growing step for us as an arts center," is a bit like jumping headfirst into the deep end.
Exhibits Manager Dotti Stone says it might just be the center's biggest risk to date.
For better or worse, the issue at the heart of the exhibition has become a hot-button political topic across the country and around the world. It's an issue that has caused rifts between neighbors and split families along party lines.
Because of the tensions that issues of immigration so easily provoke, the exhibit committee was incredibly nervous when it put the call out for work.
"You have no idea whether everything is going to show the extreme negative side," says Stone.
In the end, they took every submission — something Paddock says seemed to fit the overall theme.
Despite any concerns, the pieces, which range from acrylic and oil paintings to mixed-media sculptures and stone statues, present a varied reflection on immigration.
Some, like Sonya Lindblom-Gressel's paintings "Child On Ice" and "Qual Es Su Crimen," do venture into the politics and human rights components of the topic. Both paintings, which are displayed side by side in the exhibition, depict the separation of families currently taking place at the U.S-Mexico border.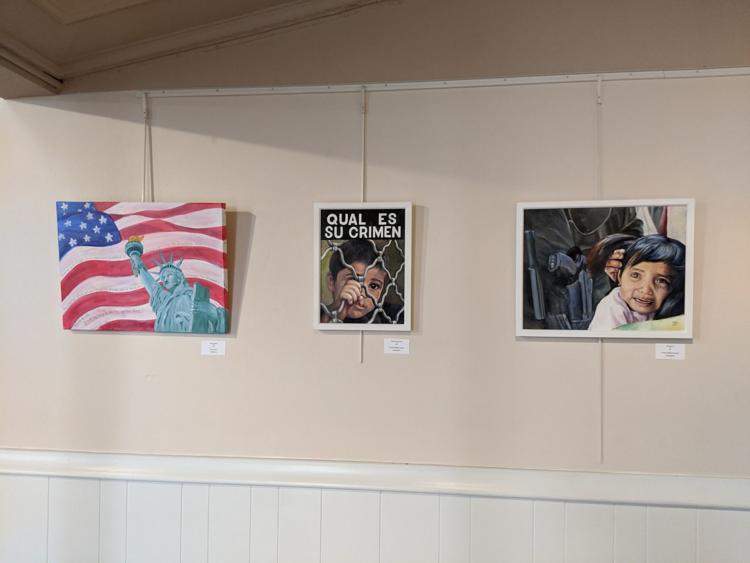 Others, like Revelle Hamilton's collage book filled with photos, called "The Migration of Three Families," and Paddock's "Memories Not My Own" — which, though made from watercolor sticks and graphite, is reminiscent of old-fashioned needlework because of the embroidery hoop that holds the image — explore the personal side of immigration.
In "Memories Not My Own," Paddock replicated a photo of her paternal grandparents, both of whom immigrated to the U.S. from Italy, reflecting a story relatable to many present-day Americans.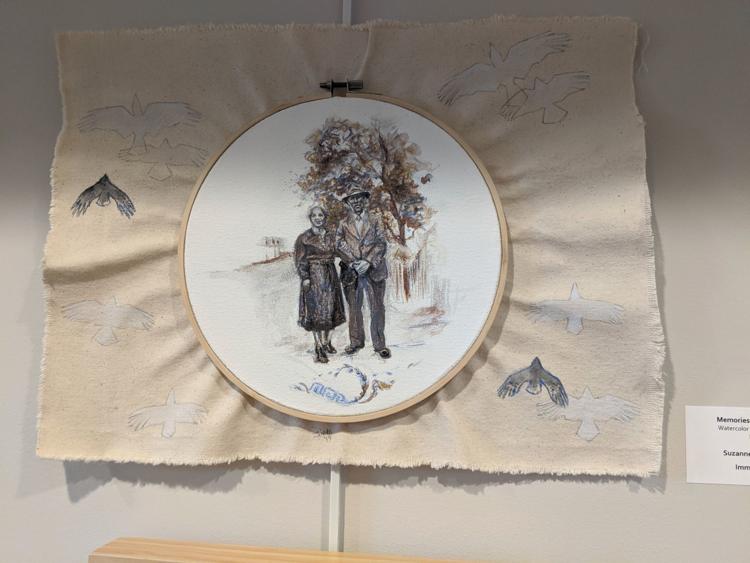 "When you come into an exhibit like ... 'Immigration' at the Bower Center, you really have to stop and figure stuff out," says Goose Creek Studio co-owner Patrick Ellis, who made a mixed-media sculpture for the exhibition with partner Mitchell Bond.
"It's not moving from one image to another. It's figuring out not only what the painting's saying but what was the artist's intent for the viewer. And that's a kind of deeper reflection."
Called "Run From Your Father's House," Bond and Ellis' piece takes a religious approach to the conversation with its use of lines from Genesis 12:1-3, the passage in which God commands Abraham (then called Abram) to leave his native country for "a land I will show you."

Despite the promise of blessings within the text, the passage is imprisoned within a blood-red cage.
In a different twist, a few pieces in the exhibition approach immigration through an entirely unexpected lens, like Bill Hill's "Boundary Dispute," which depicts a heated standoff between birds over a birdhouse.
"Immigration" is political, says Paddock, but "it's also educational. It's also community-oriented. We're all from somewhere else. Some by choice, some not by choice."
"We don't have one point of view here," she adds. "That's not the point. It's to come and reflect and be able to disagree but still stand in the same place together."