When Roanoke native Baylis Quimby was in high school, she found an old field guide on birds and felt a keen desire to dismantle it.
"I was like, 'Wow, I'm going to cut that up," she says with a laugh.
Little did she know that longing would lead her to a life's work as a collage artist.
"I think that what really draws me to it is that I kind of feel like I'm getting away with something," says Quimby, 26. "It's a very, like, geeky form of art."
Most people think of a kid's art project when they hear the word collage, says Kim Soerensen, executive director of Riverviews Artspace, which is showing Quimby's work next month as part of its Emerging Artist Series.
But there's nothing childish about Quimby's work.
"It's really fine, detailed work," Soerensen says. "Some of it reminds me of mosaics in a way."
It takes a very deft hand to make collage, and not all artists have that skill, says Soerensen.
"First of all, you need to lay it out right," she says. "When you paint, you can paint over if there's a mistake. When you glue it down, that's it."
It's also a time-consuming process.
"You basically create this piece of art out of these different shades of paper," Sorensen adds. "So, you have to find all these shades first and collect them. You can't just make the color, you have to find it pre-printed."
Quimby, who lived in Lynchburg for a year and now lives in Mississippi, can spend hours finding and cutting images out of vintage children's books and coffee table books, magazines and even old photo albums she buys from thrift stores.
"I'm either looking for a specific image that evokes a certain emotion, or I kind of just let the images that I find inspire me and go from there," she says.
This can vary from a certain person or subject to a specific color or even a particular kind of texture.
Once Quimby has her pieces, she'll start to manipulate the paper to convey her message.
Sometimes that involves cutting it into half-inch squares and reassembling it, like with the background of her piece titled "enduring."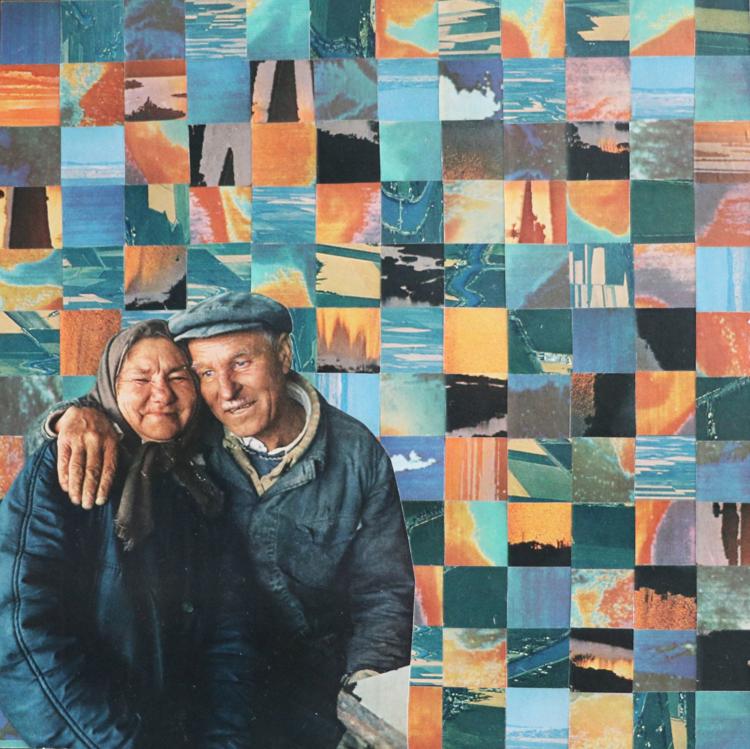 Other times it means taking a circle punch and creating a more abstract design, as she did in the romantic "everything I hold dear."
The themes Quimby explores in her collages aren't those a child would typically delve into either.
In one piece titled "a playdate with appropriation," a blonde-haired boy plays on a skeleton-strewn wasteland. Another features an elderly woman holding a sign that reads "What gives these men the right to govern our lives?"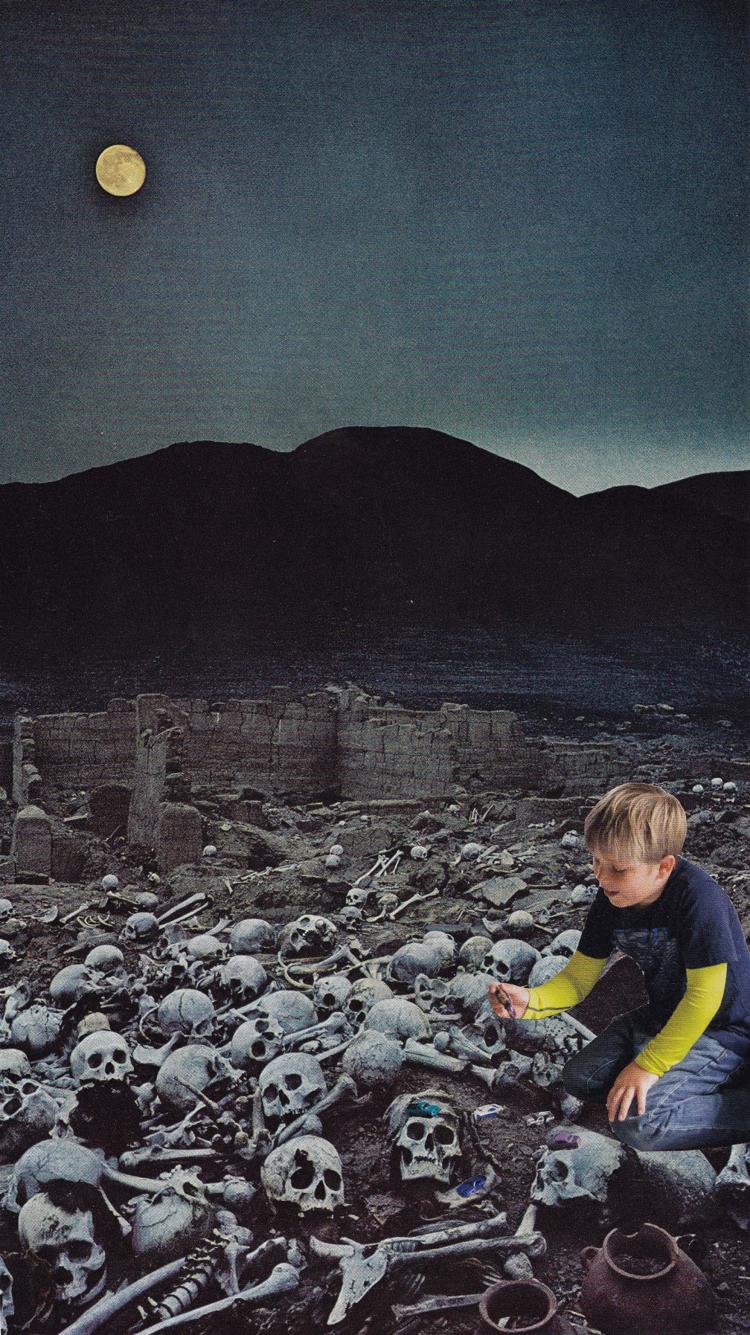 "I enjoy her work because it's a familiar type of storytelling but put together in a new way," says Victoria Towns, who coordinates Riverviews' Emerging Artist Series.
"... I believe that Baylis defies the expectation [of collage] by the way she tells stories with each cut, each scrap of paper. Everything is intentional — the colors, the shapes, and imagery."
Some of Quimby's other pieces — such as "strawberry dreams," which features a bunch of strawberries atop a man's body — veer more into the world of surrealism.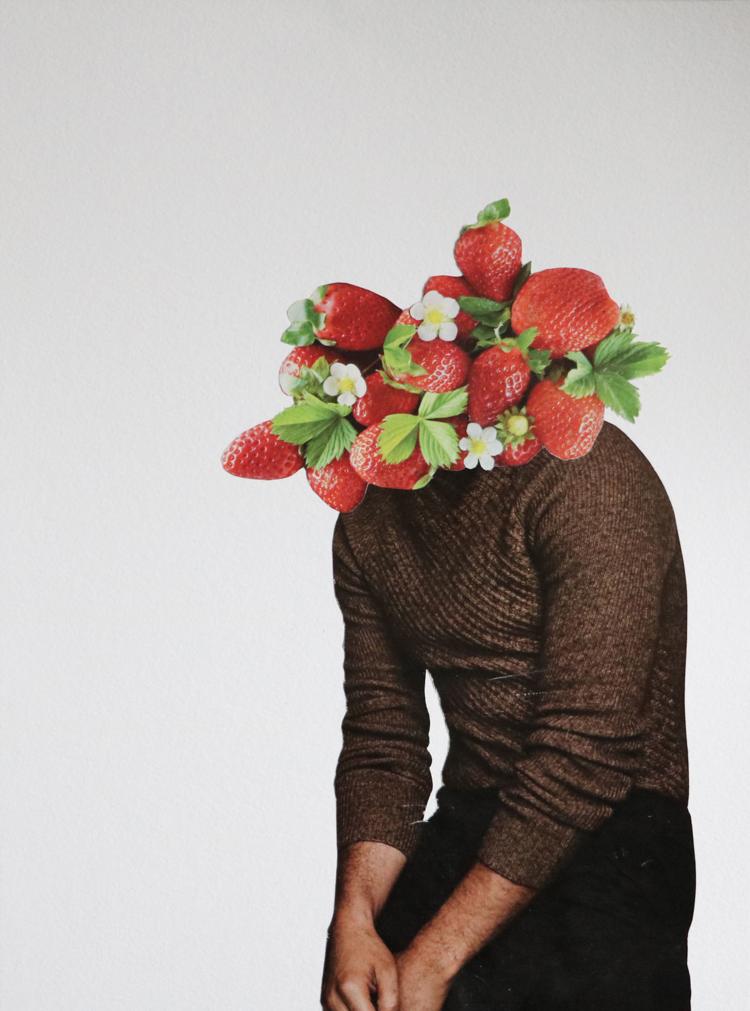 Her work is "very contemporary looking without being too whimsical," says Soerensen. "Most collages look very whimsical, and these have more of a sense of simplicity and clean[liness]."
The eight pieces in Quimby's show "See-through," which will debut at Riverviews next month, focus on depression.
"It's basically a progression, showing how it feels when you're depressed, or like struggling, but you aren't speaking to anyone about it," says Quimby, who started the collection in Lynchburg and finished it after she and her husband moved to Vicksburg, Mississippi, in June. "It goes through the beginning, then you end up having a breaking point, and then the aftermath."
Quimby's process is a methodical one.
She says she won't glue a piece down unless it evokes the kind of mood or emotions she's trying to convey. This means the collage artist sometimes spends up to 80 hours on a single piece.
But the time is worth the results.
"I'm kind of obsessed with making art where you can find something new in it every time you look."