There's a certain expectation that comes to mind when one hears the words veteran's art.
It's silhouettes of soldiers in gear and American flags blowing majestically in the wind. It's worn boots and dog tags.
It's exactly the opposite of the work on display in the Bower Center for the Arts' "This is Our Service: America's Veterans Make Art," which has an opening reception on Friday and runs through June 29.
The exhibition, which was organized as part of this year's 75th Anniversary D-Day commemoration, features the work of Virginia artists — artists who happen to also have served in the military.
"My fellow curators and I really wanted to stress that point, that it's not an exhibit full of war art," says Veronica Jackson, project director for the Bower Center's D-Day events.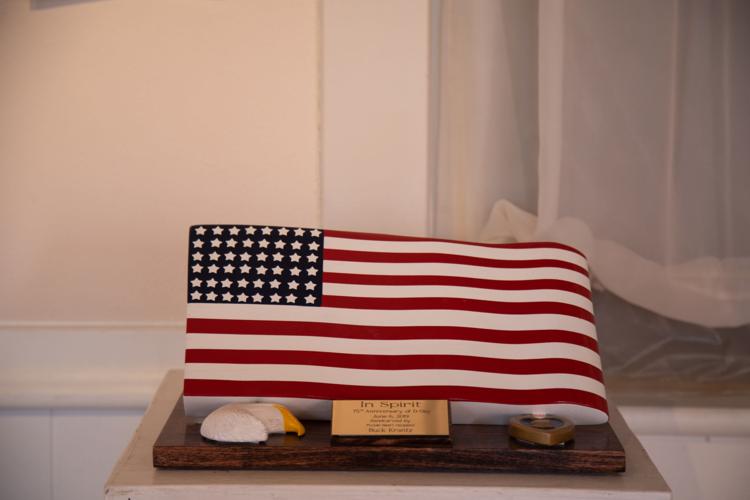 "This is Our Service" is only one part of the Bower Center's D-Day programming, which was made possible through a $7,000 grant from Virginia Humanities, formerly the Virginia Foundation for the Humanities.
Other aspects of the Bower Center's public events include a film series with Bedford Central Library and a history demonstration at Bedford Urban Gardens in connection with the victory garden the organizations planted together in April.
These partnerships befit a D-Day commemoration, says Jackson, who notes "it's what people did during World War II. We came together as a nation."
Collaboration also made its way into the exhibition. Five of the 14 artists who submitted work for "This is Our Service" participate in a recreational art group at the Salem VA Medical Center.
"I wanted this exhibit to be beyond Bedford ... because World War II was beyond just this one town," says Jackson, who contacted the Salem VA looking for artists to participate in the Bower Center's exhibition.
"... Even though the National D-Day Memorial is here [and] Bedford suffered [the most] casualties per capita than any other country, the war was still beyond Bedford. Beyond Virginia."
Jackson says she and fellow curators Patrick Ellis of Goose Creek Studio and Suzanne Paddock also felt it was important to represent a wide range of racial and gender demographics as well as military branches.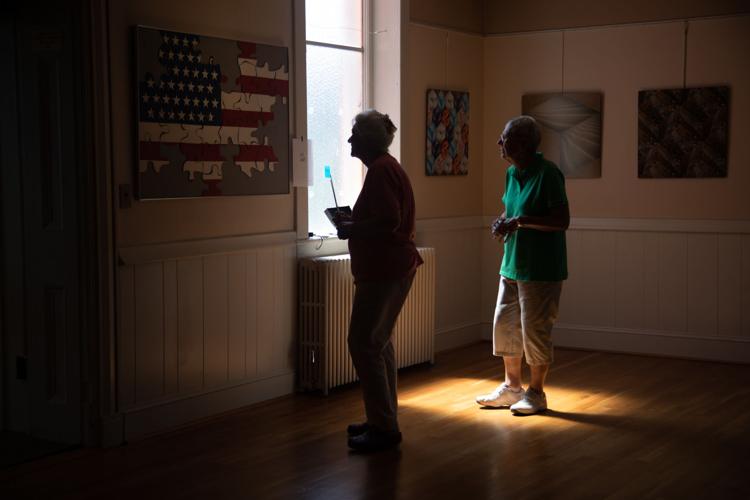 Some who submitted their art served in the Army, others in the Air Force and the Marines.
Their works also are diverse, covering various media and styles as well as artistic genres that span from landscapes to abstracts.
Though an American flag does crop up here and there, it rarely appears in its traditional form.
James Paul Jones' "A Work In Progress" depicts the flag as a half-completed puzzle with pieces missing on every side, while Holly McFadyen, of Denton, Virginia, used a technique called acrylic pour painting to mix the flag's iconic color scheme.
"My red, white and blue, they all blend, but they don't bleed together," says the artist, who learned about the exhibition through the Salem VA. "[They're] distinct in their individuality but united as one, just like the states."
The lack of overly traditional war art does not mean the works at the Bower Center are devoid of all military-related connections.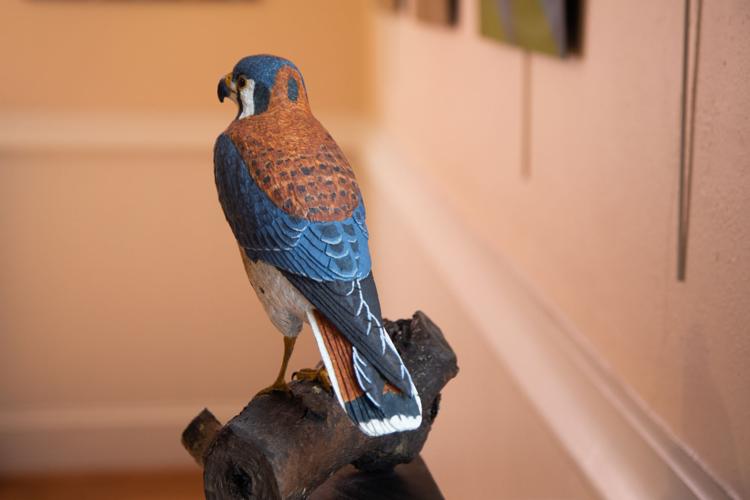 Bedford wood artist Stan Fettig says he perfected his woodcarving craft by learning from a fellow soldier.
"He taught me how to better carve, how to sharpen my tools, which I wasn't very proficient at," says the Air Force vet, who worked on aerial bombers and tankers during the Vietnam War. "So, when I carve, I can think of my times in the military."
McFadyen's "Far though Near" series, which compares the view of the moon from Virginia with that from the Middle East, was inspired by the stargazing she did while stationed overseas as a member of the Virginia Army National Guard.
Having looked up at the moon from the U.S., Afghanistan and Iraq, the sight is virtually the same and equally as beautiful no matter where you are in the world, she says.
"For me, being military, it's not just about the trucks and the weapons, the equipment," McFadyen adds. "It's about the people you get to meet. It's about the places you've seen."
Like most artists, the veterans say their work is about expressing themselves through a positive outlet.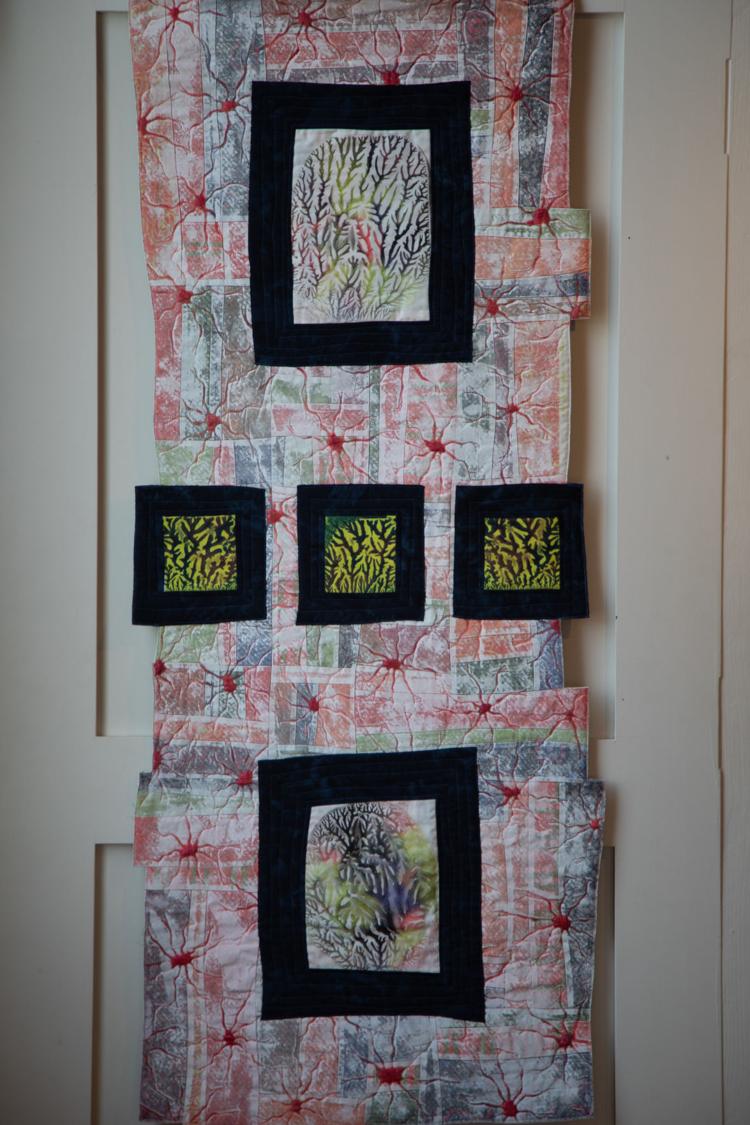 While it may be a form of therapy for some, it's also about creating something that gives them a sense of pride and brings them joy.
Part of the exhibition's purpose is to illustrate that war does not define those who serve, says Jackson, a sentiment many of the artists appreciate.
"In looking at men and women who serve in the military, everybody recognizes them for their military service," says quilter and mixed media artist Patty Powers, who spent 25 years as an Army doctor. "They might not realize there's more that goes on in people's lives besides just those years.
"None of us who are making this art were involved in D-Day, but it continues the tradition of the honor of military service, and the fact that people who do serve do a lot of other things."