The inspiration for Amazement Square's latest exhibition began four years ago, when museum President and CEO Mort Sajadian met Iranian artist Yasmin Golshani in Prague.
Golshani, who goes by Yassi, talked to Sajadian about a children's book she and her sister were working on together, and Sajadian told her about his museum back home.
"We started talking about the fact [that] … children play an important role in what we do," he said.
Before long, the pair had decided Golshani would create an exhibit specifically for Amazement Square, the children's museum at 27 9th St. in downtown Lynchburg.
"Yassi, The Rights of a Child: A Mixed Media Exhibition," which opened last week and remains up through next fall, takes inspiration from the Declaration of the Rights of the Child.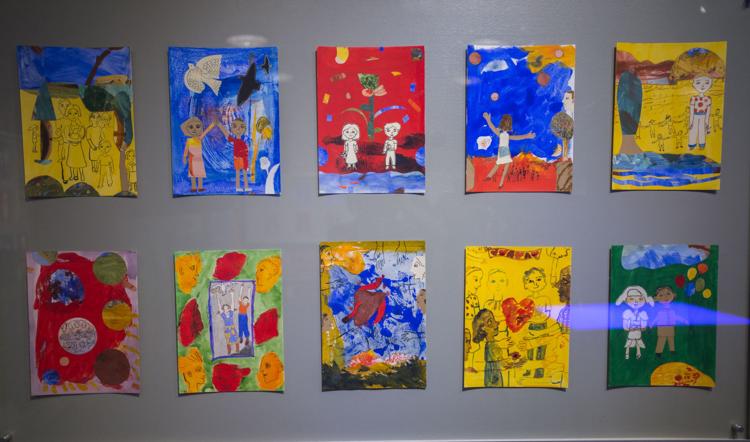 Adopted by the United Nations General Assembly in 1959, the declaration marked the first major international consensus on the fundamental principles of children's rights, according to Humanium, an international nonprofit that works to stop violations of those rights across the world.
The declaration outlined a series of 10 principles every child has a right to — equality, protection, education, health care, shelter and good nutrition among them — with a preamble stating "mankind owes to the child the best it has to give," according to a copy of the original text on the United Nations Children's Fund (UNICEF) website.
"She felt nothing had been done about [the declaration] in an artistic way, exploring it," Sajadian said last week while the exhibition was being installed in the museum's second-floor gallery space.
Using the declaration as the impetus for work today, Golshani said, is because of the "critical condition" of children in many parts of the world, particularly developing nations.
"The situation with children now is unacceptable in many countries," she said. "War. … A lot of discrimination, and I think my dream is to give to all the children this chance to know their rights."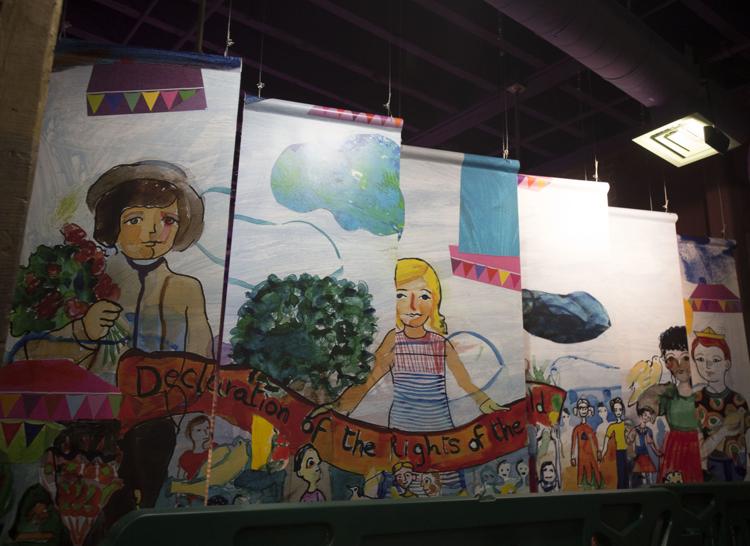 The rights of women and children have been close to Golshani's heart since she was a child. Growing up in Iran, she said her childhood was perfect until 1979, when she was 11 years old and witnessed Iran's Islamic Revolution.
"Everything changed for girls, for women," she said last week while in town for the exhibit opening.
Prior to the revolution, women had made considerable gains over a 50-year period, including earning the right to vote and run for parliament, according to the United States Institute of Peace (USIP). During that time, the marriage age was raised from 13 to 18 and the Family Protection Law gave women the right to petition for divorce and gain child custody (previously, men could divorce their wives and automatically gain custody).
All of those rights were rolled back after the revolution, according to USIP, giving "priority to Islamic traditions over modern mores." Women were forced to observe the hejab, family laws were scrapped and the marriage age for girls was reduced to puberty — age 9 under Islamic law.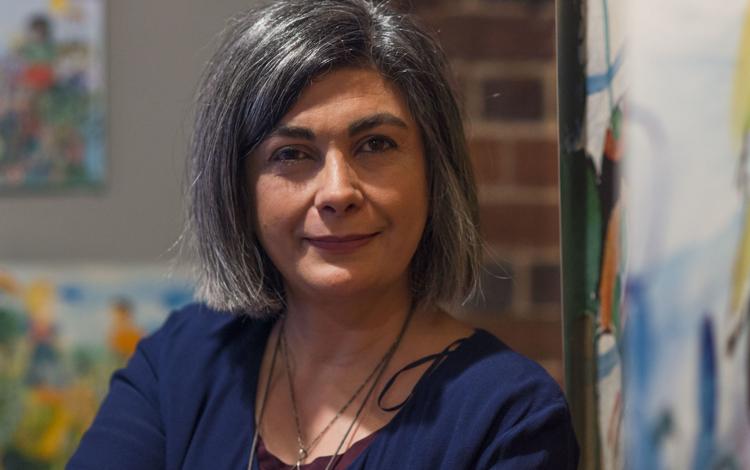 She remained in Iran, where she earned her master's in painting at the Tehran-based Al Zahra University, until 1996, when she left to continue her education in Paris. She studied at the Sorbonne from 2002 to 2003, according to a bio about her on the website for the Magic of Persia (MOP) Foundation, which promotes Iranian art and culture.
Golshani, who has lived in Prague for more than a decade, began her art career painting but eventually transitioned to installation work, many of which feature newspapers as a recurring motif.
"The Women," for instance, features 400 papier mâché dolls made using pages from a Persian newspaper. The women have no hands and the work, she writes on her website, is commenting on "sexual and religious discrimination, unification of women and the destruction of individual identities in Iran."
"The Eyes" are papier mâché eyes made of Iranian newspapers to represent "the social pressures that result in self-censorship," while "One Thousand and One Ties" is made of Iranian, French and English papers sewn to a piece of cloth to symbolize the Middle East's complicated political issues. It also is a reference to an Iranian tradition of making a tie in a sacred place when you have a wish, according to her website.
Other politically-influenced work includes "There Is No Color Darker Than Black," a series of 105 books made as a tribute to publications closed down in Iran during the late 1990s and early 2000s, and "Veiled Box," a covered box with a window that "represents the society I was raised in: an old, superstitious, covered and closed society."
The work on display at Amazement Square is much more vibrant, a shift Golshani said happened in her work after her own daughter was born 11 years ago.
"This colorful world appeared to me," she said. "I discovered another world. It changed my world, to come out of these hard, dark colors."
Most of the pieces in the current exhibit explore the individual principles from the declaration of children's rights, using watercolors, mixed media and collage.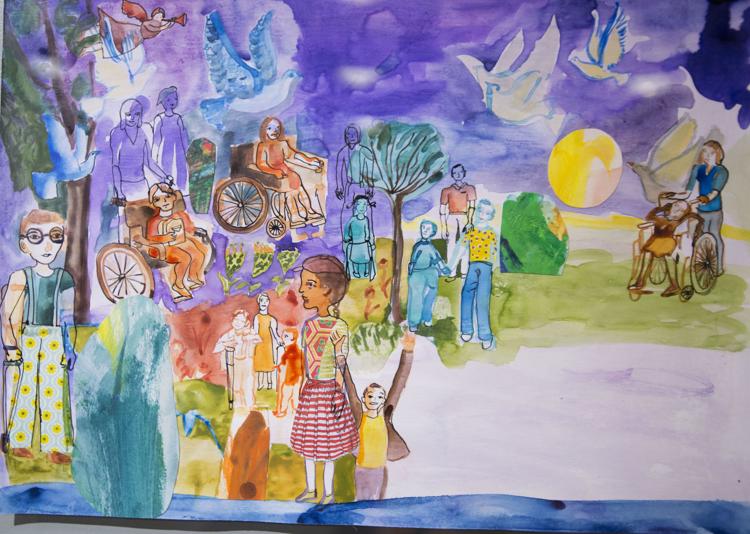 The right to a name and nationality principle, for example, is illustrated with drawings of swaddled infants, with postage stamps bordering the edges of the paper.
Golshani said she prefers stamps over flags to represent nationality because it takes the politics out of it.
"The stamp, it shows the culture, the nature, the architecture," she said.
Most are smaller works on paper, but Golshani also created a large canvas piece that will hang just outside of the gallery space. Words like tolerance, education, home, joy and friendship are written out, surrounded by figures holding hands amid bright skies, rainbows and rows of houses.
"I love, obviously, the colors," Sajadian said about Golshani's work. "… There's a diversity. It's very eclectic. Symbolism plays a big role in her work."
The exhibition also features interactive elements for the children who frequent Amazement Square.
A large, colorful map of the U.S. (not Golshani's work) hangs on one wall. Small pieces of paper sit nearby, with instructions for visitors to draw something and hang it on the map as a message for someone living in another part of the country.
"If you were to come up with a symbol to represent you, your family," Sajadian explained, "what would it be?"
There's also a light-up table where visitors can create their own collages using various shapes, an interactive station where they can paint over digital versions of Golshani's work, and a set of colorful sensory liquid floor tiles that move when stepped on.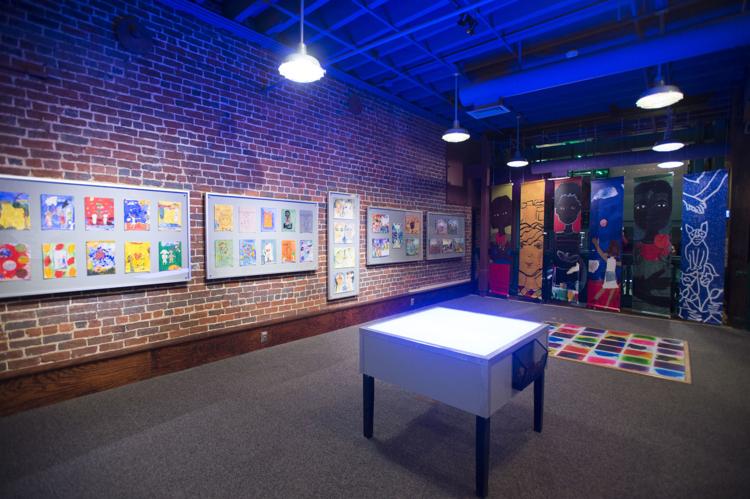 Golshani began creating the work for this exhibit in 2017 but says she remains inspired by the principles.
"You know, I think about it all the time," she said, adding that this exhibition "is just the start. It's the first step. I will continue all my life, because the situation needs it."