Liberty University's latest production includes a touch of Broadway — literally.
Art professor Ron Sumner, who worked on both film and theater sets during his professional career, painted the backdrops for "Brigadoon," which opened in Liberty's Tower Theater Friday and continues with performances at 2 and 7:30 p.m. Saturday, 3 p.m. Sunday and throughout next weekend (see box for more information).
"There is often confusion about what a scenic artist actually does," says Sumner, who has worked on backdrops for everything from the Broadway revival of "A Funny Thing Happened on the Way to the Forum," starring Sarah Jessica Parker and Nathan Lane, to the European tour of "The Phantom of the Opera" to a London revival of "West Side Story."
They essentially work under the set designer, who creates renderings of what the set's backdrops, called drops, should look like and relies on the artist to bring them to life.
"The designer creates a small 24-by-36 [inch] painting, those are called elevations, and then we turn them into 35-foot by 50-foot backdrops," Sumner says. "Some of them want it to be a photographic enlargement …and then others will just kind of give [us] a lot of leeway in how it's executed. They'll do a sketch and say, 'This is what I'm thinking about, these are the resources.' And it's up to the scenic designer to polish it.
"I've actually had both on Broadway. Some that wanted it exactly stroke for stroke, and others who just say, 'This is the direction I want to go, go for it.' And for the scenic artist, it's a lot more fun when they say, 'This is the direction, go for it.'"
In the case of "Brigadoon," he was working from the renderings of set designer and fellow professor Connie Hecker.
"As an artist, when you're given something like that, you have to [interpret], because the designer can't put in the detail … that you can put in at full scale," Hecker says. "That's the part that's very interesting to watch, how he took his Broadway skills and how he took that very musical Broadway look on, say, the renderings for the town."
The musical follows two New Yorkers who, while hiking in Scotland, stumble upon the enchanted village of Brigadoon, which materializes for one day each century.
"It's this place that's outside of time," Hecker says. "There's a little bit of a difference in style from the drops that are painted that are real Scotland … and the town, which has a bit more of that musical theater world. It takes us into, is it real [or] isn't it real? That was one of the things we talked about, to try to differentiate where we are and when we are, and how are the two worlds blending."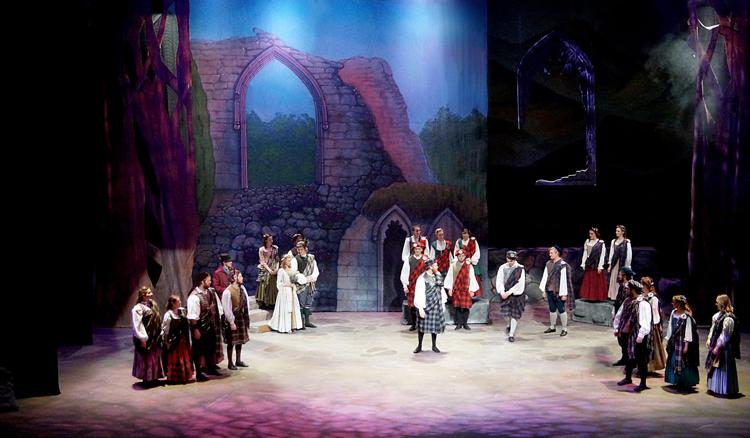 Sumner painted them on his own during Liberty's winter break, texting photos to Hecker as he went along. During his career, he says he's worked on some drops solo, and others as part of a team.
"On the really big shows, where it had to be cranked out, they'd bring in a team of scenic artists," he says. "When that happens, you always have to make sure that the look of the painting is even. So a lot of times you have to switch artists around so that nobody is working on one spot for too long because everybody has a little bit of a different style and that can creep into the look if you're not careful."
Sumner's own style goes back to childhood. He began drawing as a kid and painting in high school, which is also when he became interested in theater.
"Probably my first experience with theater was in high school, and I went to a high school production that I thought was pretty cool," he says. "And that's probably one of the things that inspired me to want to get involved with it in college."
While working toward his degree in painting at Indiana University's Herron School of Art, Sumner also did some acting that eventually led to him helping build and paint sets.
"I'm kind of a church kid, so I did a lot of singing for church," he says. "I started doing solos when I was 9. And so the music side of it, singing and acting in theater, was something that I enjoyed doing and the art side of it was just something that I got pulled into largely because that was my background. It became clear that was probably where my forte was."
He went on to earn his master's degree in painting from Miami University in Ohio and started teaching in the Huntington/Fort Wayne, Indiana, area, while also continuing to do community theater work, both on and offstage.
It was after he began designing and painting sets for an opera company that Sumner joined the United Scenic Artists union.
He later spent 10 years in Chicago, where he worked as a full-time scenic artist and also earned his master's in art history from the University of Chicago, before moving to New York City.
"The union card was my foot in the door to show my portfolio when I got there," he says. "And then the portfolio is what gets you work. So then once I started working for different shops … after awhile, I got to the point where I could work when I wanted to."
Sumner also did some film and TV work, including painting sets for soap operas and the 1994 Woody Allen movie "Bullets Over Broadway;" 1998's "You've Got Mail," starring Tom Hanks and Meg Ryan, was the last project he worked on before moving to Jacksonville, Florida.
"I joke about those commercials that say if you can make it in New York, you can make it anywhere," Sumner says. "There's a little asterisk there that if you look down in the fine print, [it says] as long as the same skill set is needed. Because there's not a lot of Broadway or feature film going on in Jacksonville."
So he worked in graphic design instead and eventually returned to teaching. He came to Lynchburg in 2008 to work at Liberty, where he currently teaches drawing, art history and 3-D animation.
"Brigadoon" marks the first time Sumner has painted a set for the theater department.
"Musical theater and opera are really wonderful in how they bring artists … together," he says. "As you go up the chain, everybody gets more and more specialized."
And if those artists do their jobs right, Hecker says, the magic of theater is realized.
"If we make a mistake, then you're aware of it," she says. "If it goes right you, the audience member, are just caught up in the story. And only if you've had some experience [with] what goes on backstage [do you know it] is very dependent on all the artisans and craftspeople who make a show come together."